Way Huge Saucy Box Hard Clip Edition Overdrive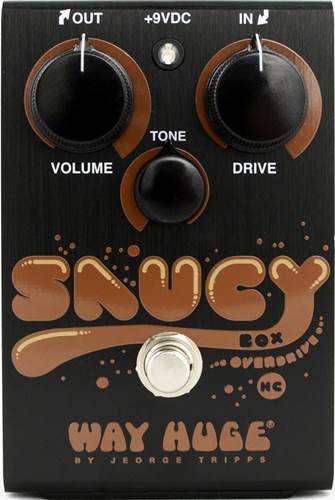 £115.00
Order now for Delivery on Friday
3-Year Warranty Included
We're the 1st, and only, UK guitar retailer to offer a 3-year warranty as standard. Buy with confidence today. Learn More
Make 3 payments of £38.33

No fees.
Learn more
Recommended Bundles
Manufacturer's ID: JD-WHE205HC
What we say:
Way Huge are an eccentric brand of boutique pedals designed by madcap savant Jeorge Tripps. His unique designs always sound excellent and go just that little bit further than most other pedals whilst still always offering an inspiring and usable sound. Tripps has designed some classic pedals for other companies like MXR and Line 6 but his most revered creations are from his own stable, Way Huge.
The Saucy Box (Hard Clip edition) is a versatile distortion that uses two separate signal paths in its circuit to get the correct amount of overdrive and pushed-clean sounds blended together for the ultimate 'special sauce' your tone's been looking for!
The idea here is for the pedal to blend into your playing. It's a very organic, complementary drive that works with what you give it and adds some flavour and bite without grabbing your tone and turning it upside down. The Distortion control automatically selects the ratio of clean and drive signals based on where it's set, giving you the best settings at every point on the dial.
This Hard Clip edition has a little more snarl at the top end of the gain tap along with a little more Bass in the EQ.
Indulge yourself in a Saucy Box: your tone and your playing will thank you for it.
Specification
Would you believe that controls for Volume, Tone and Drive hold a multitude of drive sounds that can replace several pedals? We didn't, but we do now. The Drive knob is truly wonderful; the signal path is split into two separate discrete paths: clean and dirty. These two pathways are expertly mixed in order to provide a optimal drive experience. And the Saucy Box HC is very touch sensitive, but not overtly so. Experts and novices alike will appreciate the balance. The new HC model adds plenty of bottom end and bite.
Already have a lot of drives? No problem; the Saucy Box HC functions as a buffer with the drive all the way down, and a sparkling, crystal-clear boost with just a little juice.  At about halfway up, players get a nice, gritty lead tone, and fully counterclockwise, a gain monster lurks beneath.
The tone circuit of the Saucy Box HC is particularly of note. It's passive which allows the pedal to quickly adapt to literally any guitar and pickup combination you throw at it—there's no fussing. A simple twist of the knob will help you dial the right tone in seconds instead of having to fiddle with your guitar's tone controls. This leaves you time to explore the depths of the Drive knob, and how it and your guitar's controls interact.
From buffer and boost to transparent and over-the-top, meaty overdrive, the Saucy Box HC can replace a box full of pedals for the cost of less than one of them. Get clipped. Hard.
Super-enhanced gain range for bottom heavy crunch
Unique signal-path splitting via the Gain knob.
Relay-based true bypass
Standard 9v centre-negative power operation