Best Gigging Guitars on a Budget
Published on 30 October 2019
Here at guitarguitar, we are fans of all electric guitars. Style, sound, price-point: these factors vary wildly, but we like to appreciate and celebrate great guitars whenever we come across them!
That's quite often, as it happens! As you've probably learned from your own experience, hardly anybody makes 'bad' guitars these days. Whatever price you pay for an instrument, you can be reasonably sure that it'll play well, sound good and, in general, be up to the job.
That said, there is a lot of choice out there! If you are in the market for an affordable guitar to gig with, you can get some serious bang for your buck. Narrowing the focus to around £4-500 - which we'd say is definitely an affordable price point for players looking to play gigs – highlights an Aladdin's Cave of good quality instruments, from all nearly all of the major manufacturers, all wanting you to choose them!
What to do?
Well, not all guitars suit all purposes, but we've herded and corralled a choice group of well-priced axes that all punch high above their weight. This is more to highlight what's out there than to provide a definitive 'Best of' list, though we've picked each choice carefully to reflect what we believe represents real performance and value. Check out our list and see of any of these apply to your style and situation!
Fender Player Telecaster HH 3-Color Sunburst
Fender's Player series has seriously impressed us, here at guitarguitar. Bringing all of Fender's timelessly iconic style to a range of instruments geared square at the gigging musician, the Fender Players combine a modern (for fender) spec neck with good stock pickups, which is not something that has necessarily always been the case with Fender.
Our choice today is the double humbucker-equipped Player Telecaster model. The Tele is a versatile stalwart of many a road warrior's armoury. It can fit into most musical genres and have more muscle than its cousin, the Telecaster. The HH model brings more firepower to the mix, though we're talking medium gain sustain rather than Metal apocalypse here.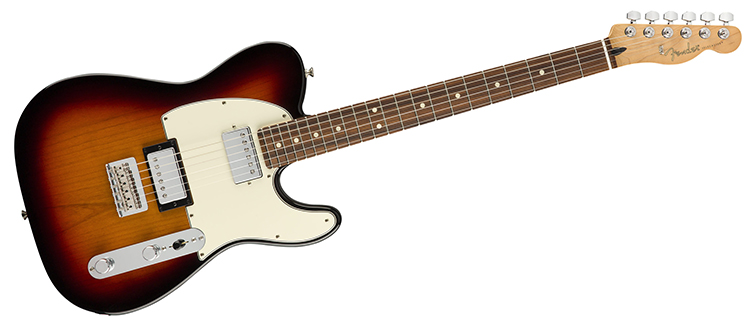 A playable C-shaped neck with a 9.5" radius is what most people get on with in terms of Fender neck specs, plus this Player model adds a 22nd fret, something missing from the previous Mexican Standard range.
A coil tap circuit reduces the muscle back to slenderer (though still strident) Tele tones to make this a reliable and classic axe.
Chapman Standard ML1 Modern Abyss
Now that Rob 'Chappers' Chapman's guitar brand has become more established, we can look at the guitars on their own merits, away from the overt association of their creator. The ML1, from the Chapman 'Standard' range, is as impressive in the hands as it is on paper.
It's a Superstrat with a hard tail and reverse headstock, and a pretty glorious finish with the somewhat typically 'Chapman-esque' name of 'Modern Abyss'. Whatever you think of the title, it's a wonderful finish: a translucent cerulean/cobalt Blue burst that graduates into purple, all over a veneer of Flame Maple! This is the kind of finish you'd normally expect to find on a swanky PRS, so Chapman get marks for the visual impact here!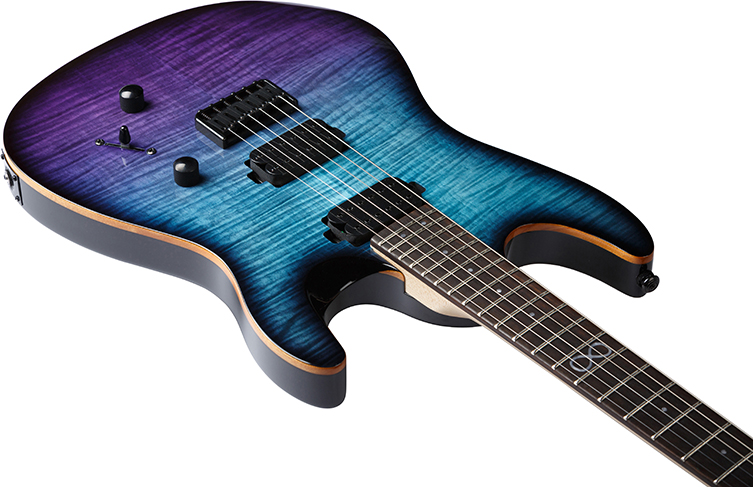 The Chapman ML1 is designed, as you'd no doubt expect, to Rock pretty hard. Shredders will perhaps miss a tremolo, but they'll love the 24 XL jumbo frets, flat 13.78" fingerboard radius and ceramic humbuckers. Coil taps bring some more versatility to the otherwise punchy pickups.
G&L Tribute Legacy Surf Green
Not many companies can boast the heritage of G&L. We've covered this pretty extensively elsewhere, so suffice to say that G&L was Leo Fender's final company (alongside fellow Fender alumni George Fullerton) and their designs incorporate all of Leo's final tweaks to his world-changing designs.
The G&L Tribute series is the company's Far-Eastern made import line. We expected good things, of course, but were not actually prepared for how good these guitars sound! Here's a tip for the wise: these eminently affordable Legacy guitars actually have American-made pickups in them! And what a difference they make! We can quite confidently say that these Legacy guitars are the best sounding single coil guitars around at this price. It's a lofty claim, but give one a go for yourself and hopefully you'll hear what we hear, which is clarity, tone, glass, sparkle and detail.

We picked out this Surf Green model for review here since it's one of those classic finishes that often isn't available on more affordable guitars. The other notable features of this great guitar include a revised (and very touch-effective) two-point tremolo system, and an innovative tone system called the PTB Passive Treble and Bass. This involves having a dedicated filter for both treble and bass frequencies (where normal tone controls would generally sit) which provide a very wide range of value, in turn allowing huge scope for tonal variation.
For high quality classic sounds and huge bang-for-buck, this G&L Tribute Legacy is remarkably hard to beat.
Gretsch Streamliner G2622T
It's hard to beat Gretsch for sheer style and attitude. Typically very expensive, Gretsch have, in recent years, made owning one easier than ever before by introducing the Streamliner range. These ultra-affordable guitars are actually all original designs, in the sense that they are not reproducing any particular model of previously existing Gretsch. It was obviously a wise move by Gretsch, since these been been astronomically popular!
The model we've elected to include here is the thinline G2622T in Gun Metal Metallic. This has it all: block inlays, Bigsby tremolo, 'toaster-top' humbuckers and an easy playability that makes this a very 'moreish' guitar! Sound wise, we were surprised to hear more gain and output than we expected. Those 'Broad'Tron humbuckers combine with the guitar's solid centre block to bring about a sound that fans of Classic Rock can easily get on with.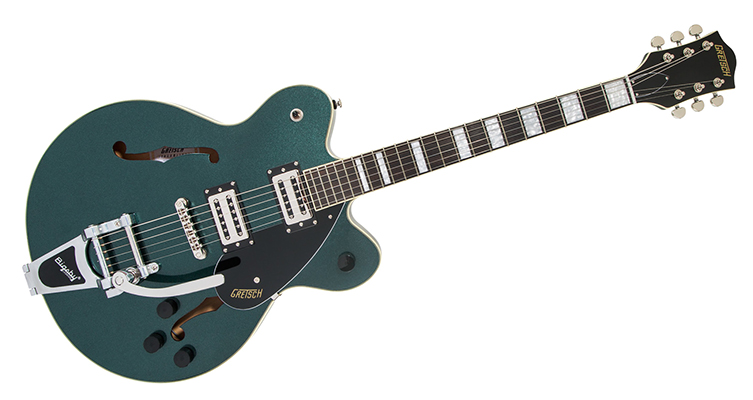 Ibanez RGMS7 Black
Metal is one genre that is as intrinsic to the electric guitar as violins are to orchestras. Though there are a vast number of sub-genres and tastes to accord with these genres, most people still know a Metal guitar when they see one.
Suffice to say, this Ibanez was not designed for playing Ocean Colour Scene covers.
Ibanez, one of the world's most respected guitar brands, have always shown a lot of love to the more affordable end of the instrument spectrum. Cheaper Ibanez guitars have had the same body shapes, headstock designs and branding as their more expensive brethren, an important attitude that has not been understood by other companies!

Therefore, it isn't too much of a surprise (though it is a most gratifying and welcome move) that Ibanez are also the first to really offer an affordable multiscale guitar. Multiscale is a relatively new concept, coming into prominence only in the last decade and with only top-end, boutique level guitars. Ibanez are making quite a statement by bringing this innovation to every guitarist's budget.
But what is it?
Multiscale basically means the lower strings (the low B on this 7-string model) have a noticeably longer scale-length than the lightest strings. This is expressed through 'fanned-frets' that incorporate the gradual change form one scale length to the next across the fingerboard. The benefit is more accurate intonation and better string tension. Your sledgehammer riffs will be more on point, buzzing less and intoning better.
This Ibanez RGMS7 takes Ibanez's famous RG Superstrat shape as it's blueprint here and adds both a slanted bridge and slanted pickups to further the multiscale vibe. If you prefer your riffs to be more Periphery than Deep Purple, this is a guitar to get seriously acquainted with.
It's available only on Black, but you already knew that.
Squier J Mascis Jazzmaster
Squier's rise from budget-friendly beginner to serious gigging contender has been pretty meteoric in the last few years. They've been very savvy about the models, finishes and features on their more mid-priced guitars, and as such have been seen in the hands of more players on more stages than ever before. They are still the number one beginner's choice, but nowadays, they are so much more.
Squier's dazzling recent performance has been mirrored by the Jazzmaster's rise in popularity. This most divisive of Designs has now become the hipster's guitar du jour, with many indie-rockers feeling an affinity with it's warm jangle and counterculture look.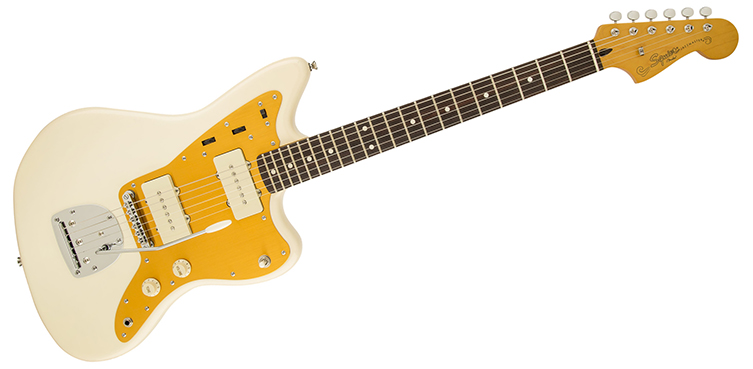 Dinosaur Jr's main man J Mascis has long been a devotee, and his tasteful signature model from Squier guitars displays not only excellent value for money, it also scores for sheer cool-factor. A proper anodised gold pickguard on a Vintage White body? Hell yes. There is a most pleasing heft to the neck, without it being a bat, and the pickups are exemplary units with plenty of clarity and sizzle to match the aforementioned warmth.
Leave your label-snobbery at the door when you try out this Squier, and see just what kind of guitars are being made for this kind of money today.
G&L Fallout Alpine White
If you value more indie-centric guitar designs that are a small distance removed from the usual S & T types out there, the G&L Fallout provides a fresh new option. It's an original design that mixes flowing lines with an offset sensibility. You can cover a lot of ground with the bridge humbucker and neck P90, both alnico models with an additional coil-split for the humbucker.

G&L's proprietary Saddle-Lock bridge design is here, transferring more sound energy from string to output, giving you a more expressive tone. Medium jumbo frets on a 12" radius fingerboard gives you a playing surface that's much more contemporary than the Fallout's retro-tastic looks might suggest. If you want a broad selection of sounds, form a guitar that has its own identity, the G&L Fallout is a bit of a bargain.
Epiphone Les Paul Standard Plus Honey Burst
The glaring omission from this list of course is an Epiphone Les Paul! Gibson Les Paul models tend to come in at a higher price than our focus, but when Epiphone are putting out instruments like this Standard Plus, who cares?
We are going to spare you the preamble about what sets the Les Paul design apart: it's the ultimate Hard Rock guitar and you already know this! Epiphone, owned by Gibson for over fifty years, make a fantastic LP at a number of price points. So, what is so 'Plus' about the Standard Plus?
First off, you'll have noticed the flame top, right? It's proper AAA Flame Maple! In this Honey Burst finish, it looks incredible, quite the thing of legends! ProBucker humbuckers, developed by Epiphone, are not generic stock pickups at all: they have a real PAR-style purr that seriously impressed us! You get a set of coil taps built in too, for funkier, thinner sounds. On top of this, the Epiphone Les Paul Standard Plus sports a slim-taper 60s-style neck, just like Gibson's most popular neck dimension. This is an affordable Les Paul that looks and sounds like a million bucks.
Final Thoughts
There are so many great guitars currently selling in that £4-500 price point right now, making any definitive list is a fool's errand. Please use this blog as a primer of what to expect out there and cater your hunt to the styles that are appropriate to you.
What did we learn from putting this together?
A number of things, actually: Genuinely exceptional flame top veneers are now available on some very inexpensive guitars; hardware is better on lower end guitars than ever before; brand seems to matter for slightly less, compared with dearer guitars; the USA-made G&L single coil pickups are exceptional, and; Ibanez still lead the way when it comes to mainstream, mass-market innovation.
This area of the market is the most heavily saturated: you simply will not find a truly bad guitar for this kind of money, and in fact will be able to gain access to professional quality tools and sounds. There is a lot of fun to be had!
As ever, get in touch if you need to know more! Thanks for reading.
Until next time
Ray McClelland