A Closer Look: Sterling by Music Man
Published on 15 June 2020
Have you checked out Sterling guitars and basses yet?
You'll definitely know their older sibling, Music Man. Music Man are the makers of several beloved instrument designs, not least the most iconic non-Fender bass, the StingRay. We've all seen the amazing StingRay being played by people like Tony Levin, Adam Clayton and many more world-wide stars. Music Man's guitar models are equally popular, with an artist list than features talents like John Petrucci, St Vincent and Albert Lee.
Music Man make all of their American-mode instruments in their premises at San Luis Obispo, California. These are high end, professional grade, USA-made instruments, and as such, have a price tag to correspond.
Music Man guitars and basses are exceptional, and highly warrant your investment, but if you don't have the means to stretch to a US-made instrument, Sterling by Music Man is there for you. Sterling is a wide range of imported guitars, made in the Far East to the exacting specifications of Ernie Ball Music Man. As we'll see, these may be more affordable, but they are pro-quality instruments with stunning features!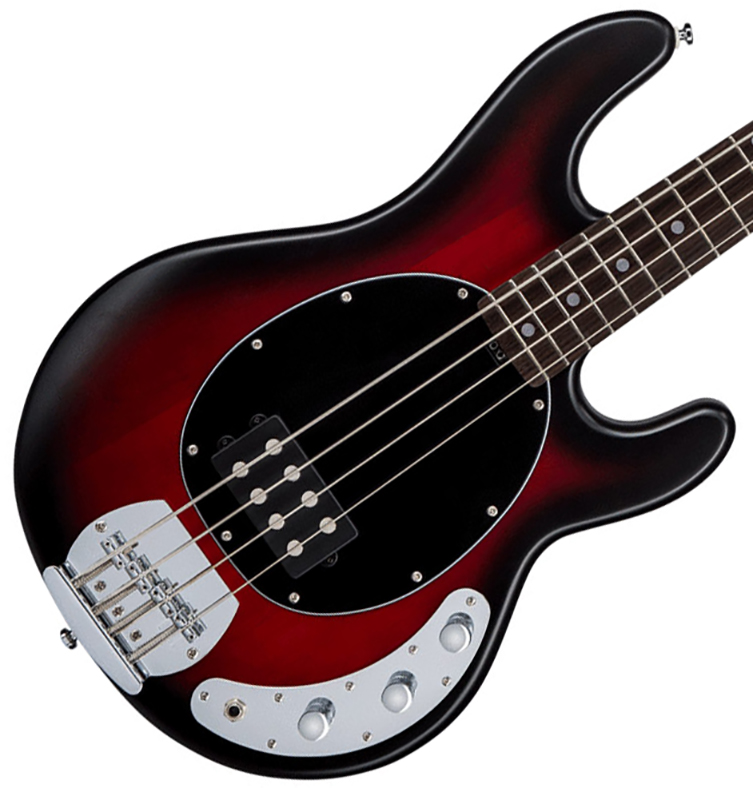 Music Man Design
Music Man have wisely stuck close to the recognisable design factors that have made the brand so easily recognisable throughout the years. That instantly distinctive 4+2 headstock (add or deduct strings depending on the model you pick...) is used on all instruments, for example. All of the curves and contours of the famous American Music Man instruments have been replicated in the Cutlass, the Majesty, the Albert Lee and more. This also goes for the circular StingRay pickguards and other 'custom' bits of design. Players on a budget could not ask for more!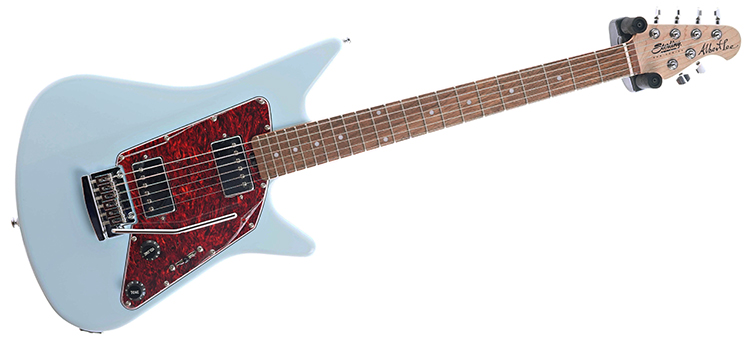 Other innovations, such as Music Man's frequent use of active electronics and the company's update of the tremolo bridge, have also been used here. The basses have either 2 or 3-band EQ preamps, and a couple of the guitar models feature built-in 12dB boosts! This type of dedication to getting things right in every department, whilst keeping costs manageable, is what helps sell these guitars. They simply excel in their price point.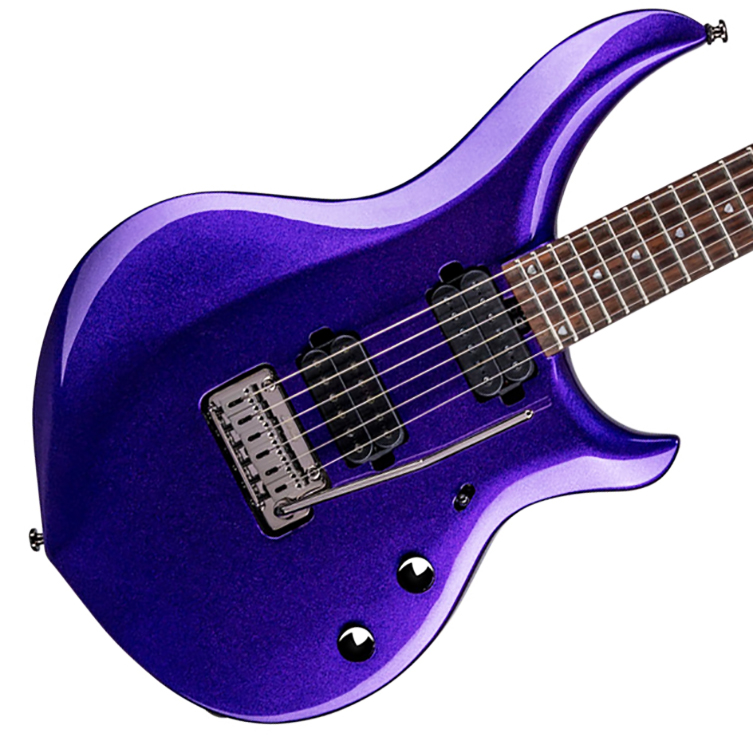 Music Man is famed for their necks, and these Sterling models closely follow suit! We are constantly impressed by the fantastic profiles used on these guitars. It makes a massive difference in the perception of quality at any price, and particularly in the mid-priced/affordable area of the market. It really feels like you are getting something special when you pick up one of these guitars and give them a cursory strum.
Guitar models
Sterling instruments are available in many of the famous Music Man designs you already know and love. We'll check out the basses mostly, but before we get there, we'd like to point out some of the fun that six-stringers can have with this brand, too! Sterling offer affordable, quality takes on the Steve Lukather 'Luke' guitar, the Albert Lee signature, a whole range of John Petrucci models (both JP AND Majesty guitars!) and a few of Music Man's original, non-artist guitars like the Cutlass and the AX3.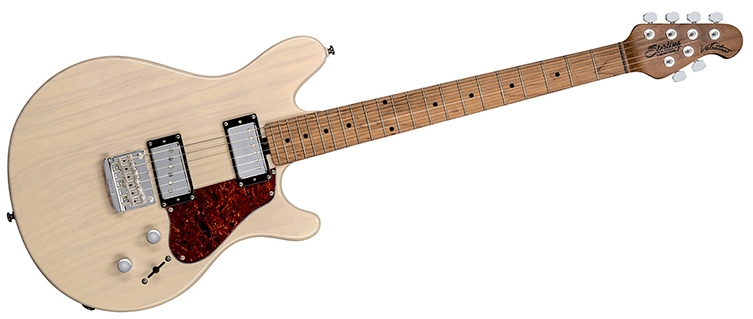 One of their most successful recent artist designs is the James Valentine model. This is one of those timeless guitars that come along once in a while that can fit into almost any musical situation. The Sterling Valentine model is particularly good value for money: it features a Swamp Ash body (which in itself is a reason to buy!), a Roasted Maple neck, and a pickup configuration which puts a large single coil at the bridge and a humbucker at the neck.
As we mentioned, Dream Theater's main man gets an entire stable if guitars to his name here. As with the American Music Man guitars, the Sterling JP models are available as both 6 and 7 strings, with figured tops and John's distinctive Shield logo as an inlay.

His Majesty guitars are also, excellently, available in the Sterling range, too! With built-in 12dB boosts, 24 frets and 16" radii, these elegant and unique Majesty guitars are built to Rock particularly hard! These Sterling Majesty guitars retain much of what makes the original design special, and are available in a variety of finishes that include 'Arctic Dream' and Metallic Purple. These guitars make a real statement!
The Basses
Music Man are most famous for their basses, and Sterling basses do much to continue this heritage. The StingRay, as we mentioned, is objectively the third most famous bass guitar design in history. The combination of an active preamp with a controllable EQ section and a powerful humbucking pickup provides a sound quite unlike what came before it.
A vast array of StingRay permutations are available from Sterling, though the models are referred to in terms that can perhaps get a little confusing...so let's sort it out! The most affordable models, which also have the subtitle 'SUB', are the Ray4 and Ray5 models. These are 4 and 5 string versions of the same spec, which includes a 9v Preamp with a 2-band EQ. These basses have the classic StingRay body shape (including the extra contours for the 5-string model), a 34" scale length and a low-noise humbucker with large polepieces. There are lots of finish options available, too, which we always appreciate!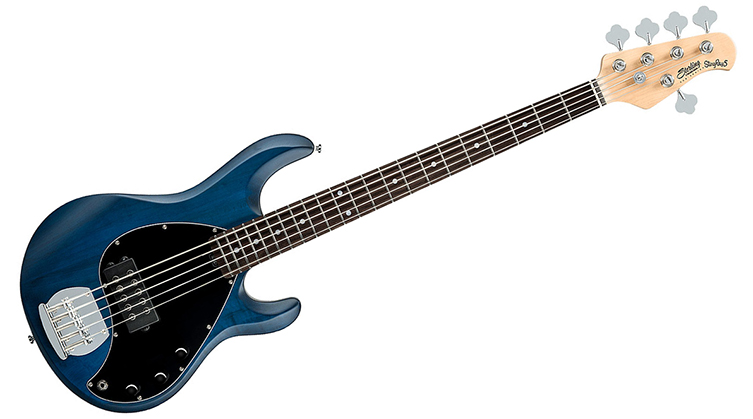 A further model, the Ray4 H-H (and it's 5-string brethren, the Ray5H-H) simply adds another pickup to the mix, and a 5-way pickup selector. Talk about options! These are so well priced, too, and come in eye-bragging colours like the Lake Blue Metallic you'll see here. The Sterling SUB range of basses are a fantastically priced introduction to the style and vibe of Music Man basses. They offer great value.
Now we move to the higher-priced Sterling models (no SUB delineation). These models feature higher production values, upgraded hardware and more complicated circuitry. A 3-band active EQ, like the USA Music Man models, is used here to give you much deeper control over those all-important Middle frequencies.
The Sterling Ray34 is the definitive model, with a modern contoured body, a roasted Maple 34" scale neck and options for figured tops. A double humbucker (Ray34-HH) and 5 string (Ray 35) are available, too, all in a wide range of beautiful finishes. From a distance, it's difficult to tell these apart from the American models!

Sterling also offer 'classic' models, based (though not reissues) on heritage StingRay models from the past. The main differences here include a more 'slab'-like body and a narrower nut (38mm instead of the usual 43mm for 4-string models), which does a lot to transform the feel of the instrument.
Lastly, Sterling also offer a StingRay with a shorter scale. The RaySS4 has a 30" scale, for a totally different playing experience. Otherwise, this is very similar to the rest of the Sterling range. It's a great bass for smaller people, and for guitarists who also play bass and don't like the huge shift in size between instruments!

The Sterling range of StingRay basses are fantastic quality. They sound wonderful and look beautiful. If you are interested in the world of the StingRay, these mid-range Sterling models are not so much an 'affordable choice' as they are 'a clever buy'! The value for money is excellent, considering the performance, feel and longevity you can expect from one.
Final Thoughts
Let's think about what you're looking for here: a classic instrument, based on vintage Californian designs (we haven't even mentioned how Music Man was one of Leo Fender's companies, have we?), with its own timelessly iconic style, fantastic playability, a host of top-notch sounds and a price tag that is entirely reasonable. You also want to stand out from the crowd a bit, but not too much!
That's pretty much what you want, right? Well, it seems to us that, whether you are a guitarist or a bassist, Sterling by Music Man is your ideal choice! For gigging, recording, rehearsing, jamming, writing and just playing at home, these instruments bring you 'real deal' performance, cool looks and a palette of the most useful sounds in music, all at a great price.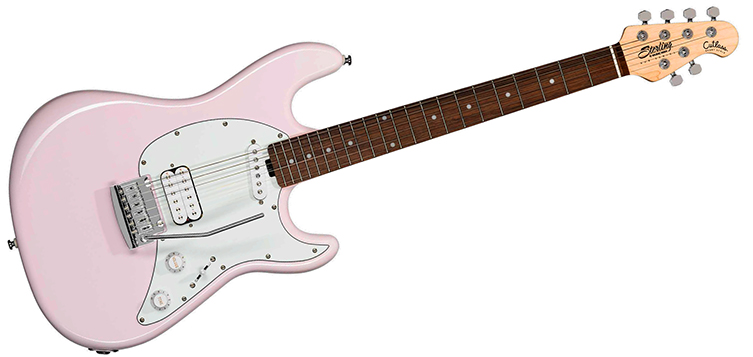 If you need an affordable second instrument for performing (maybe you are already switched on to the Music Man brand but can't quite stretch to two American-made instruments?), then we think you may just have found a real bullseye here with the Sterling brand.