Takamine: Japanese Artistry
Published on 09 March 2021
Who is your favourite Takamine player?
Is it Bruce Springsteen? John Jorgenson? Maybe you're a Garth Brooks fan? Or perhaps Glenn Frey is your favourite Eagle?
Whomever it is, these great artists all share an abiding love for Takamine guitars.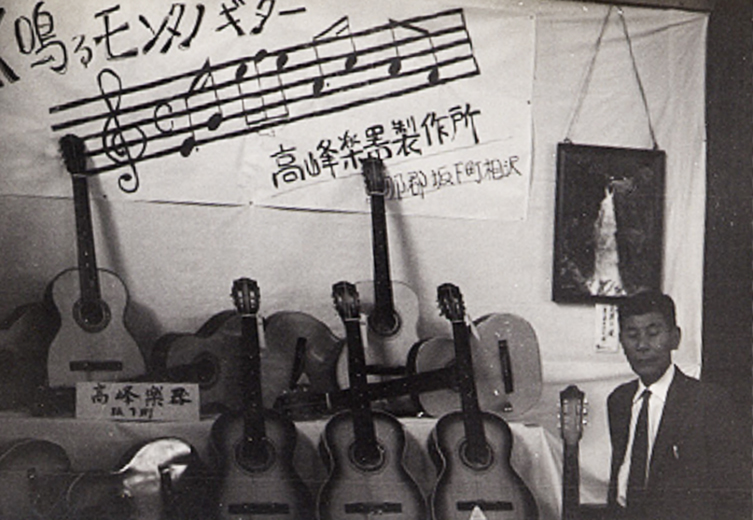 We've all grown up seeing Takamine guitars on TV, being played on stages around the world and appearing in guitar magazines. We are really familiar with them as a general brand. Many of us would have even graduated to a G-Series Takamine guitar as an upgrade to our first 'decent' acoustic, as it were.
In short, we all feel like we are familiar with Takamine guitars.
But how far have we taken that? How many of us know how pioneering a brand they actually are? At guitarguitar, we've long been champions of this great maker, so we thought it was high time we delved ever so slightly into the warm waters of Takamine's history. We'll keep it brief, but we'll talk a little about where the company comes from, what put them on the guitar map, and we'll even check out some of their current Japanese-made instruments!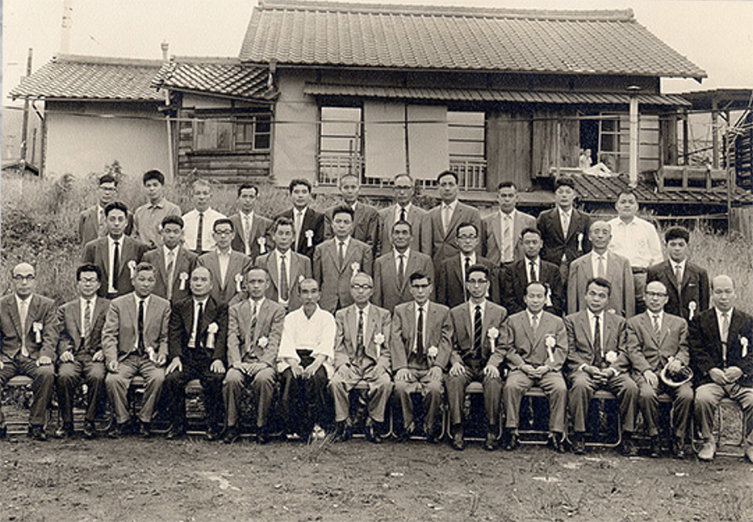 Mount Takamine
It all began underneath a large mountain in the centre of Honshu, Japan's largest island. Mt Takamine is an impressive hiking area in Sakashita, and it was here in 1959 that a small, family-run business began building classical guitars and mandolins, as well as carrying out repairs.
In 1962, the company renamed itself Takamine Gakki Ltd, in honour of their local landmark. Worldwide distribution came in the mid-70s, bringing the Takamine name out from under the mountain and into the guitar-buying world.
Pioneering Innovations
As we mentioned, Takamine's reputation is partly based on their innovative technological achievements. In 1978, they brought the world the game changing Palathetic under-saddle pickup, influencing effectively every electro-acoustic guitar since. No mere piezo pickup, the Palathetic also used a circuit board under the bridge in order to deliver a much more realistic amplified sound, along with reduced feedback issues. The piezo elements themselves are also bigger than on other undersaddle pickups, meaning that more dynamic information can be captured and sent out to one's audience.
The late 80s brought more inventions such as replaceable preamps and parametric EQs on the guitars. We take a lot of this stuff for granted as guitarists today, but without Takamine, our acoustic technology would be entirely different!
Takamine were amongst the first to use computer-controlled lasers for their inlay work. Elaborate inlays have always been a feature on Takamine's yearly Limited-Edition guitars (see the 2021 Blue Rose model later on) which showcase not only the company's skilful artistry but also their national and cultural identity. Every year, another beautiful Limited Edition guitar is released, with entirely new and elaborate Japan-referencing inlays in released.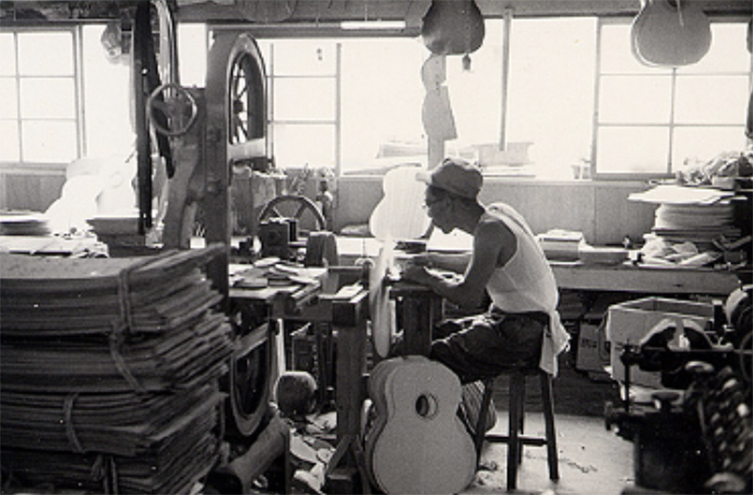 Takamine's preamp innovations didn't stop at the Palathetic pickup, either! Perhaps the biggest leapt forward came in 2004 when the CTP-1 Cool Tubes preamp was unveiled. This was the world's first onboard tube preamp, which was often dreamt about but considered impossible! The Cool Tube technology continues today in higher-end Takamine acoustics, often alongside the Palathetic pickup for maximum tone and performance.
Takamine Guitars
And what of the guitars themselves? Well, the list of users at the beginning of this article should say it all! Professional players got wise to the quality of Takamine early on, and they were a worldwide sensation by the 80s. The top tier Takamine instruments are built in Japan, close to the original spot underneath Mt Takamine where it all began. Like most companies, they also build in other countries in order to offer a more affordable line. These are known as G-Series guitars and are amongst the most popular acoustic guitars on the market.
Today, however, we are going to look at one or two lovely examples that are normally not available over in this part of the world! Yes indeed, we were recently able to get hold of a handful of models offered only to the Japanese market! Since this is a rare occurrence, we thought it made sense to highlight them a little, so here are one or two of those, along with this year's wonderful Limited Edition model...
Takamine Limited Blue Rose 2021
This stunning example of Takamine's craftsmanship and taste is the guitar we referred to earlier. Each year, the company makes a special example of their artistry, designing a model with special inlay work, finishes and features, all based around a Japanese theme.
This year, Takamine pay tribute to the rare Blue Rose (Twin Peaks fans will no doubt appreciate the accidental reference!) with Limited Edition Blue Rose 2021, a gorgeous slope-shouldered dreadnought. Made with solid Spruce and Solid Sapele, it delivers a loud, bright, balanced sound that's clear and full, as all great dreadnoughts are. The eye-catching finish is Charcoal Blue Graduation, which is highlighted by white binding and abalone. Talk about beautiful? There's more...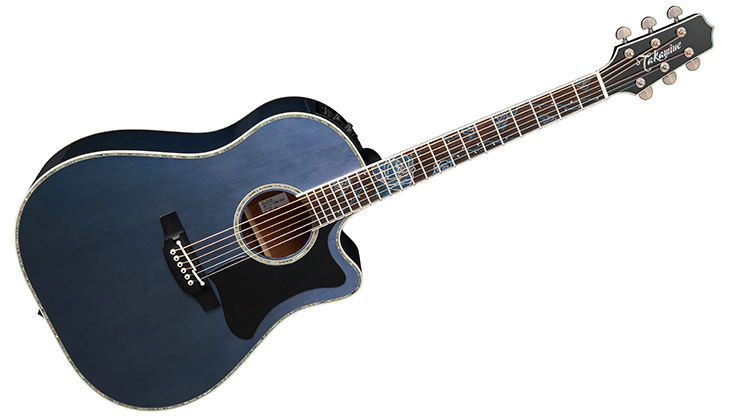 The most amazing feature here, in terms of technical achievement, is the inlay work. Wonderful blue roses with thorns criss-cross their way up the neck, stopping at opportune moments to act as fret markers. Here's the thing: those roses are made from fabric! Yes, look a little close rand you'll be able to see for yourself. The only other time we've come across this was on Steve Vai's fabled Floral JEMs, which covered the body in a piece of curtain! The level of intricacy here goes further than those, JEMs though, and we're suitably flabbergasted at the stunning, artistic results.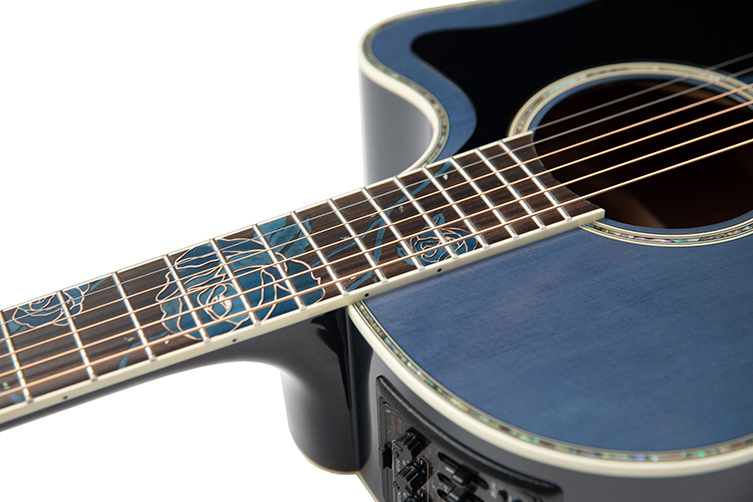 These Limited Edition Takamines are always talking points, but this year's Blue Rose may be the best yet!
Takamine PTU520NG
This wonderful nylon string guitar harks back to the company's roots as a classical guitar maker, whilst resolutely ignoring convention with a unique body shape!
In truth, the Takamine PTU520NG is actually a take on the company's famous NEX body, but with a new cutaway shape. Takamine's classical guitars are often very traditional, but this model is more of an exciting hybrid between classical and their regular acoustic designs. For example, the nut width is 42mm, making it nice and snug compared to, say, a, typical flamenco guitar's comparative girth of 48-50mm.
Guitarists who want a professional quality nylon instrument in an altogether more familiar guitar will love this.
Takamine PTU141C-12
The beautiful PTU141C-12 is an excellent example of Takamine's more subtle innovations. This time, it's making a full-sized, large sounding 12 string guitar with a smaller, more manageable body size. It's hardly small, but it's a good deal more manageable than a 12-string dreadnought or jumbo! Nothing is sacrificed in the tone stakes, either: this again is the NEX body shape, which scores of Takamine fans love over more traditional choices. It's basically a slightly shrunken Jumbo, and this model produces more than enough bottom end to round out that 12-string shimmer! Solid Spruce with Rosewood back and sides is used here: a classic combination. If you think 12-strings are hard work, this will certainly change your mind!

Quality from Japan
All Takamine guitars are held to high levels of quality control. It's part of what has won them their envied reputation, but the build of these Japanese models is extremely impressive. We love their blend of tradition and modernity, and their desire to forge their own look, sound and voice within a crowded market of copycats. Takamine are an original brand, and today's rare examples are ample proof.
Click to View our Collection of Takamine Japan Guitars