Best Christmas Gifts for Guitar Players (Updated November 2023)
Published on 03 November 2023
It's that wonderful time of the year again! You need gift ideas for your guitar-toting loved ones and we have everything you need to make Christmas a success.
Fine, but where to start, and what to buy? Worry not: this handy blog will direct you to everything you seek, and it has been handily chopped into sections, so you can dip into the parts that are relevant to your needs.
As well as writing a great many blogs like this for the guitarguitar site, I've spent many Christmas seasons on the shop floor as part of the sales staff, so I have a good idea about what you need and what you want at this time of year!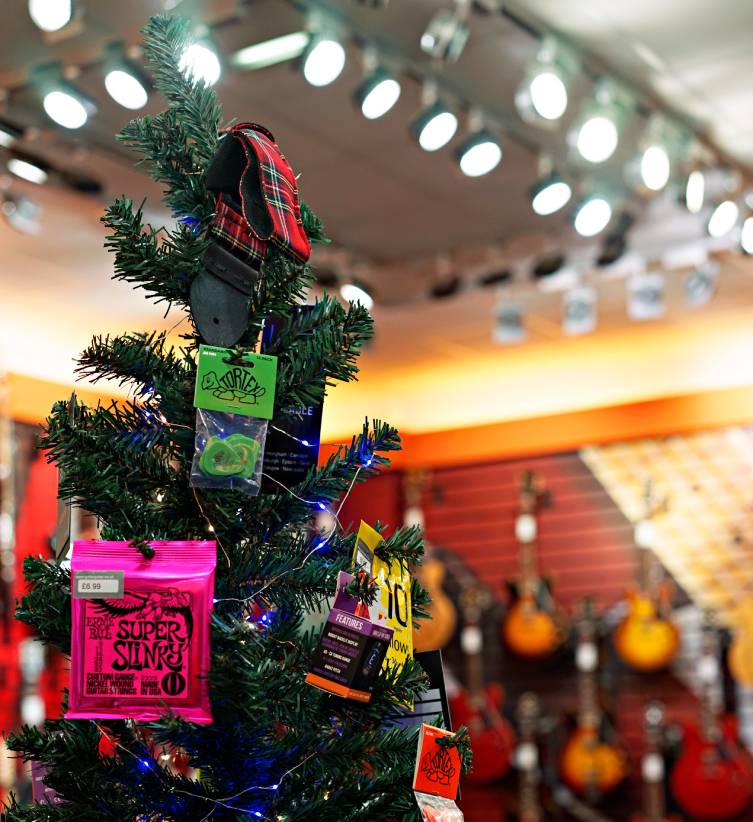 Inside this blog, I have instrument ideas for beginners, suggestions for amplifiers, effects and lots of accessories. Delve in with confidence and find all of the gift ideas you'll need this Christmas! I've selected each item on this list because, as a long-time guitarguitar staff member, I personally think they are all of value, merit and quality. Stick with me and I'll see you right!
Contents
How to Use This Blog
The first two categories are perhaps more useful for beginners, whether that's yourself or whomever you're buying for. The last three categories are meant for players of all stripes, since we all require amplifiers, pedals and accessories! If you're buying for a loved one who is already a guitar player, I suggest jumping to the Amplifier section and scrolling from there, or just jumping to the section that relates to your requirements best. You'll see carousels with products and you'll also see bold text within the article: all of these will take you directly to the products I'm talking about, so finding the right thing will be easy and stress-free.
For beginner players and anyone new to the world of guitar playing, I reckon you should blast this entire article and come away fully informed! It only takes ten minutes, and it's infinitely more useful and relaxing than your TikTok feed, so join me on this voyage of discovery!
Electric Guitar Christmas Gifts
Beginning with electric guitars, let's consider the beginner player. Every fledgling guitarist requires a good quality instrument to begin their journey, and so I've rounded up a selection of excellent candidates here.
Epiphone are one of the coolest brands on the market. They are a sister brand to Gibson, one of the most famous guitar makers in history, and Epiphone make lots of Gibson-inspired guitars. The Les Paul is the one everybody knows and loves, and this ulta affordable model, the Epiphone Les Paul Special, is a wise choice for a first guitar. Cool looking, with a nice big sound and easy playability, this is great for fans of rock and blues. You can have it in mean-looking satin black or in Heritage Cherry Sunburst (a classic Gibson colour) with or without a great Blackstar amp as part of an Epiphone LP Special Pack. I'll come back to this amp later, because it's great!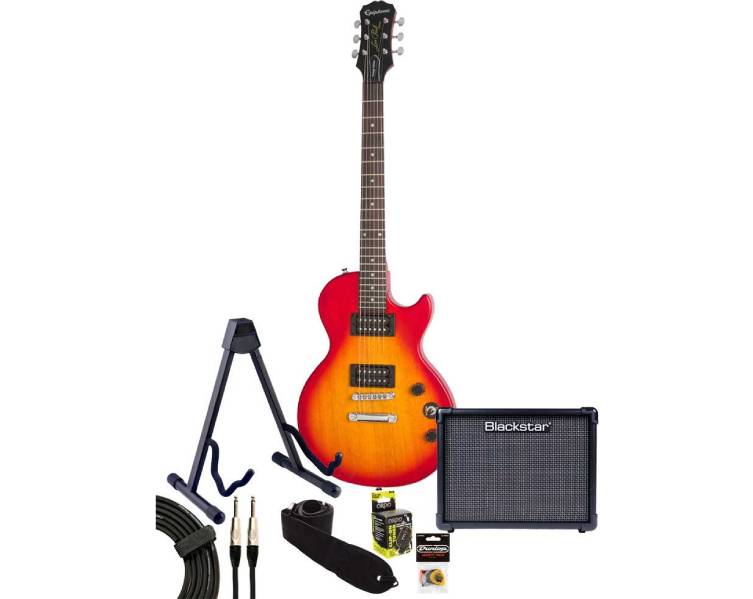 Guns n Roses fans will no doubt adore this Epiphone Slash Les Paul pack, which not only features a cool Les Paul style guitar in 'Appetite Amber', but also has a soft case and other extras to make for a wonderful gift. I'd say actually that this one will be great for new players whether they are Slash fanatics or not: it's just a nice guitar that's a little bit extra special for the money. No amp with this pack, but scroll down to the amp section for some of my ideas there.
Epiphone's big rival is of course Squier, Fender's sibling brand. Squier guitars are probably more in line with what most people at least think of when they consider a beginner's electric guitar. Why? Well, Squier have dominated that market for decades, but also, more Squier beginner models are based on the Fender Stratocaster, which is easily the most famous guitar design ever. New players are almost overwhelmingly likely to get on well with a Squier Strat, so it leaves me to say that you can get a lovely Squier Strat pack which comes fully kitted out with amplifier, cable, strap and other guitar accessories. There is even a choice of two very nice finishes, making these really quite hard to turn down!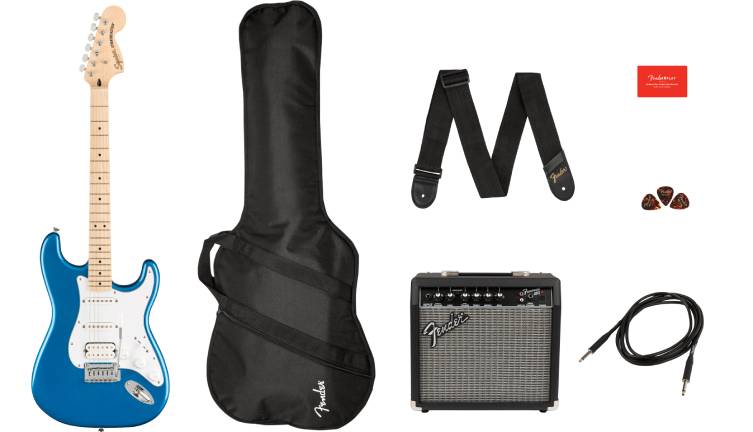 For even more value, I'd like to highlight the EastCoast brand here. You'll be seeing more of EastCoast as you progress through this blog, because they make solid, dependable, attractive guitars for very reasonable prices. For beginners' instruments, they are great, and the EastCoast ST1 is their take in the Stratocaster style we just mentioned. Buy it on its own or as part of the EastCoast ST1 Pack (includes amp, stand, tuner and loads more) and enjoy a great beginner's guitar!

Acoustic Guitar Christmas Gifts
Some people would rather begin their playing life with the rhythmic, tactile strumming of an acoustic guitar. Acoustic guitars are a very popular gift choice for guitarists, but from the outside world, they may all look pretty similar! How to tell between a well-priced gem of a starter guitar and a cheap dog's dinner? Easy: let me suggest some tried and tested classics!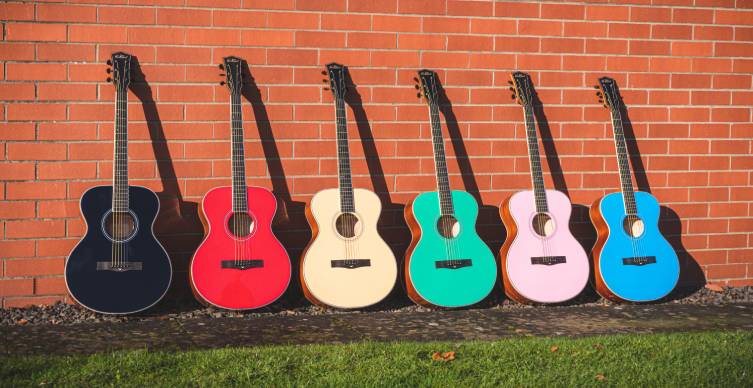 Once again, EastCoast are supplying some excellent solutions to the beginning player, with instruments like the lovely EastCoast G1. Available in a selection of very eye-catching colours such as Watermelon and Blueberry, this cheerful guitar is a good size for most players and is quite lovely to play.
Eastcoast also offer a very affordable three-quarter sized classical guitar in the form of the EastCoast C1-34. If the prospective player is very small or young, then this is the one to go for: it's very easy on the fingers, it's easy to play and it's still a 'proper' guitar.
Yamaha have long since been the crown princes of great value guitars, and the Yamaha F310 acoustic guitar is one that's familiar with all guitar shop staff. Why? It's insanely popular, and that's because it's good, frankly. It's a full-sized dreadnought style guitar with a pleasant tone and a 'name' brand on the headstock. It's cheaper than you'd expect and better than much of the competition. An easy, confident purchase!

If one were willing to spend a little more for an acoustic that goes beyond 'beginner' status, then it's back to our friends at Epiphone. I've always loved the fancy Gibson acoustic guitar models such as the Hummingbird and the Dove, and Epiphone are currently offering some beautiful versions of those handsome classics. The Epiphone Hummingbird Studio and the Epiphone Dove Studio both faithfully recreate that fancy Gibson vibe, and bring significant quality upgrades over beginner acoustics thanks to their solid timber tops (solid timber resonates more and sounds better) and built in pickup systems. These guitars can comfortably go from the bedroom to the stage, so there's plenty of future-proofing included in these.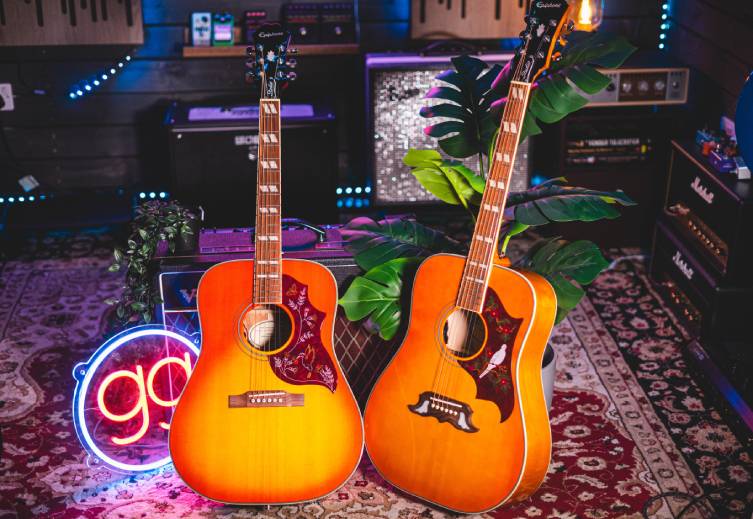 Amplifier Christmas Gifts
Next up is the subject of amplifiers. For beginners, let me tell you that amps probably play a bigger part in your overall sound than the guitars themselves, believe it or not. They are not just anonymous black boxes to plug into and forget! With that in mind, I've selected a few amplifiers that bring lots of bang for the buck, and also models I've found to sound good and offer reliability as well as ease of use. There are cheap options, and there are more versatile amps here too, which will get you past the 'small house amp' phase if you so wish.
You'll be getting used to the EastCoast brand by now, but I feel pretty justified in including their entry level EastCoast EC amps here. We had them in the office recently to test out, and many of us were impressed by the quality of sound on offer, not to mention the straightforward, unfussy design of the front panel. These are easy to operate and don't try to offer too many sounds, which you'll either appreciate or not depending on your preferences! This simplicity keeps them cheap though, and I think they'll do a great job of introducing newbies to the world of electric guitar.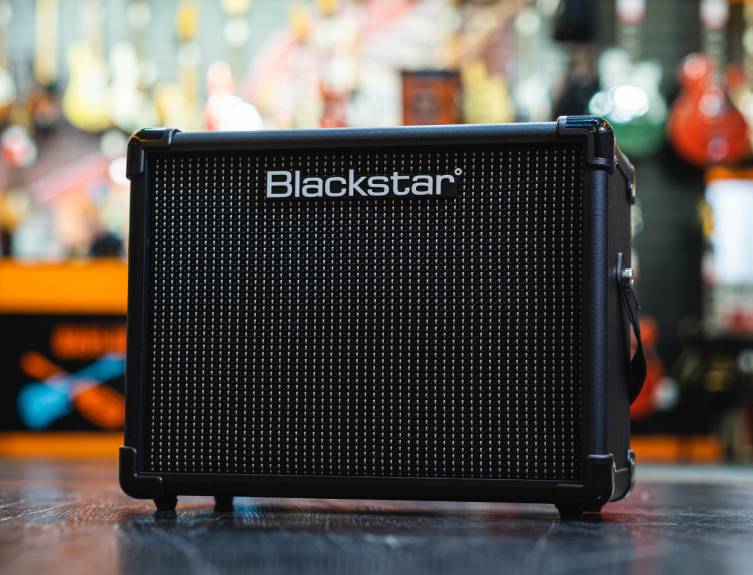 Probably my favourite affordable practice amp is the Blackstar ID Core 10. This is small and easily portable but it offers a large selection of great sounds (clean to crunch to morbidly heavy sounding) and even adds a bunch of effects in there such as chorus and delay. This ups the fun hugely, and I find it pretty difficult to find anything not to like about this one! For any guitarist - regardless of skill level - looking for an inexpensive amp for the house, I'd say that this one delivers loads in a fun, easy way.
If you feel like having more power - maybe looking ahead to band rehearsals and maybe even gigs, then the BOSS Katana 50 and Line 6 Catalyst 60 amplifiers are worth close inspection. These two brands are pretty much the titans of guitar effects, and each amp here marries first-class sonics to feature-rich designs that don't break the bank. These are the choice of working players, and as such cover a lot of ground. Versatility is key at this price point, and both of these amps are exciting choices that will deliver on a number of levels.
Lastly, I think you really need to know about Positive Grid's Spark range of amps. These are a different kettle of fish to everything we've seen so far, because they work alongside a phone app. The actual amps themselves - and there is the Spark, the Spark Mini and the Spark Go available - have relatively limited controls onboard, since their whole ethos is to be small and fit into your home life. You select and edit sounds via the amp and that gets sent to the amplifier, which will save your sounds until you change them again. Each Spark sounds uniformly great, so if you like minimalism and are up for the Bluetooth element, I'd say definitely consider a Spark!
Guitar Pedal Christmas Gifts
Pedals are an excellent gift choice for a guitarist. I've never met a guitarist who doesn't genuinely thrill at the prospect of some new stompbox to try out and make noise with!
Pedals are small, and they can be very affordable too, so they are ideal gifts on a number of levels. I've picked out a few obvious classics for you this year: choices that should land you success even if you're not too sure what styles and genres the prospective giftee prefers. You can't lose!


Owning a wah pedal (for some reason, we no longer call them wah-wah pedals, and I do not know why…) is an inevitability for every person who plays an electric guitar. They are such a ubiquitous effect, and yet they all have their own sound. With tons of wahs on the market, I say cut through the noise and go for the world's number one: the Dunlop Crybaby GCB95. It's the best-selling ever for a reason: it sounds ace and it doesn't mess about with extra features or fancy paint jobs. Essential, in other words!
Another essential pedal is a tuner, and to gift a tuner is to give everyone in the vicinity of the player a gift too, because out-of-tune guitars are monstrously annoying! Keep your loved one's tuning in check with the BOSS TU-3, a pedal that will be part of their toolkit for literally decades to come.
Another pedal that is universally loved (and useful) is the Ibanez Tube Screamer overdrive. Blues players love it, rock players love it and metal players love it, so I have no hesitation in recommending it. It comes in a few flavours, so I'd recommend the Ibanez TS Mini, since it's nice and small, which means that when the pedal collection inevitably grows, there will always be room for this one!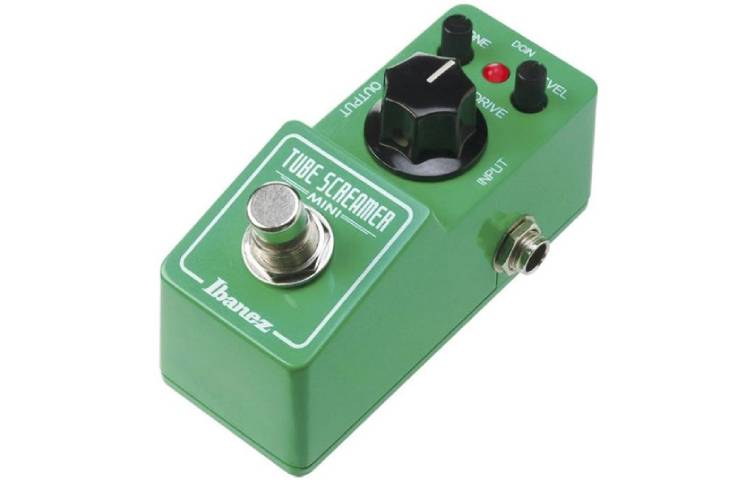 The BOSS DS-1 Distortion is a legendary pedal. Nirvana used it, it's not too expensive, and it's practically a rite of passage for all rock-centric guitarists. From beginner to pro, the DS-1 finds itself in all the right places.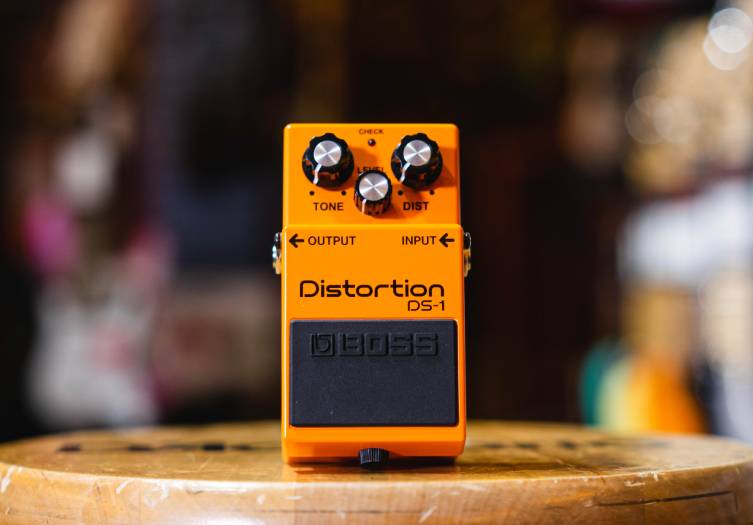 For maximum bang for buck, I want to recommend the Landlord FX range. Yes, the whole range, which is now over a dozen different effects pedals. They are small, cheap (we're talking £29 for many of these!) and effective, so there's plenty of fun factor and not too much financial risk involved in choosing one for a present. They are all based on a pub theme, so if your giftee loves a pint down at the Dog & Duck or whatever, they are sure to appreciate the references. My favourite one? The Bottoms Up Octave. Hours of fun!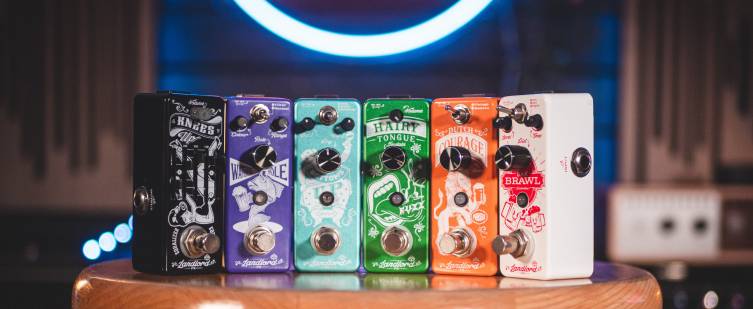 I looked at Line 6 a little earlier in the amplifier gift section, and mentioned that they were one of the titans of guitar effects. Here, then, are two examples for proof: the HX One and the HX Stomp. Both of these units are like mini multi-fx, crammed full of top tier effects taken from their flagship Helix processor. The Helix is industry-standard touring grade for professionals, and those effects are the same ones available in these two devices. The main difference here between the two units are that the HX One provides only one effect at a time (though you can choose from over 250 different effects), whereas the HX Stomp lets you have more complex combinations of not only effects but amplifier simulations too, plus extra fun things such as a looper. Both are an amazing addition to any guitarist's palette, and are pretty excellent gifts.
Guitar Accessories Christmas Gifts
Now, this section of the blog is where to come if you are looking for smaller gifts. Maybe you want some add-on gifts to accompany something big you've bought someone, or maybe you just want to show some love to a friend this Christmas: whatever your plan is, I've looked out some quality accessories for you to choose from. We're talking cables, stands, picks (plectrums) and things to help care for guitars. This is all good, useful stuff, so have a gander and see if some ideas begin forming in your mind's eye…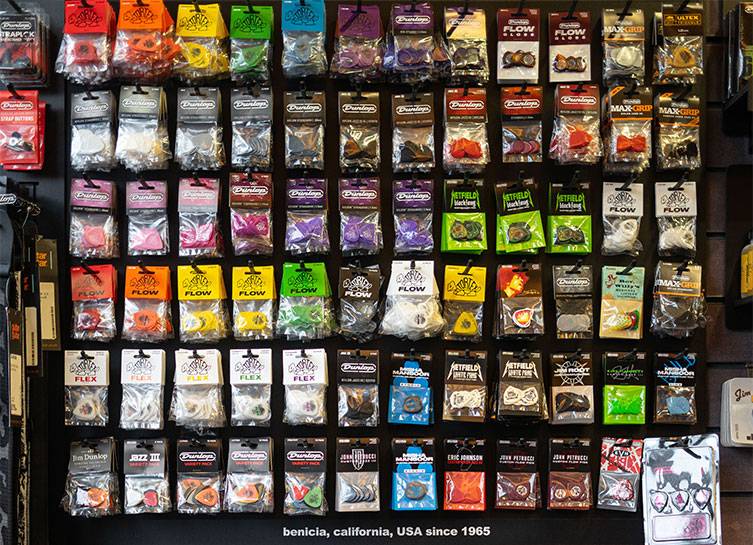 If you bought an effects pedal, it's likely that it'll need a power supply (batteries are a pain, and not every pedal takes them these days), so this Tour Tech Power Supply should see you right. It's cheap, cheerful and is the most common 9v, centre-negative style used by the majority of the effects industry for their pedals. Double check with us if it's suitable first, but it's likely to be!
Leaning a guitar against a wall is very poor practice, so a stand will be a good idea, and I have two styles for you: the guitar stands, which is small and handy, and the famous guitar stands, which offer more support since it grabs the guitar by the neck in its fancy self-closing claw.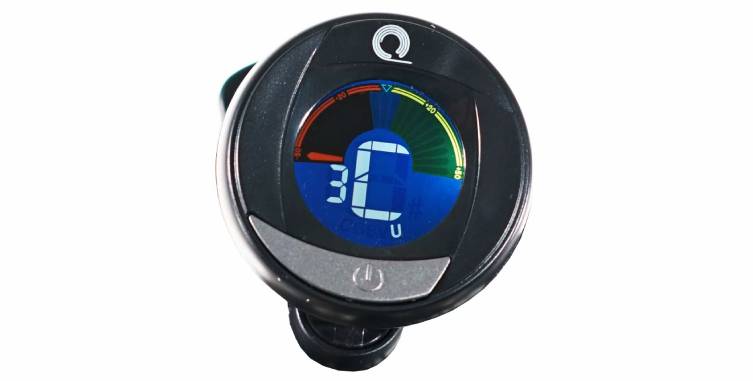 As you'll now know, staying in tune keeps everybody happy, not just the guitarist. A little clip-on tuner that attaches to the guitar's headstock is a very handy device, and this Ordo A-T01 comes in at a very attractive price. It has a colour screen too, which looks fun but also has practical benefits on dark stages!
No guitarist ever said 'I have enough cables', so gift them a 10ft (3m) Ordo cable and they'll love you. No guitarist ever said 'I have enough plectrums', either. Dunlop make the best guitar picks and everyone knows it. Show that you understand this with a deftly gifted Dunlop Variety Pack, which contains a good selection of plectrum (pick) styles. Favourites will develop, but everyone likes trying new picks, let's face it.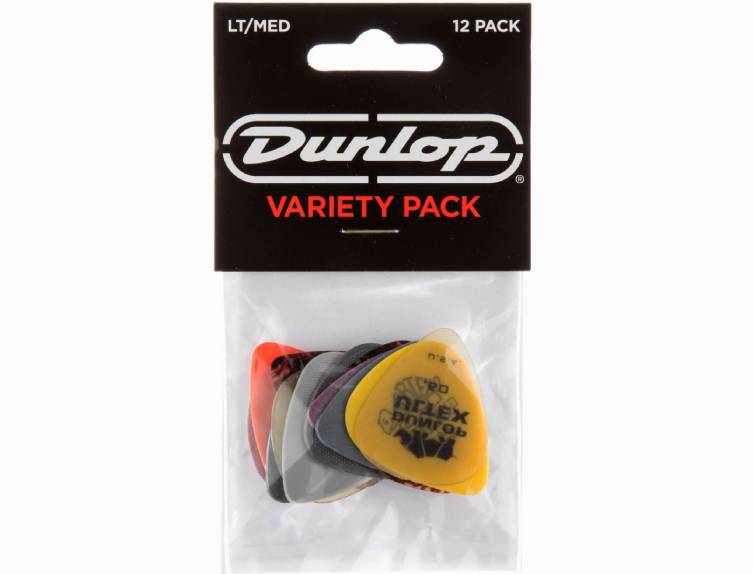 Dunlop are also pretty excellent at guitar care and maintenance products, so show you know your stuff by choosing some Lemon Oil and Polish as gifts for your guitar-toting loved ones. It all smells objectively lovely and keeps the grime and crud away from these wonderful new guitars! A Dunlop 5400 Polish cloth is another easy addition here: maybe make up a little gift package?
If you're doing that, you might want to look at GHS Fast Fret. It's a string lubricant to use after you're done playing, in order to retain the 'life' in the guitar strings. Many guitarists swear by it, and it's a consistently big seller.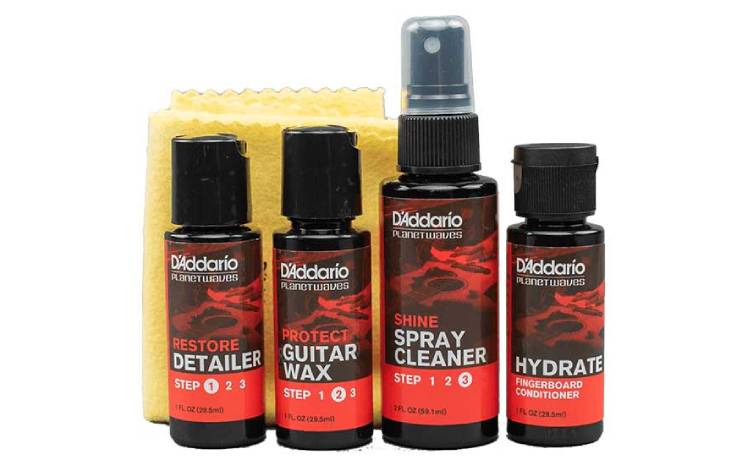 In fact, if you'd like a little package of care products that are available together in a handy pack, I'd steer you towards the D'Addario Instrument Care Essentials pack. D'Addario make great products across the board, and these bottles of potions will show that you're a thoughtful gift-giver indeed. Adding a D'Addario Pro Winder shows that you're even more thoughtful!
Give the Gift of Guitar
I hope this blog has been useful to you and that you're had some 'aha!' moments whilst reading. Buying guitar-related gifts can be tricky enough when you're obsessed with the subject, so I can only imagine how difficult it might be for those on the outside, as it were!
Please do remember, the spirit of gift-giving is always the most important thing, and your loved ones are lucky to have you thinking of them this Christmas.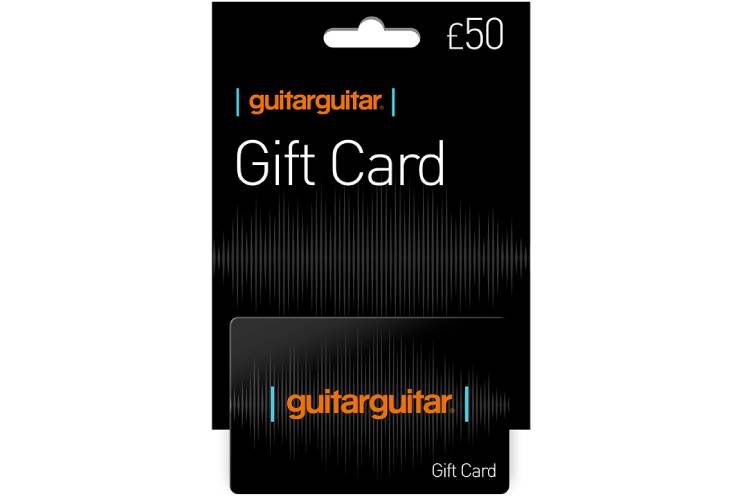 Also, if you still can't make your mind up, we do sell guitarguitar gift cards, both online and inside our stores, so that's an easy option if you can't quite land on another plan.
I'd like to personally wish you a most happy Christmas time, filled with joy, laughter, jokes and great memories. And if your gran/uncle/niece asks you to get the guitar and play a tune, this is the one time of the year when it's more eagerly indulged than ever, so do it!