13 Influential Female Bass Players
Published on 22 March 2023
Bass players are often overlooked in the world of music. That's a fact. But listen to a song without a bass line and you'll quickly realise how important its role within the band is. When you hear a chunky low-end lick, suddenly you start getting into the groove, the rhythm takes you away from the melody and before you know it, you're down the rabbit hole of looking up famous bassists. And then you discover that some of the best bass players are female. They're the glue that holds it all together. And they are exceptionally talented musicians.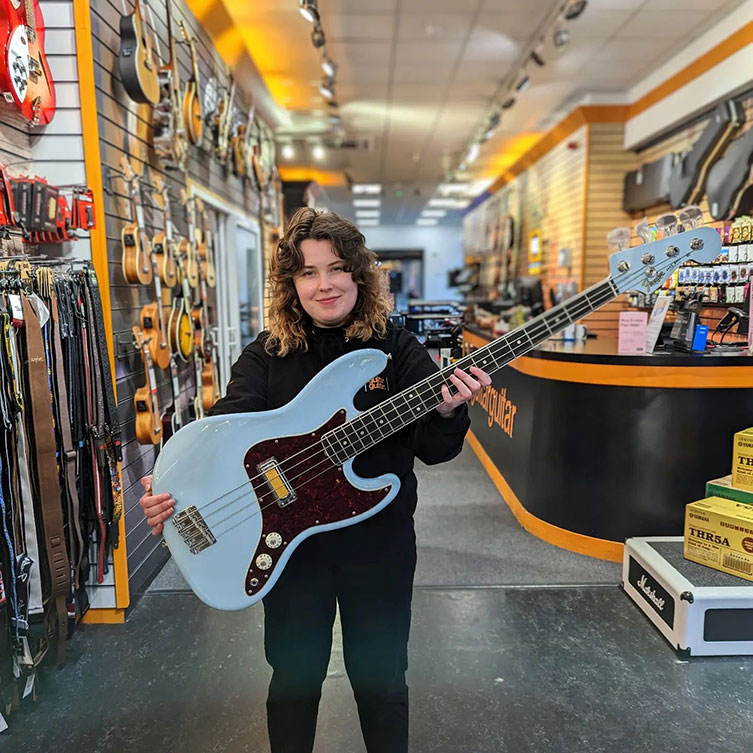 To celebrate their achievements, we've put together a list of 13 influential female bass players you should know about. The list as always isn't a ranking but more a collection of players of many different categories. Ultimately these are the names that have shaped the sound of contemporary music, with genres spanning from jazz to punk rock.
Ready? Then get your groove on…
13. Carol Kaye
It goes without saying that Carol is one of the most prolific bass players in all history. And not just in the female category either. Her playing can be heard on 10,000 recordings in pop and rock music. We guarantee you have listened to her work at least once.
60 years in the music industry and counting… No list of the best female bass players goes complete without the name Kaye. Raised by musician-parents, Carol was surrounded by the groove since she was a baby. An accomplished studio session musician, writer and educator of famous bassists, she became part of an LA-based musicians collective going by the name The Wrecking Crew. You can watch a documentary under the same name released in 2008 by Denny Tedesco, which covered the story of the most exceptional session players this world has seen.
What's the recipe for success, then, you may ask? As the bassist says herself, "don't be late and carry a pencil, don't be egotistical, oh and yes, know how to create, read music and play your arse off"!
When it comes to gear, Carol's go-to axe in her 1960s studio days was, naturally, a Fender P-bass with flatwound strings. Nowadays she's a sworn Ibanez bass player and is no stranger to a jazz guitar!
Her bass lines can be heard on Ritchie Valens' La Bamba, These Boots Were Made For Walking by Nancy Sinatra, Scarborough Fair by Simon & Garfunkel or Good Vibrations by The Beach Boys to name a few.
12. Gail Ann Dorsey
When David Bowie phones you up and asks if you'd like to become part of his touring band, you don't think twice. In fact, you drop everything you're doing and you run for it with all your heart.
That's exactly what Gail Ann Dorsey did and never looked back.
This Philadelphia native is perhaps best known as Bowie's main bass guitarist yet Gail is also an accomplished singer, solo artist and a multi-instrumentalist (she claims guitar, her first instrument, is her favourite thing to play to this day). Aside from Bowie, Dorsey has collaborated with an array of big industry names: Lenny Kravitz, Tears For Fears, Eric Clapton, Gwen Stefani, Lou Reed and many many more. Pretty impressive for a self-taught musician, isn't it? Gail often said she tried learning music theory but to no avail. Some artists just have a special gift that allows them to get creative by intuition rather than the study of rules. Maybe that's the trick? You see, it often seems that those who can't explain what they're doing are not far from being geniuses. Now, we're not saying ditch that theory book right away but maybe don't get discouraged if you don't quite get the circle of fifths.
As Bowie often said to Gail: "When you're out of your comfort zone, you're in the right spot."
When it comes to Dorsey's musical style, it is as unique as it is broad: she skillfully and tastefully incorporates elements of funk, pop, rock and country into anything she touches.
She can be seen laying down her signature bass chops using a Music Man Stingray or Fender Jazz Bass.
Gail Ann Dorsey is a force to be reckoned with when she's on stage. She's influenced many bass players and she keeps inspiring current audiences. In 2021 Bass Player Magazine gave her a well-deserved Lifetime Achievement Award.
11. Kim Deal
Some say a good bass line is one that stands out and drives the song, whilst others would argue bass riffs should blend in with the song and serve the rhythm. Where's the truth? Well, that depends on the style of music you play and on your individual sound as an artist. A true master of making both of the above work simultaneously is one Kim Deal, former bassist of the Pixies. Their biggest hit, Where Is My Mind?, and also one of the most beautifully written songs of the 90s, attests to that simple recipe perfectly well. Kim's bass riff sits firmly in the mix yet it's subtle enough to allow guitars to shine and leaves space for harsh snare hits. It's a masterpiece of minimalism that creates a huge sound. Generally speaking, Kim's bass licks were usually driving and she knew when to sit back and when to let her 4-string axe roar.
After the breakup of Pixies, Deal fully concentrated on her other project, The Breeders where she could play guitar and sing. This all-female grunge formation was everything the 90s were about: heavy guitars matched with growly vocals, punchy drums and lots of angry girl power (by the way, where are all those stage slaying women? Grab your guitars girls, let's get back on stage like we did then!).
To highlight just how talented Kim is as a musician, it's worth mentioning that Kurt Cobain himself was not only a huge fan of the Pixies but also had a premonition that Kim's creativity would leave a mark on the 90s alt music. And, oh boy was he right! Spin Last Splash on your turntable. Or just press play below and hear for yourself.
Let's get back to the bass realm. Kim was usually seen playing it with a plectrum (green Tortex to be precise) and plugged to Trace Elliot heads and cabs of all sorts for most part. As for the axes themselves, Deal used a variety of models throughout her career, including a Fender '60 P-Bass Reissue, an Aria II Pro, a Gibson Thunderbird and a Music Man Stingray.
10. Kim Gordon
Alternative rock band Sonic Youth forever shaped the sound of the 80s and the 90s with their use of alternate tunings adding a fresh vibe to the much overused powerchords and standard chord progressions. And like most groups in the 90s they were all in for having an energetic female presence in their ranks: the charismatic bassist and vocalist, Kim Gordon.
Kim's approach to bass made her one hell of an influential female bass player ever to come out of the 90s era. Her playing stands out for the simple reason that Sonic Youth used a variety of tunings (and we highly recommend trying out some tabs if you haven't yet)! Her style was intense: overdrive was the key effect for her bass tone with lots of root note thumping. Kim knew when to create a chunky texture and when to take a step back, allowing the rest of the band to shine. Kim's stage set up had to have a grit and punch to it, and nothing better to achieve this than with an Ampeg SVT stack.
Kim is not only a famous female bass player, you see. She's been involved in visual arts throughout her musical career. She also ventured onto a career as a record producer (her debut in this role was Hole's Pretty On The Inside), tried her skills in acting and the world of fashion. Her most recent accomplishment worth noting is a 7" single recorded on Sub Pop Records with J Mascis!
9. Sean Yseult
Shauna Reynolds, better known as Sean Yseult, has made her mark on the list of famous female bass players. You may be unfamiliar with her name but we guarantee you have heard her bass riffs many times! Where? In White Zombie - a noise-rock-turned-heavy-metal band she co-founded with her art school colleague, Rob Zombie, in the mid 80s.
A trained violin player, Sean could read music as well as play by ear, therefore scoring a gig was a piece of cake for this musician. Joining The Cramps on their 2006 tour may just be enough to testify to this!
She currently offers her magical bass grooves in all-female doom rock formation, Star & Dagger.
In 2010 Yseult published a book I'm In The Band documenting a life on the road as a female musician which contained tour diaries and photos from the road as a White Zombie band member. It's a bit of an essential read for anyone who wants a closer look at the 80s/90s era of hard rock, let alone an aspiring female bass player!
When it comes to her bass choices, Sean made sure her axe matched her personality: your bass is an extension of creative expression after all. We can see her play just about anything that has a remotely non-boring look and shape, from Rickenbackers to the Ibanez Iceman to her own designed Schecter Casket Bass (yes, it has a coffin shaped body) fitted with a pair of punchy active EMG 35P4 pickups.
Sean has been seen using a TC Electronic RH40 rig (and has an honorary mention on the company's website for that reason). She also loves the responsiveness of Ampeg's famous SVTs and has a soft spot for yellow Tortex .73 plectrums.
8. Rhonda Smith
"Her name is Rhonda and she is funky." We're confident it would really suffice to say this about Rhonda, who played bass for Prince and Jeff Beck, because that in itself makes her one of the most legendary female bass players ever. However, her contribution in modern rock music is so significant we will indeed write a little more than just one line.
Rhonda Smith is a professionally trained musician. She graduated from McGill University in Montreal where she studied jazz performance. She won a Juno award for Best Contemporary Jazz Album.
Aside from spending nearly 10 years as Prince's bassist, Rhonda has also worked with a plethora of other industry giants: Beyonce, Erykah Badu and afore-mentioned guitar virtuoso, Jeff Beck. She has also released 2 solo albums.
Rhonda has been one of the most sought after studio and touring musicians for a solid 2 decades. Her main styles are funk, jazz and rock but she can quickly adapt to practically any style required. Smith is known for her swooping grooves and a powerful slap attack.
She's fond of her PRS Grainger 4-string bass in Tequila Sunrise but has used many other bass models throughout her extensive career. She finds Aguilar amps the most versatile for her style. She is endorsed by both of the brands as well as D'addario bass strings, Dunlop, Morley and Darkglass pedals.
7. Melissa Auf der Maur
The more we dig into the world of famous female bass players, the more we start noticing there are certain features they have in common: the great majority of accomplished bass-slaying girls have a background in visual arts. Melissa Auf der Maur is no exception. Right before she got invited to join Hole in 1994, Melissa graduated from Concordia University with a major in photography, specialising in self-portraiture.
Her presence in the band was crucial to its success. Her work has been immortalised in the iconic grunge album Celebrity Skin. After her departure from Hole, Auf der Maur joined another notable grunge outfit of the 90s, the Smashing Pumpkins, for a one-off tour back in 2000. It is worth mentioning, this was to replace the band's original bassist - D'arcy Wretzky, another badass female player (D'arcy deserves an honourable mention as her musical contribution as a bass player, songwriter and backing vocalist are credited on 6 Smashing Pumpkins' studio albums. She left the band in 1999).
Melissa launched her solo career in the early 2000s, releasing 2 albums, one of which she single-handedly produced on her own independent label, PHI-MAdM Music.
From a bass player's perspective, grunge is all about driving bass lines and fuzz-fueled, chunky riffs. Melissa nailed the tone of the 90s with what seems to be the staple choice within the niche: Fender P-bass paired with an Ampeg speaker. She's extremely loyal to her choice: you'd never see her play anything but a Fender! In fact, she collaborated with the industry giants to design her own custom models throughout the years and proudly toured them around the world.
6. Jennifer Finch
Grunge seems to be the one genre that is bursting at the seams with top female bass players! It doesn't seem as strange anymore when we take the context of the 90s into perspective. The Riot Grrrl movement was prevailing in the States and slowly spreading over to Europe. Initiated by another all-female band, Bikini Kills, who released a zine under the same name, Riot Grrrl was all about tackling sexism in the music industry, encouraging girls to come to the front (of stage, of the crowd), to not be afraid to speak their minds and showing they are just as good as boys when it comes to playing guitars. This and much more.
L7 was probably the most significant all-female group of that era. Not only did they reign over the underground scene of Washington but they also toured the world, headlined festivals and made several appearances on MTV. Jennifer Finch, the band's bassist, epitomised the coolness of being a female musician of the punk/grunge era. Her stage presence was strong yet effortless, her low-hanging bass guitar and bare feet a power move to the boys club of rock music.
Finch started her artistic career as ...you guessed it, a visual artist and a photographer. She was active at her local scene taking photos of punk and hardcore shows, art exhibitions, skating events and queer scene acts.
Jennifer's bandmate, Donita Sparks, described her as a stubborn and persistent visionary whose stage energy combined with networking skills were crucial factors contributing to the success of L7.
Finch's bass lines are nothing short of a huge wall of sound, driving the heavy resonance of anger-filled lyrics. She contributed to the most renowned albums of the 90s female scene: L7, Bricks Are Heavy, Smell The Magic and was the sole songwriter for many big hitters the band released.
Jennifer was as grunge as it gets when it comes to her gear choices: she used mostly Fender of some sort, P-bass or Jazz bass (sometimes Gibson Thunderbird or SG), chunky Big Muff fuzz and ran her sound through Ampeg SVT. This gave her a low-end heavy, robust sound L7 is known for.
5. Suzie Quatro
In the rock universe, if you sing and play guitar, you're just one of many. But if you sing and play bass… you're extra cool. None better to prove it than Lemmy or …Suzie Quatro.
Suzie studied music from an early age. She started out on percussion and classical piano before she switched to bass guitar in an all-girl band she formed at the age of 14. The group, called The Pleasure Seekers, toured for 7 years and it was in this band that an influential producer headhunted Suzie and offered her a solo contract - which turned out to be a one-way ticket to fame.
Quatro's songwriting skills matched with ferocious stage presence gained her recognition across Europe, UK and Australia with her solo singles Can The Can and Devil Gate Drive reaching number 1 on official charts in the early 1970s.
Suzie Quatro is a true trailblazer for female rockers in general. She was the first to be taken seriously as a female rock 'n' roll musician. She never demanded it, she just went on stage and did her job. She played the boys at their own game. That's how it's done. Hopefully that confidence-driven attitude made it that little bit easier for any other female bass player that comes after her.
In 2020 Suzie was awarded the Icon Award by the Women's International Music Network.
We know what we're saying when we tell you Suzie is one of the most influential and best female bass players of our times. Celebrating 55 years in rock and roll (and counting) speaks for itself, right?
4. Jennie Vee
If you were looking for inspiration to get your rockstars dreams come true then look no further: Jennie Vee will light a spark in you instantly.
This Canadian musician has a career we all dream of: after teaching herself how to play bass in her early teens, Jennie moved to England with one goal in mind: to rock on stage. She recorded her first demos there, played her first shows and established herself a strong connection within the British music scene.
2014 saw Jennie relocate to Los Angeles where she released her solo EP Die Alone and as a result she was discovered by her idol, Courtney Love, and recruited to play bass on the Grunge's queen tour Endless Summer with none other than Lana Del Ray. Phew! That'd be us forever satisfied with our musical achievements. But not Jennie. She is not one to rest on laurels.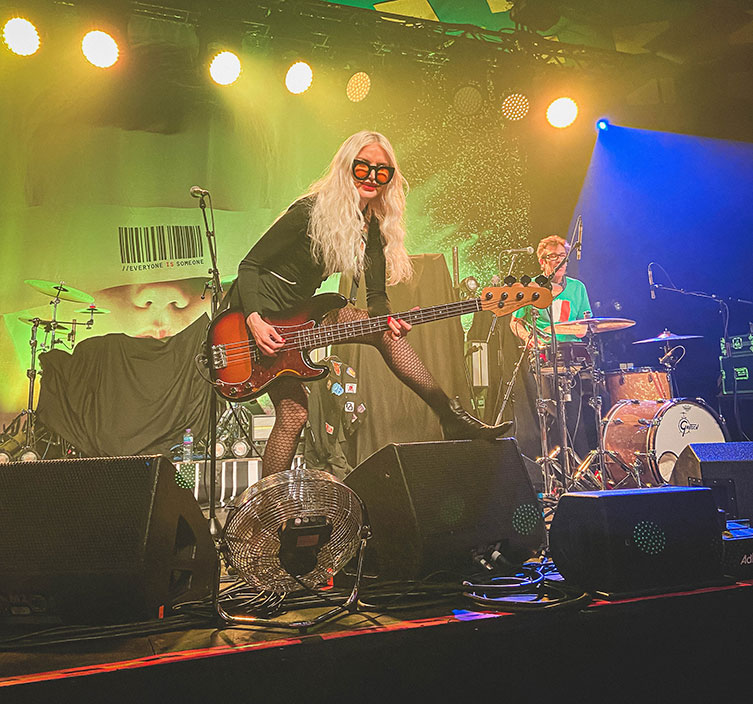 Her passion for music and hard work landed her another dream position in the rock industry, this time alongside Josh Homme's new formation, Eagles of Death Metal. She's been the band's permanent bass player since 2017.
Ok there's more. When Jennie isn't busy touring the world with EODM, she runs her own clothing line or performs with her husband, Slim Jim Phantom - the legendary drummer of the Stray Cats - with his new project Slim Jim Phantom Trio.
Jennie's go to bass is a 1991 Mexican P-Bass in Arctic White. It was her first ever bass and she still plays it to this day! Her techniques rely on plectrum use (Dunlop 1mm Nylon black) and she is no stranger to a hefty pedalboard. Her favourite is a boutique fuzz pedal by Wren and Cuff, Electro Harmonix Small Clone chorus and she plays through a stack of HiWatt heads and cabs.
3. Enid Williams
There aren't many all-female heavy metal bands out there these days and if there are, you bet they are amazing. All thanks to the pioneering group of the new wave of British heavy metal - Girlschool. Enid Williams, the band's bass player, deserves a shout out for being one of the brave trailblazers contributing to the battle against sexism in the music industry. Because before then (and what seems to be repeating in current times) a woman's place in the band was as a vocalist if at all. Girls with guitars or behind drums were not taken seriously or had a lot to prove if they wanted to be part of a band.
Girlschool was a game changer. Their ferocious stage presence, mainly thanks to Enid's charisma, got them quoted on par with Motorhead and they "were good enough" to tour with the likes of Rush, Black Sabbath and even headline Reading Festival.
Enid left the band in 1982 to continue on her academic qualifications and obtain a post-graduate diploma in music at Guildhall. She gets involved in education, runs rock music projects in schools and has taught hundreds of young people to sing.
2. Esperanza Spalding
When women forge new paths in music it often goes unnoticed. The nature of 21st Century media is to dismiss their talents and steer the public eye onto their looks or personal affairs. Those of us who don't get the hype of tabloids know there's a plethora of groundbreaking female artists. The great majority of the artistic type female musicians are focused more on their craft and professional growth rather than making a racket about themselves. Jazz artist, Esperanza Spalding, is one of those musicians.
This insanely talented female bass player deserves much more attention than is currently being given to her achievements. Unless you're in the bass player's circle, chances are you probably haven't even heard of her. But we're here today to change this.
Esperanza herself highlighted her desire to be only ever judged by her musicianship rather than her sex appeal and she is a firm believer that it is almost a duty of modern female musicians to make it all about their work rather than their beauty. And if we are to take our playing seriously, we better listen: Esperanza won 5 Grammy Awards so it's safe to say she knows exactly what she is talking about. It is worth highlighting that she was the first ever jazz musician (from both male and female categories) to win Best New Artist Grammy in 2010 for her third studio album, Chamber Music Society. Esperanza has also been appointed professor of the Practice of Music at the world renown Harvard University. Beat that!
Esperanza is a trained classical musician so she can swiftly swap between double bass, acoustic (fretless 5-string Godin) and electric bass - her go-to being Fender fretless Jaco Pastorius Jazz bass.
Flatwound bass strings? Of course. It may already seem like the amplifier of choice for most influential female bass players is an Ampeg and it's no different for Spalding. She is often seen using Ampeg SVT-4PRO.
1. Tina Weymouth
Talking Heads were one of those bands who wrote one hit after another. Let's admit it, we've all butchered Road to Nowhere or This Must Be The Place at karaoke nights countless times, right? Well you may be surprised to know that these songs and many more (e.g. Psycho Killer, which was ranked in the 500 Songs That Shaped Rock and Roll list released by the Rock and Roll Hall of Fame) were a collective effort of the band's members with its founding member and bassist, Tina Weymouth, being the main songwriter for the group!
Tina not only contributed to the popularity of new wave rock music back in the 70s and 80s, she also composed songs for other famous artists such as Mariah Carey (Tina was part of the songwriting team for the US Billboard number 1 hit Fantasy).
In 2002, Tina Weymouth was inducted into the Rock and Roll Hall of Fame as an influential member of Talking Heads.
As a bass player, Weymouth combined funky riffs with minimalistic punk bass lines, creating a melodic, danceable rhythm which became Talking Heads' trademark sound.
Throughout her career, Tina played a vast variety of bass guitars, including Hofner 500/2 Club Bass (single-cutaway), Fender Mustang, Fender Jazz bass and Steinberger.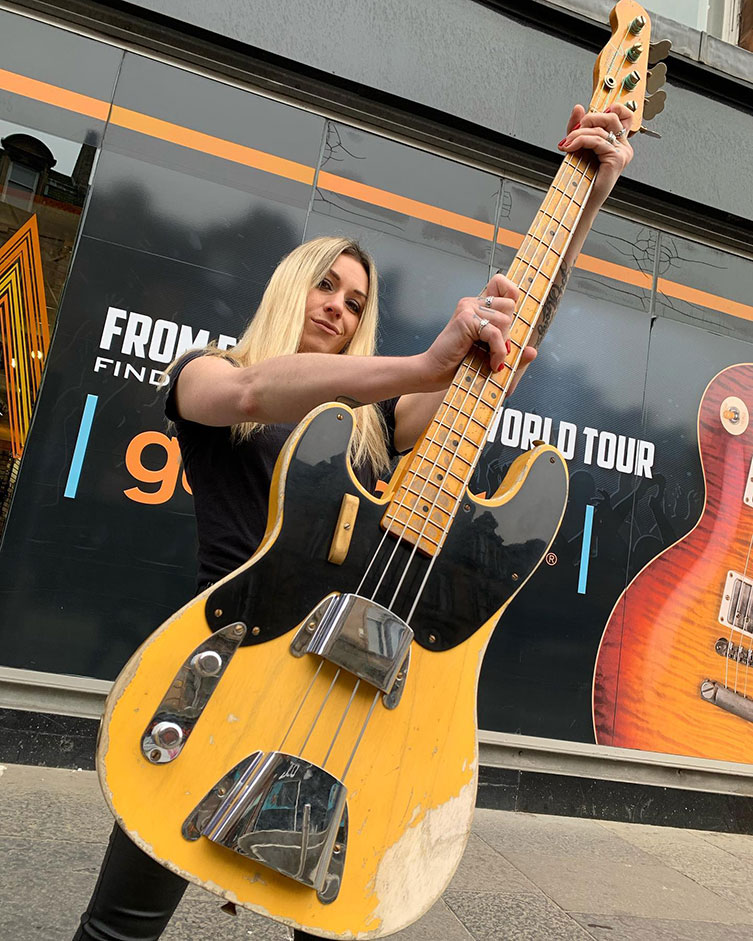 Food For Thought
How is your knowledge of female bass players feeling now? If you thought that there aren't that many professional female bassists out there, well, now you know there are. There always have been and with so many influencers taking to social media with their 4-string axes around, we are about to see some big resurgence of next generation queens of rhythm.
Whether you decide to pick up a bass yourself and join them or sit back and watch them make history with funky lines, rocking out the masses, the legendary female bass players are a tribe who are here to stay.