Which PRS is Right for You?
Published on 14 June 2022
Paul Reed Smith certainly threw his dart into the bullseye when he designed the immortal Custom 24 guitar, didn't he?
In a world where all guitarists hold allegiances to either Fender or Gibson guitars (let's face the truth: you do slightly prefer one brand over the other, don't you?), it takes a special talent to offer a middle ground option that not only works for both parties but stands the test of time too.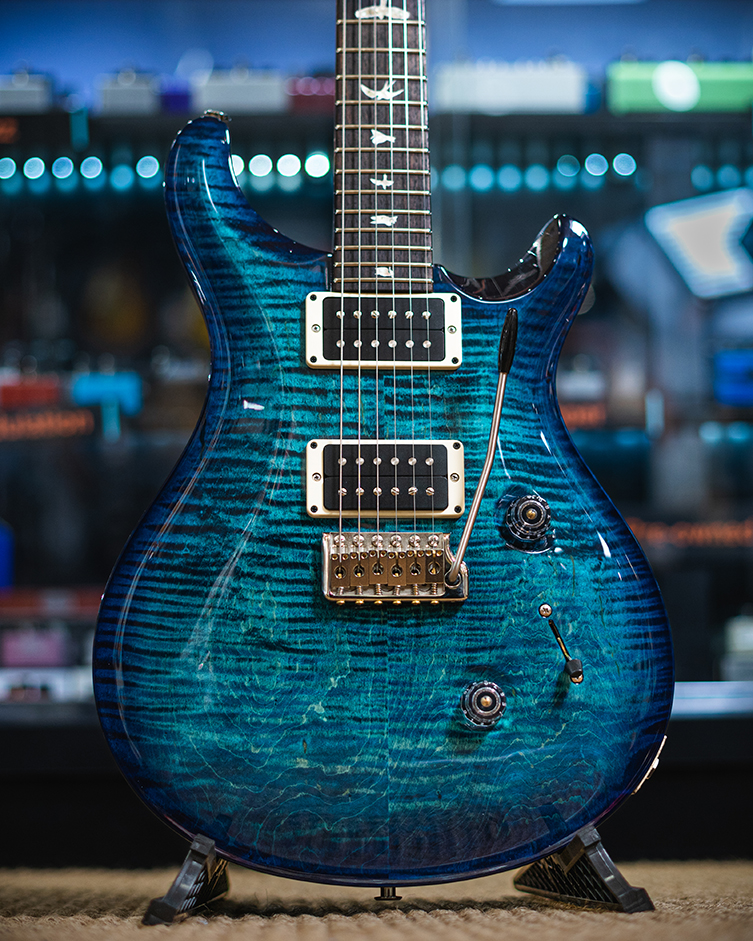 It's a conjuror's magic trick, to be honest. It is so very hard to establish a new electric guitar design that doesn't directly reference the golden era models of the 1950s but still retain mass appeal. This is so much the case that almost all companies who do try to offer something else (Parker, BC Rich, Dean, RKS, tons more…) suffer in the marketplace and often vanish without a trace.
Paul Reed Smith's balancing act of Gibson and Fender elements has lasted for nearly 40 years now, and the custom made instruments he designed and built have been revered almost since day one by guitar fanatics who love high end instruments. PRS kind of invented the boutique guitar market, too, when you think about it, since outside the standard brands, the only real custom work was being done by either companies like Charvel/Jackson (which wasn't as specifically 'luxurious') or by small luthiers who never made much of a dent on the market at large. PRS brought the quality, the exotic looks and, most importantly, they were supported by significant artists from the start. All of this gave them an early level of success which they've not only held onto but expanded upon since.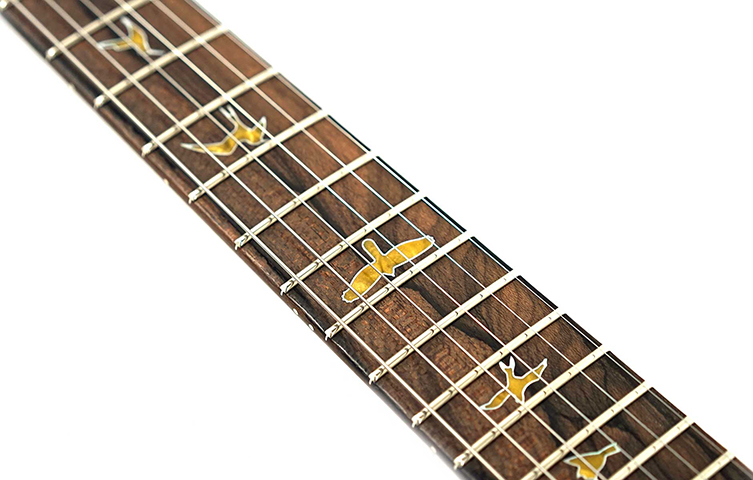 The PRS Vibe
Although it's a little reductive to call PRS' designs simply a distillation of Gibson and Fender parts, there is still a little truth to that position. In a Venn diagram of the Strat and the Les Paul, the overlapping middle section would almost certainly turn out a little bit like a PRS Custom 24.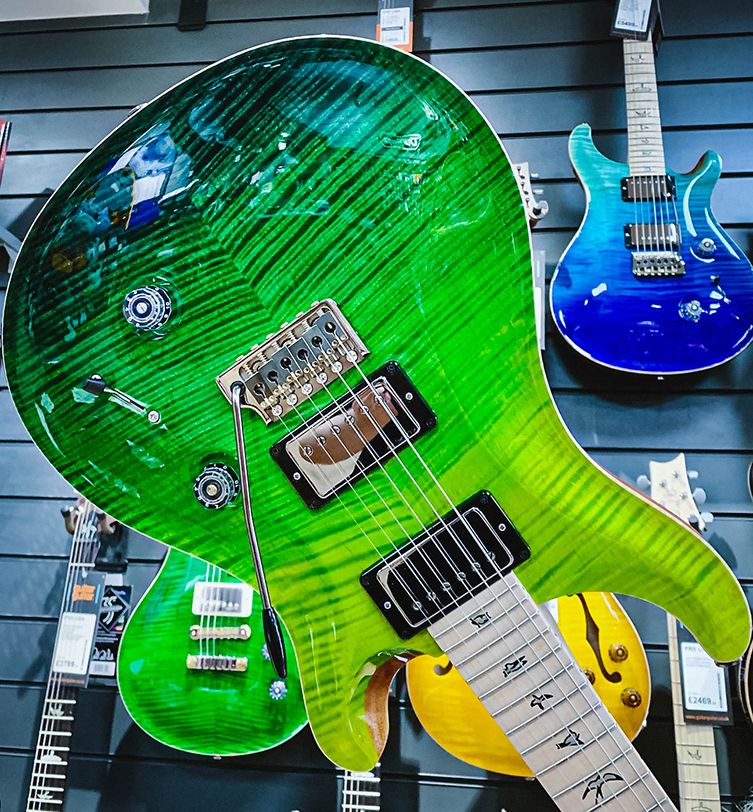 Let's break that down a little: on the Gibson design side of things, you have a double cutaway mahogany body that's not a million miles from a Les Paul junior, a carved figured maple top just like a Les Paul Standard, a back-angled 6-a-side headstock and two humbuckers. Visually and in terms of material and construction, this is all very Gibson.
From the Fender design book, there's a non-locking tremolo bridge, single coil sounds from the splittable humbuckers and, looking at it, a body outline that's kind of almost like a Strat, too! The body's thickness is less than a Les Paul and has certain contours that owe plenty to Fender's finest.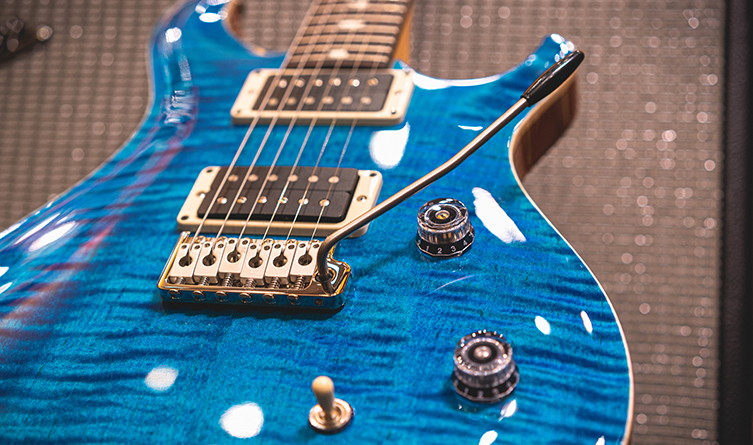 Having said all that, there's a middle ground that belongs to neither brand. The necks can be either glued in (Gibson) or bolted (Fender), and the scale length of 25 inches puts PRS right in the centre between the other brands. The top's carve actually owes much more to violin building than to guitars, and the bridge (and tuner) design is singularly innovative.
Moreover, the feel of the instrument is decidedly it's own, and the sounds - whether humbucker or single coil - have a hi-fi clarity that is distinct. Yes, the PRS Custom 24 owes a lot to Fender and Gibson, but it has long since owned and dominated the hinterland between that so many other guitar makers can't seem to inhabit. Importantly, they are not a choice for players who can't decide between the big two: they are a legitimate third choice for those who either want a little of both, or neither. The huge success of the company legitimises that third option for sure, not to mention the hundreds of PRS copycats who have crept out of the woodwork since 1985. So far, none of these have quite been able to match the inimitable feel, clarity of sound or sheer level of beauty that's become the calling card of PRS guitars.
The trouble now is, with all of the subranges and proliferations of the basic PRS style now available, which one is the right PRS for you?
Which PRS?
Today, we're asking - and attempting to answer - this somewhat tricky question. Which indeed is the right PRS guitar for you? It's not as simple as 'whichever you can afford', though we concede that price is a large factor with this brand, and not because they are known to be expensive. No, in fact PRS makes a great deal of eminently affordable instruments, but it's the combined questions of application, required features and then, yes, budget, that will determine which models end up looking the best for you. We'll try to cover a relatively wide range of models today, but it's worth knowing that the Custom 24 is the dominant form across the brand, and that most model variants (up to a point) will take their leave from its overall design.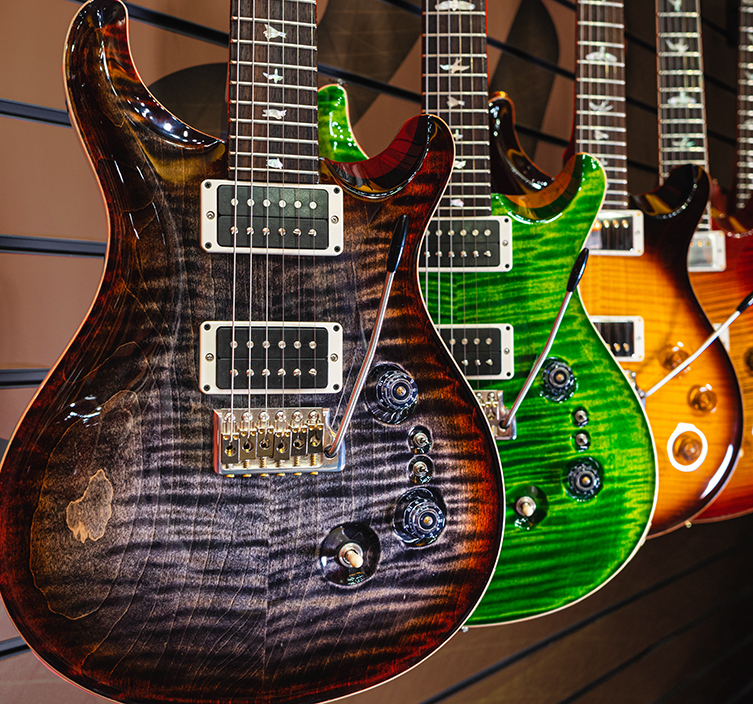 In determining criteria, we felt that real-world situations and 'in use' hypotheticals would be the best way to illustrate how we'd recommend approaching the guitars. It's not measure-for-measure science, but we hope that the context helps display these outstanding guitars in their best light. Many models will, of course, apply to more than one of these subheadings, since the brand makes inherently versatile guitars.
One thing worth clearing up for those who may not know is the meaning of abbreviations such as 'SE' and 'S2'. These indicate the country of manufacture, and play a huge role in the spec and price of a given guitar. Put simply, 'Core' guitars are built in Maryland and are considered to be the definitive PRS guitars. SE models are built overseas, currently in the Core-Tek factory in Indonesia. S2 models lie somewhere between these two idioms: the guitars are made in the USA but some of the hardware is sourced from the Far East and shipped across. Also, the designs themselves are made to be quicker and simpler to build, making them an easier proposition to bring in at a mid-way price point. Again, we'll look into how this all translates to a given model as we travel along on our PRS journey today. Are you ready? Okay, off we go!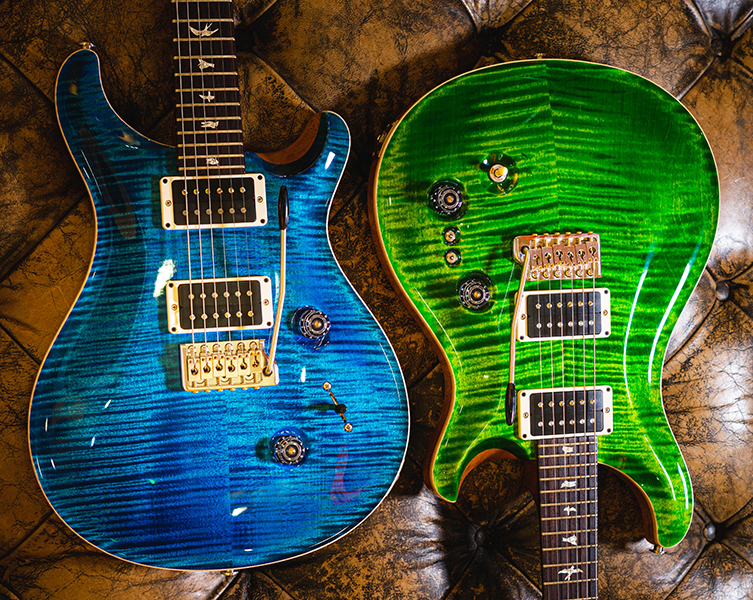 Classic PRS Experience
You'll see a lot of different PRS guitars in today's blog, but for many, the Custom 24 is, and always will be, the quintessential Paul Reed Smith instrument.
The PRS Custom 24 is a masterpiece. It's beautiful to look at, with stunningly figured maple tops available in a never-ending rainbow of colours and a shape that's as instantly iconic as anything from the 1950s. The body is nearly always made from mahogany and the top is a generous chunk of (normally) figured maple. You'll notice the 'violin carve' shape to the top, a beautiful and distinguishing feature that adds significantly to the guitar's luxurious vibe.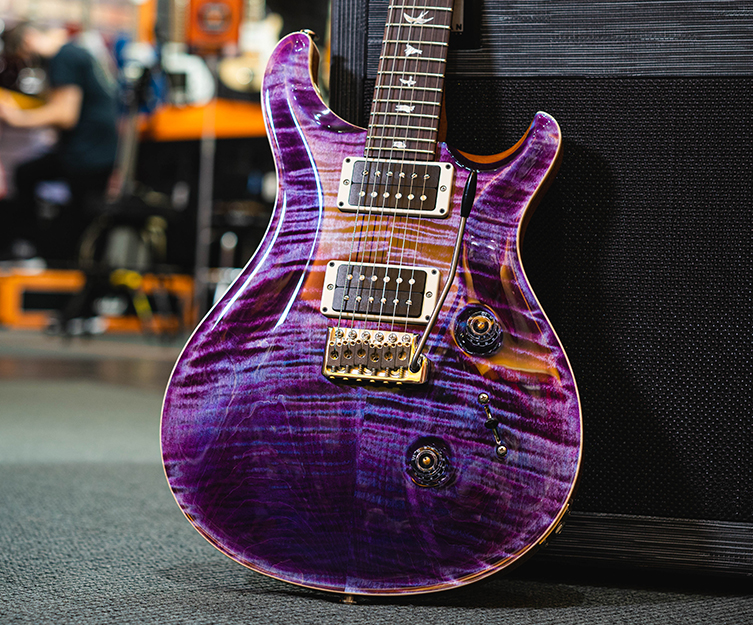 The main blueprint for the PRS Custom 24 includes 24 frets, a tremolo and a pair of humbuckers. Neck profiles range from Pattern (what was one known as 'Wide Fat', a designation still used on some SE models) to Pattern Thin and Pattern Regular (which is different from straight up 'Pattern' so do keep that in mind!) and these profiles are available on all Custom 24 guitars.
The tremolo is a non locking type and is famous in guitar communities for its tuning stability. Van Halen acolytes may still prefer a locking Floyd Rose-type, but for everyone else, this bridge is an excellent piece of engineering that looks attractive and does its job particularly well.
As for pickups, these are often changed to whichever models are the newest update in production. They are almost always made in-house, and Paul Reed Smith is scrupulously demanding in terms of what he wants to hear from them.
The PRS Custom 24 is a high performance machine indeed. It's an investment for sure, but you most certainly get a return on that investment in terms of sonics, great looks and sheer playability. Rock and Blues players will be in heaven, but so will all who appreciate an expertly made tool with lines and curves to die for. If you are looking around this price point anyway, it's going to be a tough thing to find a guitar that can outperform the Custom 24. Whether you go for the crazy purples and greens, or prefer a slightly more sober sunburst, there will most certainly be a USA-made PRS Custom 24 that suits you down to the ground.

If the cost of an American PRS is a little steep for you, then the PRS SE Custom 24 offers a phenomenal level of value for money. Every few years, PRS ups the spec on these, to the point where - from a distance at least - it's pretty hard to tell the difference when you first see one.
PRS have reduced the 'SE' part of the headstock logo, they've altered the carved top to more closely resemble the violin curves of the original, and they've introduced a range of those incredible trademark finishes like Eriza Verde and Bonnie Pink, which is a big part of the PRS experience, really. They are deliberately ostentatious instruments, so dressing to impress colour-wise is a great step up for these SE Custom 24 models.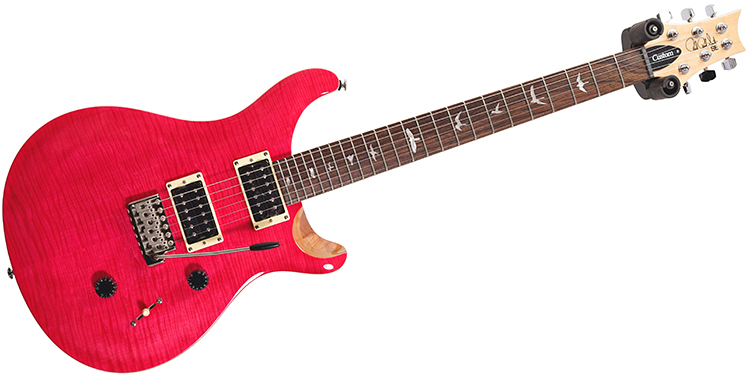 Although these are marketed as affordable PRS guitars, they are still very much a professional proposition, thanks to the high level of quality control. Yes, the pickups are not hardwound US units, and the hardware is sourced from more cost-effective manufacturers, but none of that necessarily means a lesser guitar, just a cheaper one. We're constantly impressed by how these guitars feel, play and sound when we take in new shipments, and now they look nearly as good as their US-born brethren, so they are a very attractive proposition to players on a budget who still want class and performance.
The Do Anything Guitar
We think the PRS Custom 24 pretty much IS the do-anything guitar, but there's a version available that adds a critical detail to the mix, and ups its diversity exponentially. We are talking, of course, about the PRS Custom 24 Piezo.

Available either with or without an f-holed semi-hollow body, the extra piezo pickup on these models brings a stage-ready, convincing electro-acoustic sound to the mix. Think about it: on one instrument, you can go from a fingerpicked acoustic ballad to a roaring rock anthem, without ever having to compromise on sound OR finding a convenient place mid-song to change instruments! Even if this lessens your load as a gigging player, it's a worthy enough reason to consider the Custom 24 Piezo. The fact that it's also one of the best engineered guitars in the world helps too, of course!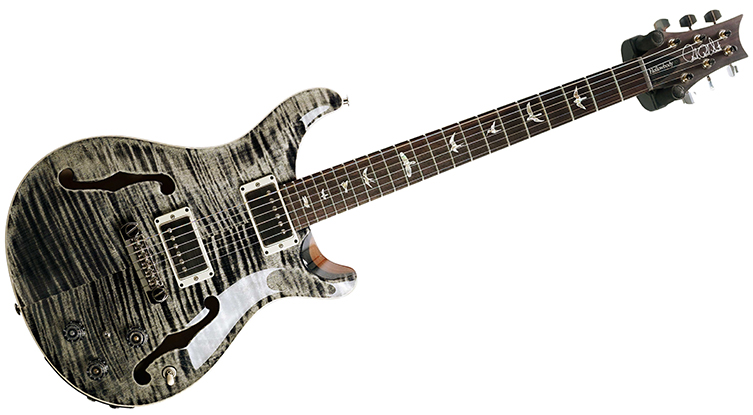 The piezo pickup has its own output jack for connecting to an acoustic amp or mixing desk, but you can also use the normal output and switch/blend the piezo signal, so some interesting hybrid tones are available too. The addition of the piezo pickup makes an already outstanding guitar operate on another level altogether.
The Workhorse
You're a gigging player, and you need to cover a wide range of styles. You want a guitar that you can rely on to hold down the gig, feel great and look good while it's doing it. PRS are already a great shout for that, but let's zero in on a number of options for you.
An instant choice for us would be the PRS CE24. From a casual glance, they look just like Custom 24's, but there's one significant difference: a bolted on neck.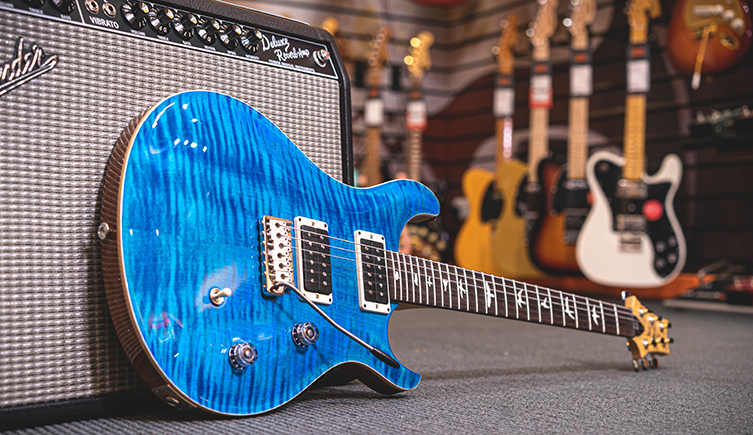 Built in Maryland as part of the Core lineup, the CE24 is a shrewd adjustment of the famous template. So, does the bolt-on neck make a big difference? In a word, yes, but things are still very much in the PRS ballpark. Basically, the feel itself is slightly different, as you'd doubtless expect, and there is an additional snappiness to the tone that allows more overtly 'stratty' tonalities to emerge from the instrument, compared to a traditionally glued neck Custom 24.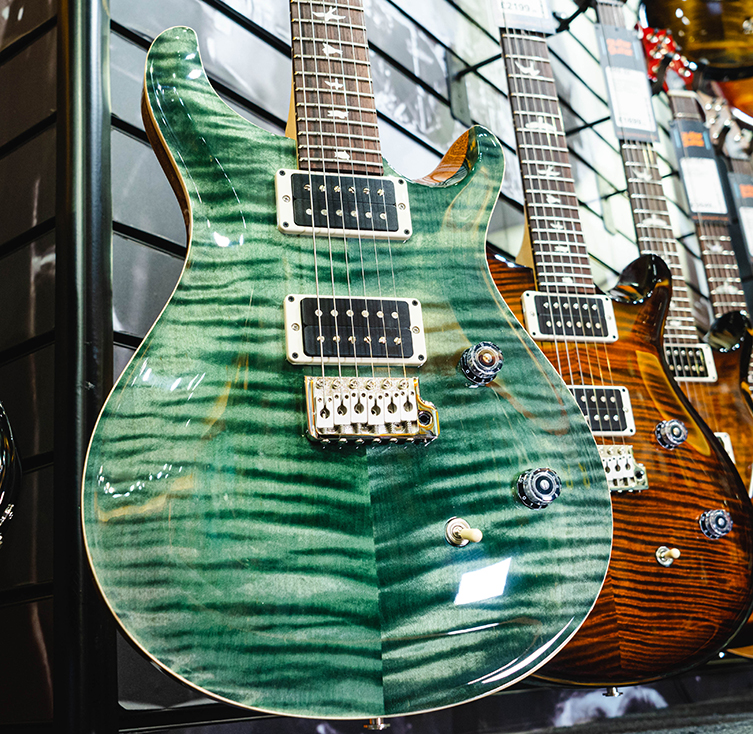 Apart from the neck join, the guitar is every inch a textbook PRS: the figured top over mahogany body, the bird inlays, the clarity of the pickups…it's all here! The price of the CE24 is adjusted to reflect how comparatively economical a bolt-on neck is in construction terms, so this is good news for players who want that sound anyway! The extra 'funk' you can pull from this guitar's single coil tones maybe makes it more useful in certain contexts too, so session guys and function band players may be edging towards the PRS CE24. There's an undeniably 'solid' feel to bolt neck guitars, and that might appeal to you, too.

For 'workhorse guitars' that get picked up, slammed around, sweated on and recorded with, we'd definitely recommend the PRS S2 range. Shorn of the more decorative elements but still highly effective USA-made PRS guitars, this range is for the player who means business and cares less about the stunning looks of top-end PRS models. All S2 models fit this bill, but since we'll be seeing some others soon, let's opt for the PRS S2 Standard 24 here. It does it all, with a two octave neck and great switching options, not to forget that great PRS tremolo.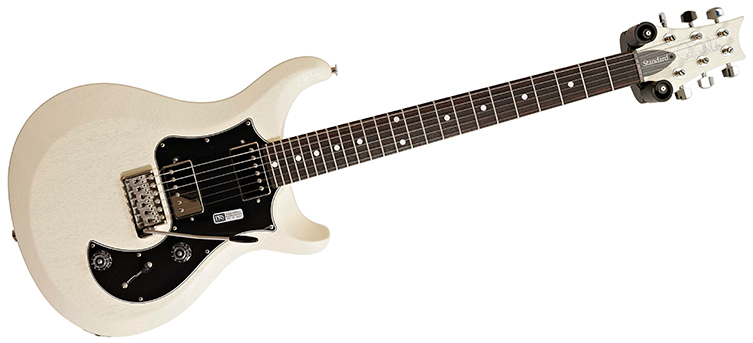 The 'Standard' designation simply means you don't get a figured maple top, but then that's more in line with the S2's 'no nonsense' ethos anyway. A 22 fret version is available too, and is worth trying if you're interested in this model. Why? Well, because the loss of those two top frets not only puts your fretting hand in an entirely different position relative to your body, it also means the pickups are spaced differently and will therefore react to string harmonics differently. These are subtle differences, granted, but are subtle differences not massively important to us guitarists?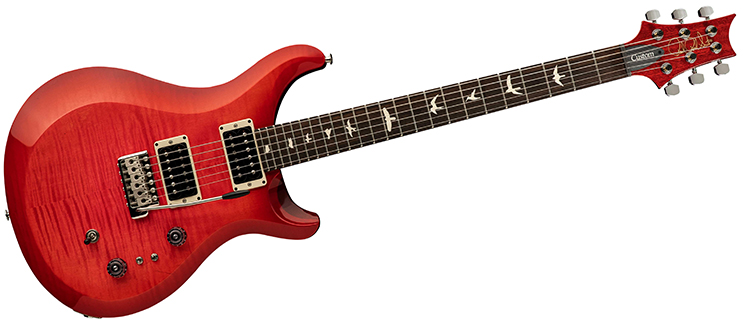 Another choice from the PRS S2 range would be the PRS S2 Custom 24-08. This guitar features simpler curves than a Core-line Custom 24, and less options for finishes, but it's still a formidable instrument. The 24-08 part of the title refers to the 24 fret neck and 8 pickup options, made possible by the addition of two individual coil tap switches. The pickups are 85/15 'S' humbuckers, so they are based on the handwound USA-made pickups but are made overseas. As ever, whether this matters to you comes down to what you like to hear when you play a note, but these areas are where PRS can offer a lower-priced guitar that doesn't scrimp on quality. From 50s pop to 00s metal, this guitar has your back. The SE range also carries an excellent 2408 model, as you can see below!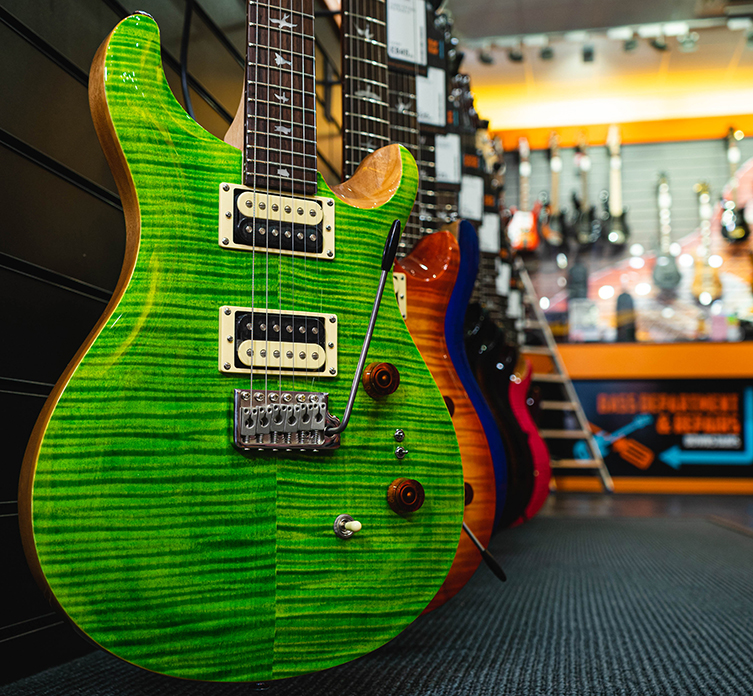 The Perfect Backup Guitar
Backup guitars, whilst not seeing the same level of action as a player's main squeeze, still need to bring the tone and the feel, otherwise why bring it to the gig? We feel that the S2 range discussed above are the prime candidates for this, but that's only if you can afford to drop that much cash on a backup guitar. Many of us simply can't, but PRS have a great option: the SE Standard 24.

The SE Standard 24 represents a massively smart purchase for any guitarist on a budget. As they've done across the whole SE range, PRS have injected ever higher levels of quality and features over the years. With this Standard 24 model, you still get binding (on both body and fingerboard) and the bird inlays. You still get coil taps on the humbuckers. For what is, in today's terms, a very affordable price for a non-beginner's guitar, you get an elegant and effective instrument with a great feel, beautiful looks and a fantastic tone.
Harder, Heavier
Lovers of hard rock and metal will find plenty of PRS models cater specifically to them. Again, we would point to the likes of the Custom 24 (and its SE iteration) as being ideal candidates for most flavours of rock, but there are other potentials here too.

Mark Tremonti's models would be an obvious place to stop for machines that can riff and squeal with the best of them. He has taken the PRS Singlecut and added not only a tremolo (back-routed more than usual to allow for greater up-bend) but also a set of pickups principally designed to unleash the chunk and shred that his music demands. It's a modern hard rock axe through and through, and the SE range carries it with both a figured maple veneer as the SE Tremonti, and as very well-priced, stripped-back-for-action SE Tremonti Standard.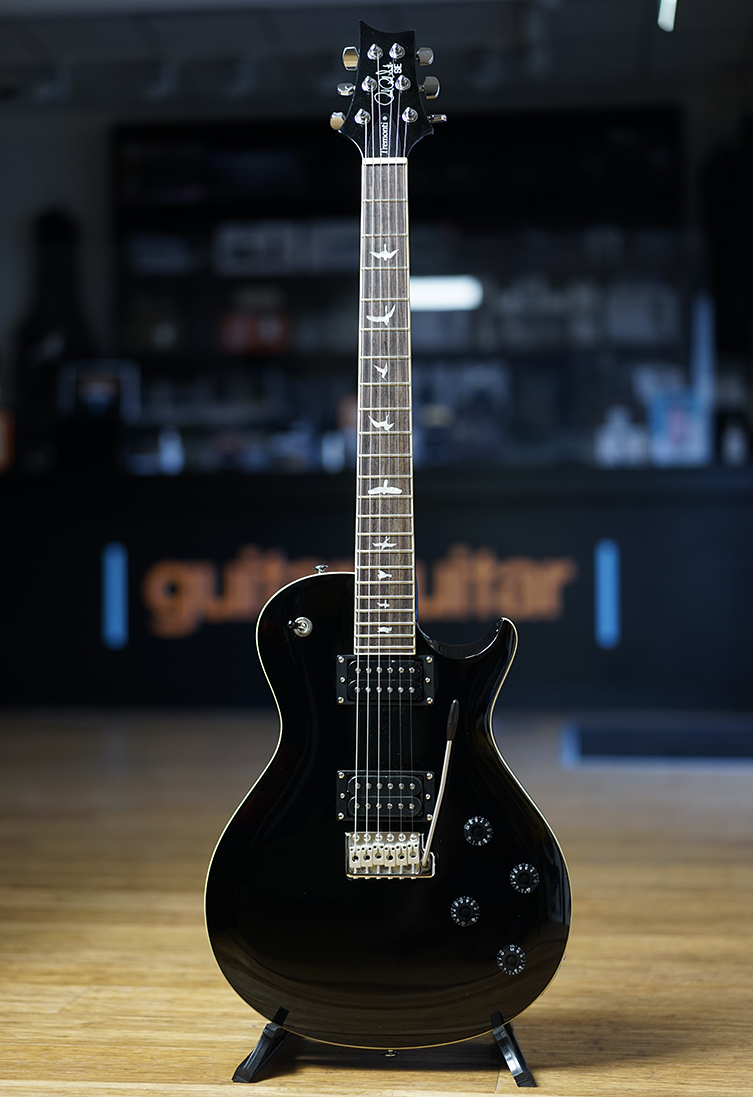 Seven string fans will love the signature model from Periphery guitarist Mark Holcomb, who's PRS SE model is super tasteful looking and armed with the artist's preferred Seymour Duncan humbuckers. It may sound brutal, but it looks elegant and understated, which we think is a wonderful direction to take such an uncompromising guitar.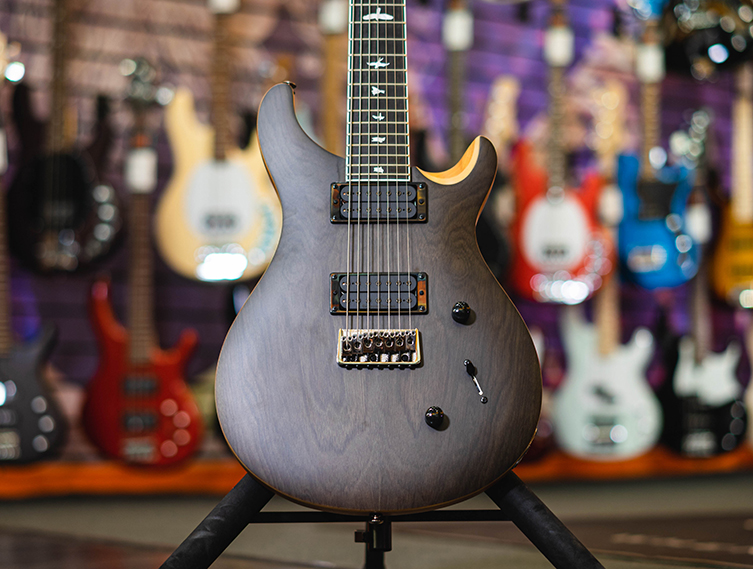 When is a PRS Not a PRS?
This section is for guitar fans who may already have a PRS guitar and fancy something from their stable that's a little different to the company's established output. It's also for players who like the idea of the famed PRS quality and playability, but aren't into the visual style.
The obvious choice here would be the phenomenally successful John Mayer Silver Sky guitar, with its obvious departure from the PRS design 'school' in favour of something more pointedly Fifties and Californian in aesthetic.

You know what we mean.
First issued a few short years back as a US-made guitar, PRS's SE range now offers its own excellent rendition. The PRS SE Silver Sky is, as Mayer states, an 'S' type if such a guitar were designed nowadays rather than nearly 70 years ago.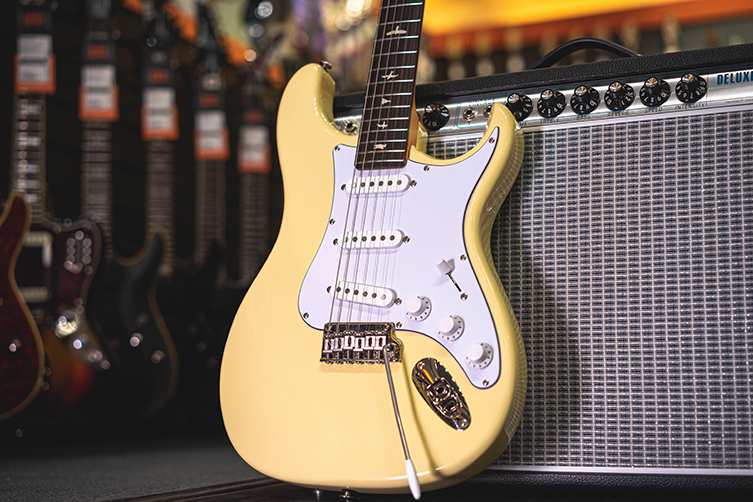 We kind of know what he means, but it's easier to just understand that it's a superbly put together instrument with all of the glass and chime you could want from an 'S' style guitar, along with clever PRS updates. We're talking about jack socket location, straight string pull, a body with subtly different curves…it's not a redesign of the wheel at all, but there's an argument for it being an effective evolution of a classic.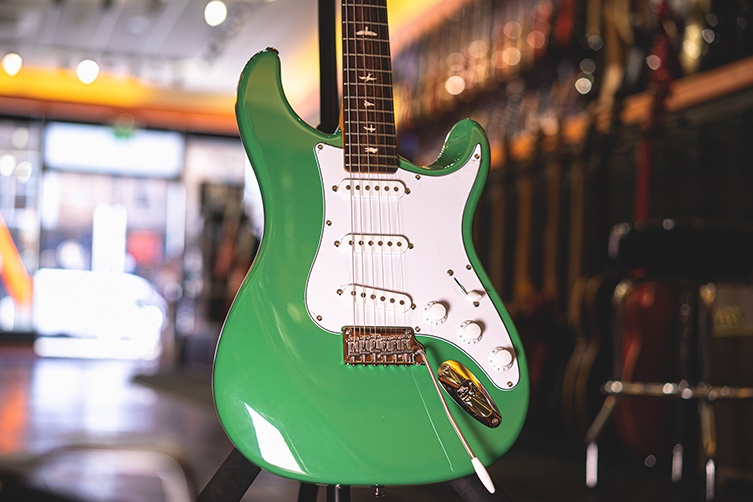 The PRS S2 Vela is a wonderfully unique offset guitar with some quite 'un-PRS' retro pickups. We love the sleek outline as much as we appreciate the endeavour to offer something that's familiar and yet not so, wrapped up in a package that is still undeniably 'PRS'. Alternative and iconoclastic musicians will definitely appreciate this one.

Another PRS that is proving popular and is quite outside the regular mould is the SE Hollowbody. We've opted for the SE model over the Maryland-made Hollowbody because this model is actually more unique in a few ways. Whereas the (frankly excellent) US Hollowbody is very similar in dimension to a Custom 24 - albeit deeper in the body and considerably lighter - the SE model uses an entirely bigger body. It's a fresh design, basically and is a wonderful addition to the world of semi-hollow guitars without being yet another copy of a Gibson ES.

Jazzers, Blues players and even rockers who want a different sound and response will get a lot of satisfaction from these quite beautiful instruments, proving again that PRS are much more than a top end-luxury brand. There are a wide range of musical situations where using one of these SE Hollowbodies would be a great idea, particularly if your ears (and eyes) are overly used to experiencing the same old contenders.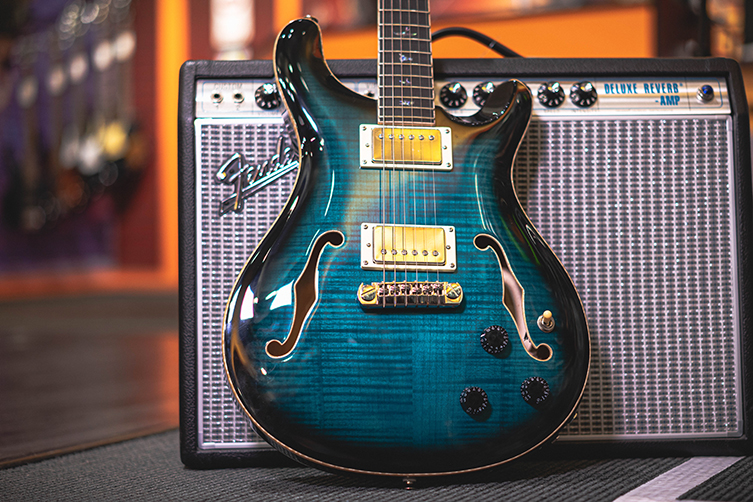 Some Hollowbody models even have the piezo pickups we looked at earlier installed in them for a wider range of tones. This makes these SE Hollowbody Piezo guitars even more useful as additional or alternative instruments for players who like to cover a range of sounds. They feel and look as great as their brand-siblings too, which never hurts!
The Best That Money Can Buy
There's no mistaking that PRS have earned a reputation for creating stunningly beautiful top-end guitars. Certainly, that's how many guitarists think of the brand, and whilst we've hopefully proven today that there's a lot more diversity of choice on option, it's still true that their top flight guitars command awe from all.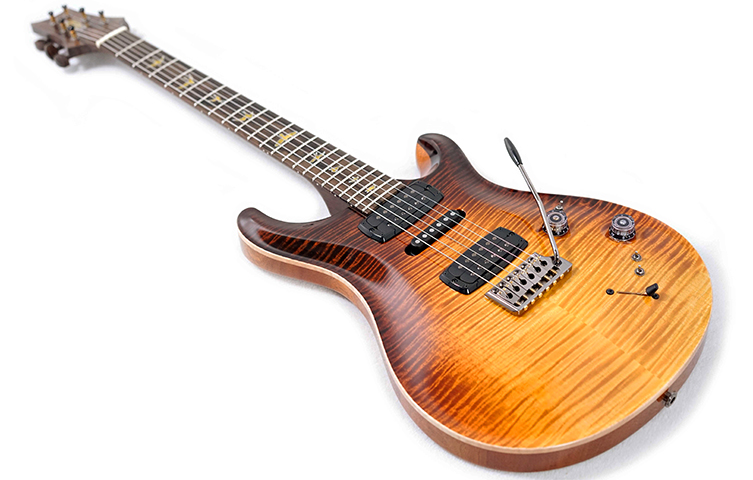 For those who want to scale the summit of the mountain, a PRS Private Stock instrument is where to aim for. The Private Stock department is akin to a custom shop's custom shop, if you will: these instruments are made to an unbelievable level of scrutiny. Think about how well put-together a typical (if there's such a thing) Custom 24 is, and then consider one built by the company's best artisans, with the most delicious woods in existence and decorated with the most sumptuous finishes and inlay work. This is the world of the PRS Private Stock.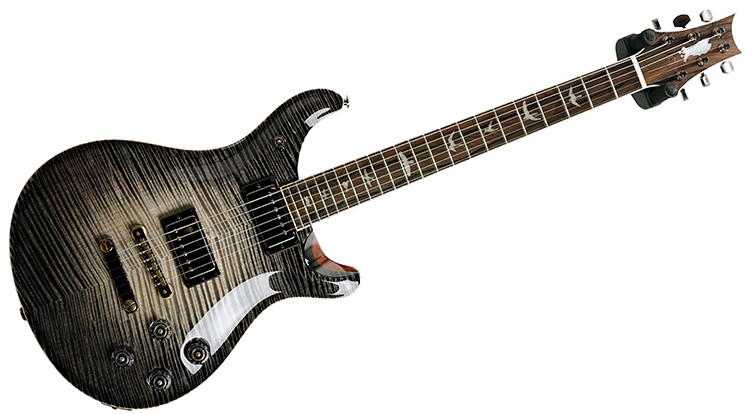 Wait times for orders are often in the years rather than months, and each completed instrument is a masterpiece, a talking point and an heirloom, not to mention an example of the finest guitar making on the planet. As you'll see, these are often inspected and hand-signed by Paul Reed Smith himself.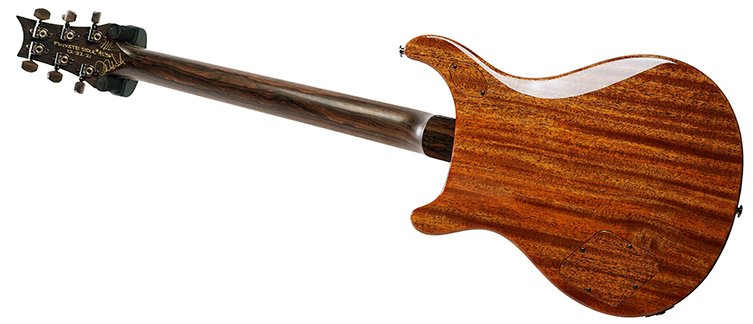 Which PRS?
Our brand-wide roundup today has taken in many - but by no means all - of PRS's offerings. Today, there's more choice than ever, and the brand has clearly diversified in both style and price point. What's relative across the board is a dedication to quality and a spirit of independent creation. Since 1985, that has been the PRS way. They've inspired generations of boutique builders, and they've been seen in the hands of some of the world's greatest players.
Hopefully we've shown you today that, whichever angle you're approaching PRS from, and whichever budget suits you best, you'll be able to find a 'Best in Show' guitar to suit you perfectly. Visit your nearest guitarguitar in person and try a few for yourself, or browse our entire selection right here online!
Click to Browse our Full Selection of PRS Guitars