Best Contemporary Signature Guitars for Modern Artists
Published on 21 December 2022
Signature guitars are a great way for fans and admirers of a particular artist to get a little closer to that person's sound or approach. It's a way of aligning with the music we love in a very personal and specific way.
Signature guitars have been hugely popular for a number of decades now (well, since the Gibson Les Paul in 1952 but let's leave that to one side for today), and they say a lot about both artist and fan, when you think about it. The Ibanez JEM, for example, is a very idiosyncratic instrument, with lots of (for the time) unusual and specific details being added to the design to make it uniquely Steve Vai's. Jump forward to today and whenever you see a guitarist playing a JEM, you can be almost guaranteed that they'll be Vai devotees. It's a badge of honour for fans to play their hero's guitar. The opposite is also true. People who aren't into Steve Vai's music rarely choose a JEM to play, right?
That's certainly how things have been, and in many ways, this relationship continues, but contemporary artists seem to prefer their signature instruments to also work successfully in a more general context. It's not so much that the guitars themselves are any less idiosyncratic as much as they seem able to stand on their own two feet, without the overt association with the artist.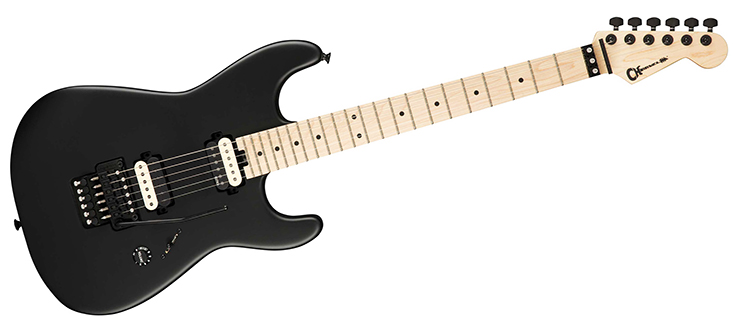 For example, one artist we're going to check out today is Slipknot's Jim Root. His ever-expanding collection of guitars are very popular with scores of guitarists who aren't even Slipknot fans, which kind of sums up our point succinctly.
Anyway, we all still love signature models, and today's blog aims to highlight the newer generation of artist guitars. So, no Santana, Clapton or Page today! No Satch or Vai, either! Don't worry, there are plenty more to check out…
Fender Kurt Cobain Jaguar NOS 3 Colour Sunburst
Nirvana's late frontman defined early 90s alternative rock like no one else. Even before his death in 1994, Cobain inspired a huge amount of devotion from his fans, and this is something that is, if anything, stronger today.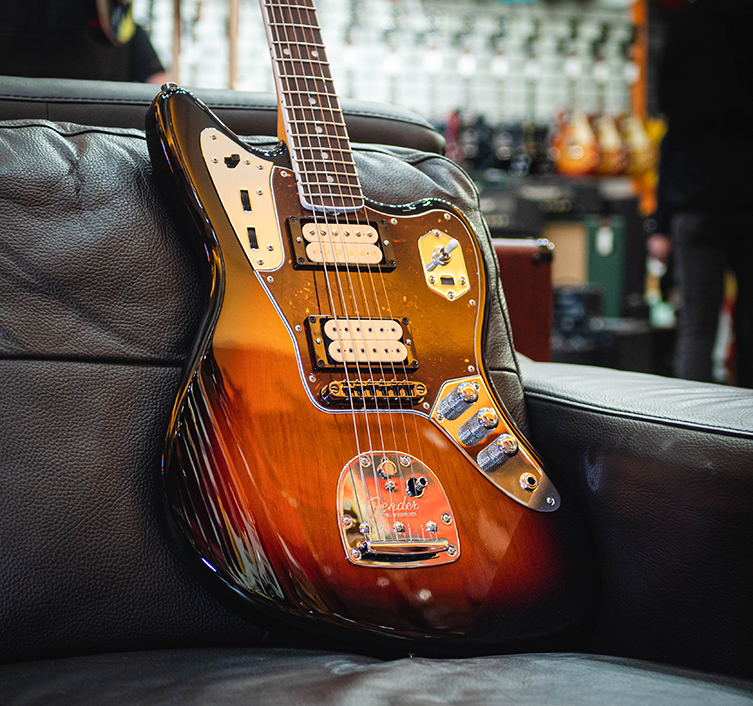 A left-handed player, Cobain tended to play whatever lefty guitars were available, up until his stardom brought him anything he wanted. By that point, it was Fender offsets all the way, and in particular, a heavily modded Jaguar. That guitar was the inspiration for this excellent signature model. The Fender Kurt Cobain NOS Jaguar recreates that influential guitar with all the major details, such as the twin DiMarzio humbuckers, bound fingerboard and altered switching. It's a massively versatile guitar with many sound choices under its hood, so whilst it's a dream for every Nirvana fan, it's also a serious contender for any fan of stylish 'modded' guitars.
What would Kurt himself have made of it, though? It's a fair point, given how iconoclastic the man was, but he did work with Fender to create the Jagstang, so maybe he'd have been happy with this honour afterall. It's kinda beside the point for anyone else, though: this guitar rocks.
Epiphone Jared James Nichols Gold Glory
Rising blues rock star Jared James Nichols is a one-man advert for the power of P90s and fingerstyle playing. As one of the hottest rock players of the moment, he has really doubled down on the appeal of direct power and simplicity with his guitar choices.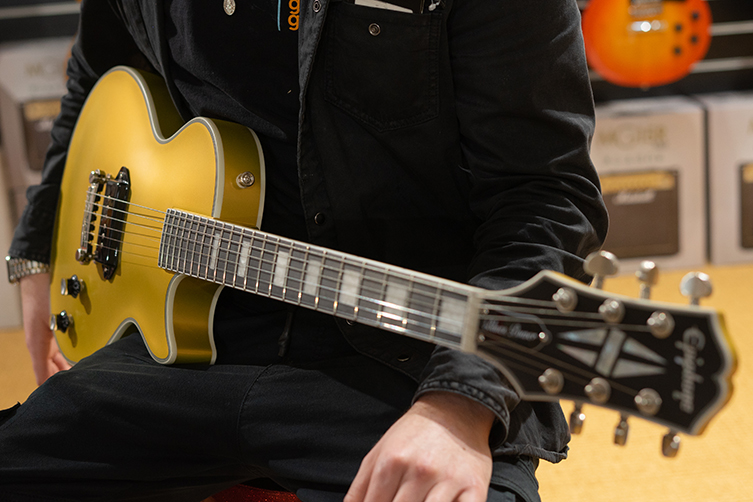 The Epiphone Gold Glory is a stunning Les Paul Custom model with a single bridge position P90 pickup and pretty much nothing else to get in the way! The chunky neck is to die for, and the gold finish is attention-grabbing without seeming to try too hard, a tricky move to pull off! This guitar is simultaneously classic and a fresh new design.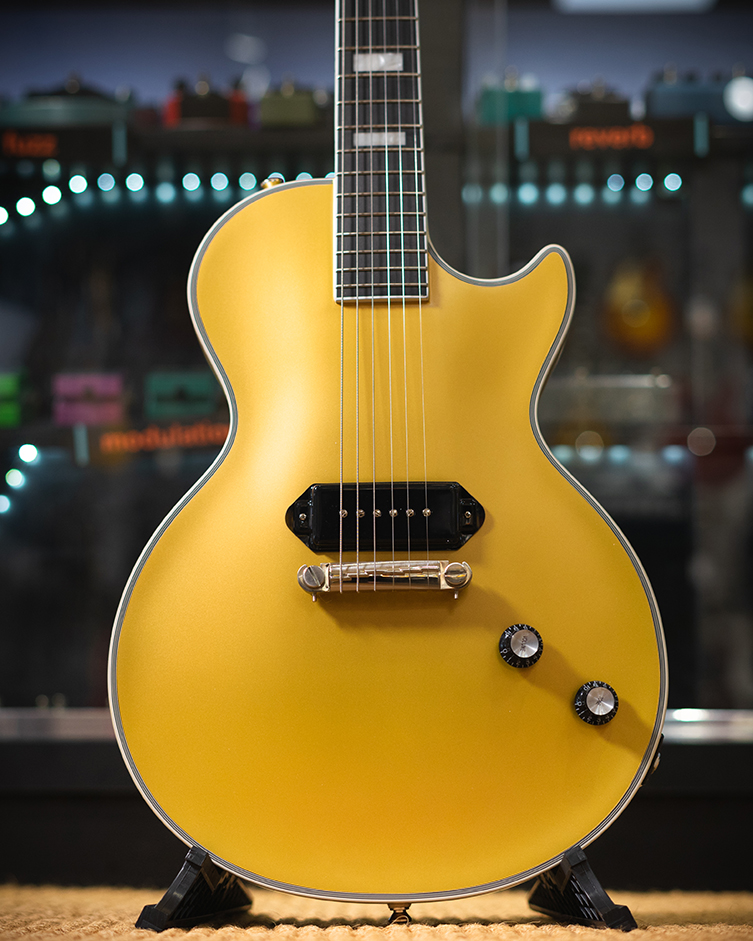 Fender J Mascis Telecaster Bottlerocket Blue
Dinosaur Jr's main man has always been an iconoclast. A fan of the extended solo in an age when such things were heresy, J Mascis has always done things his way. This has won him an army of fans who want to cop a little of that singular attitude for themselves, and Fender are only too happy to oblige!
Hot on the heels of a previous signature Jazzmaster (in both Fender and Squier iterations) comes this rather excellent Telecaster model. We have to say, this has one of the greatest sparkle finishes we've seen in a looong time! It just pops! There's a mirrored chrome pickguard too, for extra stage presence, and the neck & hardware are gracefully Road Worn. It's a looker for sure!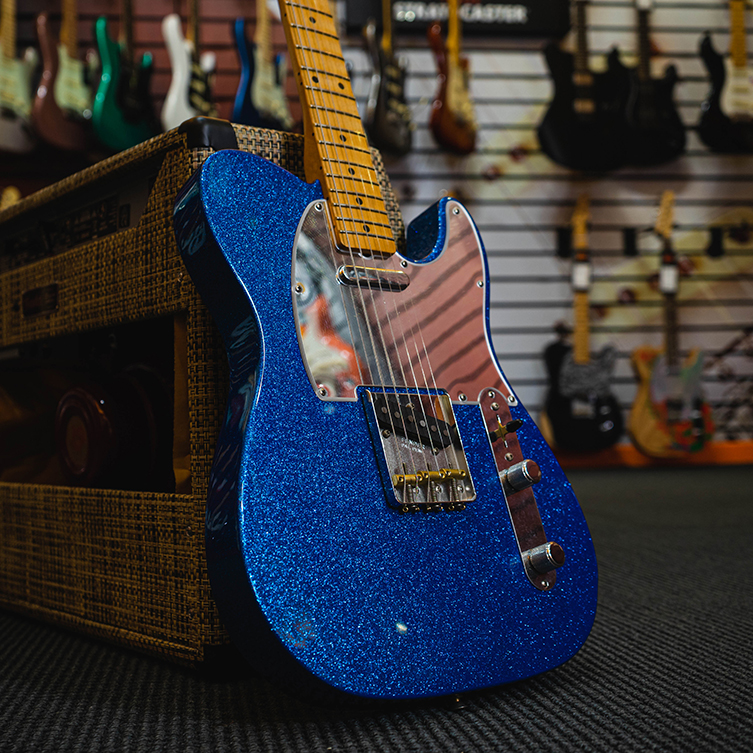 Other cool details include a toploader bridge (Jeff Buckley favoured these too, for the reduced tension) and custom wound pickups modelled after Mascis' favourite 58' Tele. It's one of the best lookers we've seen lately, but that beauty is far more than skin deep!
Charvel and Fender Jim Root Models
We mentioned him earlier, and the Slipknot riff fiend is well worth including here as a notable signature artist. Jim Root has had Fender, Squier and now also Charvel models in his name, all of which bear his trademark utilitarian look. Solid colour satin finishes, minimal controls and an absence of decorative elements (no fret markers on the fingerboard, for example) make this collection of guitars really quite striking, not to mention cohesive.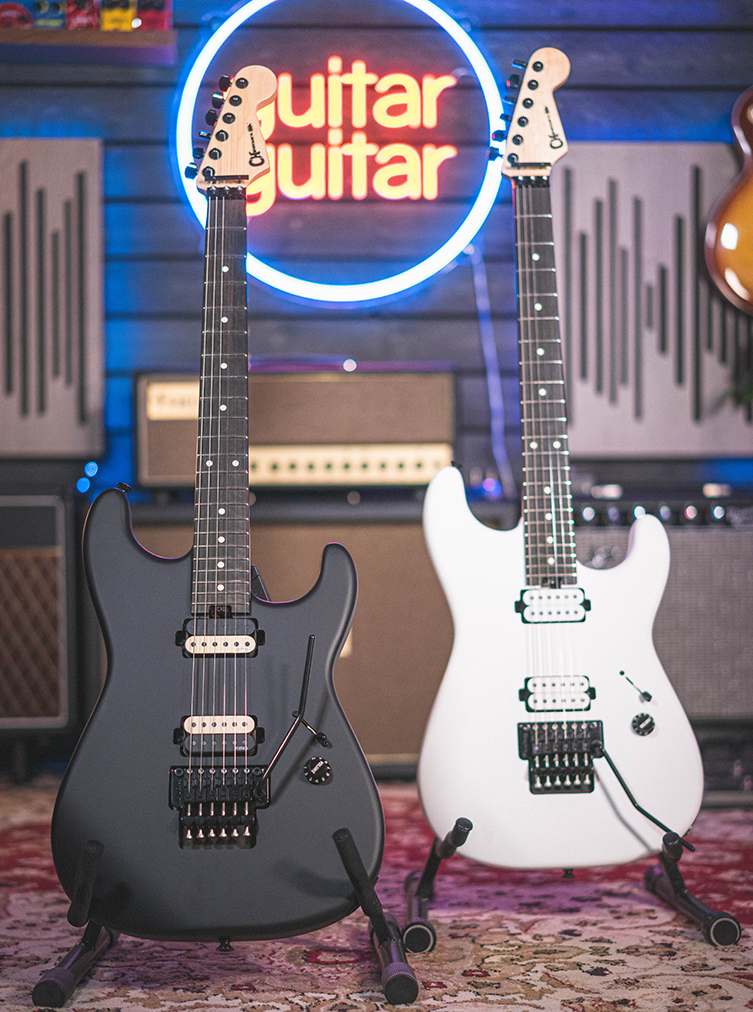 His newest addition is the Charvel Jim Root signature. Available - as all of the others have been - in black or white, this Charvel is his first sig model to sport a double-locking Floyd Rose tremolo. Also present are Root's signature EMG humbuckers for a high-powered crunch like no other. If you want no-frills firepower with the potential there for some serious shredding, this is the guitar for you!
Ibanez Nita Strauss JIVA 10
Talking about serious shredding, here's the signature axe from solo artist and former Alice Cooper gunslinger Nita Strauss! It's named JIVA after the Hindu term for 'life force', which is an apt descriptor for how one should play this guitar! It even has 'Beaten Path' inlays that resemble a heart monitor, illustrating the pulse-quickening effect this guitar can have on a person!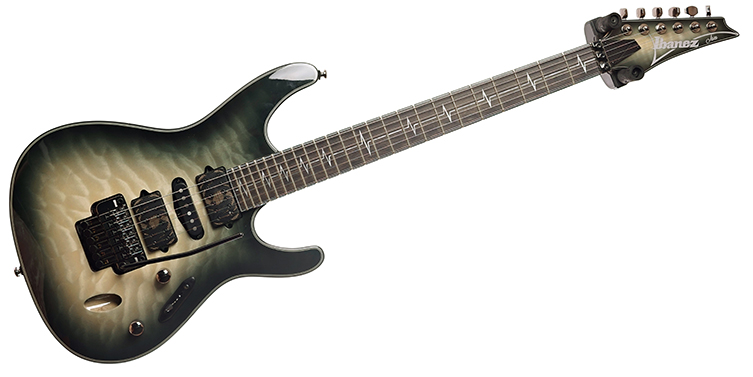 Nita has her own signature DiMarzio Pandemonium humbuckers installed here, as you'd hope, along with a DiMarzio True Velvet single coil pickup in the middle for extra versatility. The guitar is light, it's versatile and it has a quilted top finished in 'Space Blonde': what more could you need?
Reverend Billy Corgan Z-One
Billy Corgan's ultra-distorted riffing took the Smashing Pumpkins' Mellon Collie and the Infinite Sadness record into double Diamond status (10 million record sales gets you diamond), so he knows a thing or two about successful guitar tones. This is his third signature instrument with Reverend, and it's designed specifically to capture his heavier, more brutal sounds.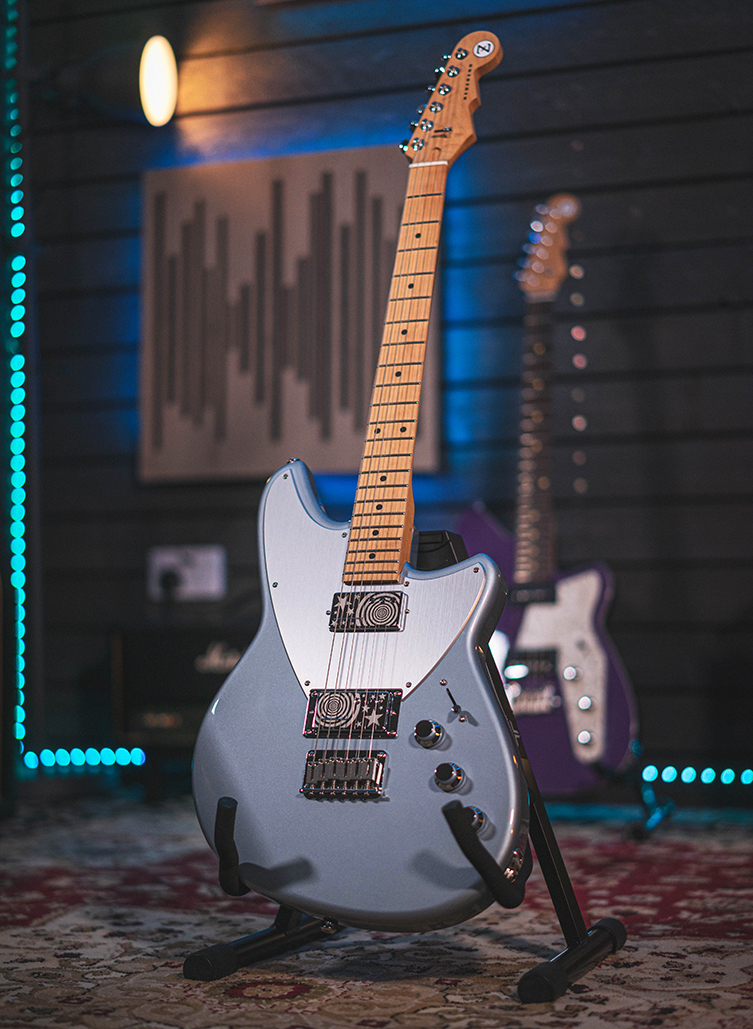 Like many of today's signature instruments, the Reverend Billy Corgan Z-One is notable in two ways: it houses a set of the artist's signature pickups (very cool looking Railhammer Z-One units here) and it is relatively streamlined in terms of features. This is a hardtail, string-through body affair, with a solid Alder body for those crushing gain tones. An aluminium pickguard sets off each finish beautifully and the roasted maple neck has a most comfortable oval profile. Infinite Sadness? More like a Siamese Dream!
PRS SE Silver Sky
This John Mayer signature has gotten a lot of attention since its release. A more affordable version of the USA-made Silver Sky, this SE model has proven itself to be, if anything, even more popular!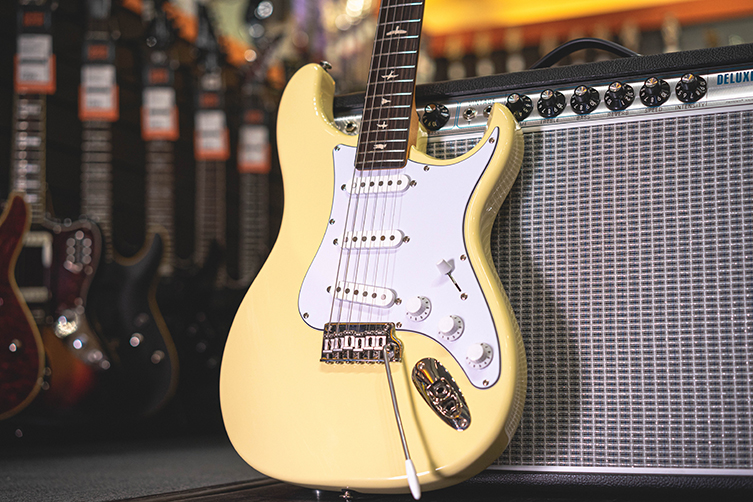 Taking a classic Strat template and adding certain PRS accoutrements (distinctive headstock, lower horn carve, revised neck profile and so on) has not so much re-invented the Strat as added an interesting and viable 'cousin', and one that's very effective indeed.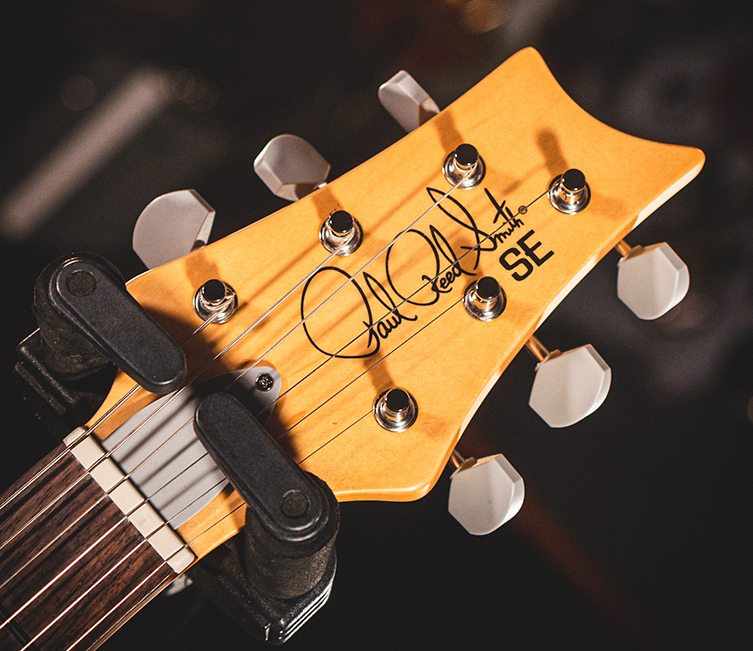 The PRS SE Silver Sky is available in a selection of gorgeous colours, and is of interest to far greater a number of players than just Mayer acolytes.
Manson Meta Matt Bellamy
Has there been a more influential mainstream rock guitarist in recent years than Muse's Matt Bellamy? Like a contemporary mashup of Brian May and Tom Morello, Bellamy's sci-fi flecked guitar style is full of fireworks and special effects. To match his iconoclastic style, he has long-since ditched classic guitar designs in favour of his own Manson Guitarworks single cut model.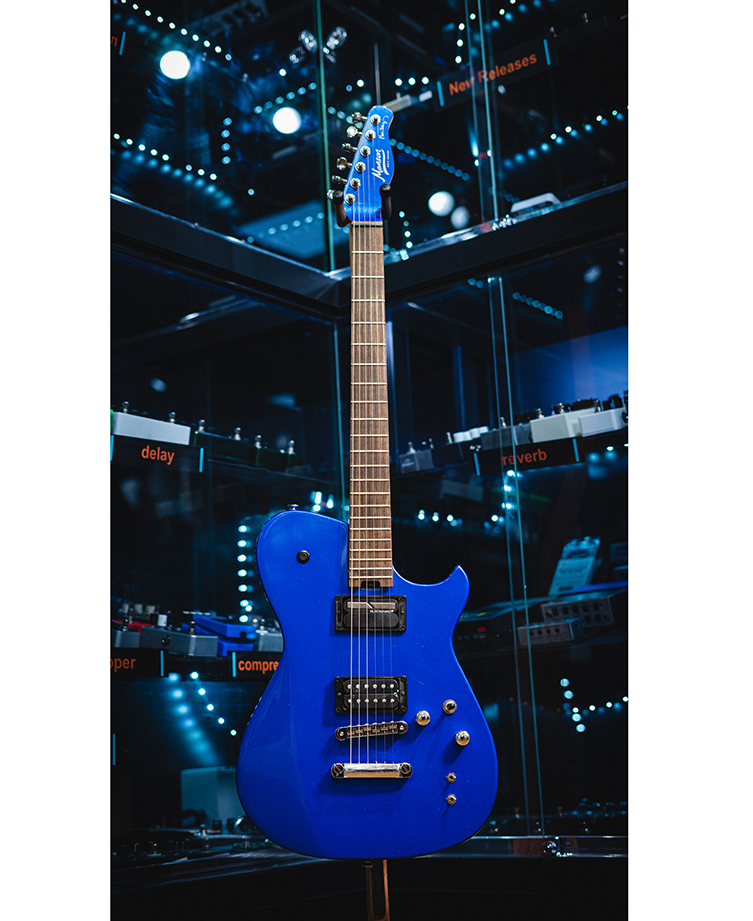 After using these guitars for decades, Bellamy now owns the company, who now offer a number of affordable 'Meta series' guitars like this excellent Manson MBM-1 model. It's a futuristic re-rendering of the telecaster with a punchier sound, sleeker shape and a stripped back aesthetic. For all rock styles, this is an effortless choice.
Ibanez Tim Henson TOD-10
Polyphia's Tim Henson is a guitar hero for today's generation, and as such requires a distinctive guitar. Ibanez have supplied him with three: one acoustic and two electrics, including this just-announced TOD-10.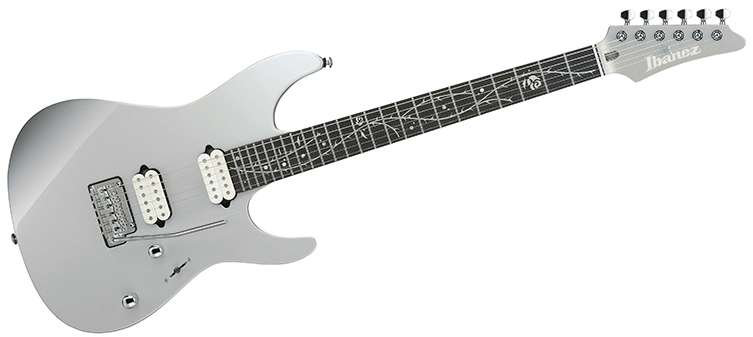 What does TOD stand for? Tree of Death, which is Tim's name for the Vai-inspired inlays on the ebony fingerboard. This is perhaps the most decorative part of the instrument, as the rest is cool, minimalist silver and chrome. There's a high quality Gotoh bridge and a set of Henson's signature Fishman Fluence pickups included, which are cutting edge active units. All in all, it's an impressive guitar for an impressive player.
Fender Jason Isbell Telecaster
This guitar must win the prize for being the one that most of our staff members have wanted for themselves! Why? It's just really, really nice. Isbell is a great player, without a doubt, but you don't even have to know who he is to appreciate his signature Tele. The Fender Jason Isbell Telecaster is a double-bound chocolate sunburst tone machine with one of the nicest necks we've played in recent memory.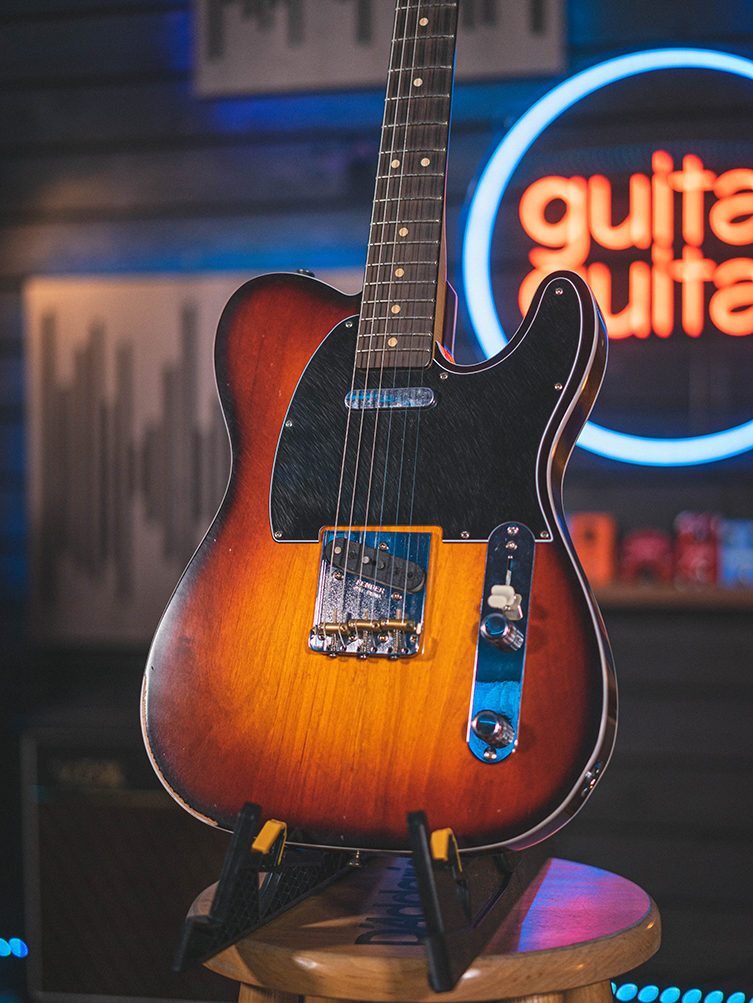 If you're a fan of country-inflected rock, you'll be able to put this to immediate use, but even if you're not, you'll find a lot to love here. Its strong bridge voice is paired with a more Strat-like neck unit for a versatile selection of voices, and the styling is 'everyday' enough to fit into most playing situations. It's a winner!
Suhr Ian Thornley Signature T
Big Wreck's Ian Thornley is one of those players who deserves to be on everybody's top ten, and therefore requires a guitar that's on a high enough level to handle his masterful playing. Enter Suhr, who have now made no less than four different signature guitars for him. Firstly it was an offset 'JM' model, followed by two S-types and now this T-style.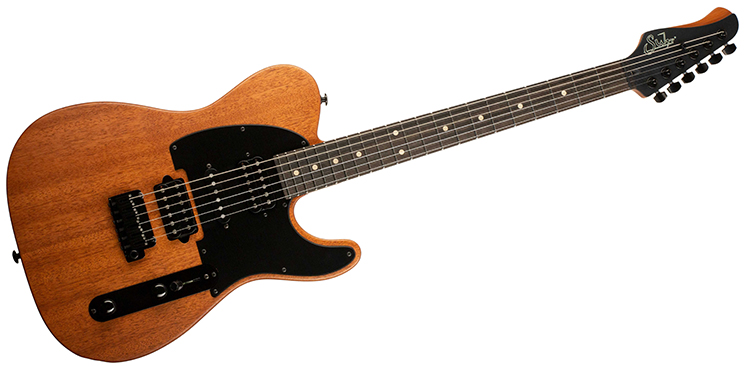 The Suhr Ian Thornley Signature T is an excellent mix of high performance specs with a low-key look, and several of the features have been carried over from his previous signature models. Thornley's preferred V-neck profile is here, as is the 16" fingerboard radius and stainless steel frets. There's a nice reversed headstock too, and a natural finish Okoume body. You'll get a ton of sounds from the H-S-H pickup configuration and Gotoh tremolo, so whether you need glassy, expressive cleans or screaming, molten leads, this Suhr will have you covered in some style.
Today's Signature Guitars
How did you find our round up of more contemporary signature guitars? There are loads more out there, but this collection hopefully shows a nice selection of what's out there.
One thing we've noticed is a real preference right now for quite stripped back guitars: most of these instruments are relatively light on features, and there is definitely a trend for solid, flat and metallic finishes too. Also, many of these artists already have signature pickups, so you can either buy the guitar with them loaded in, or just get a set of the pickups to drop into your favourite guitar.
The whole point, of course, is that these are custom designed for the guitar titans who wield them. It's great that they are accessible to us all, and there is no reason why you can't use one to make your own history!
Click to Browse our Full Selection of Artist Signature Guitars