Artists Who Play PRS Guitars
Published on 21 August 2023
It goes without saying that PRS guitars are the pinnacle of luxurious musical instruments. Their luthiery in both looks and sound is second to none. With a design appealing to Gibson and Fender enthusiasts alike, PRS have won the hearts of millions of guitar players worldwide. PRS guitars' versatile tones can be heard resonating on recordings ranging from sweet pop artists to obscure heavy metal bands.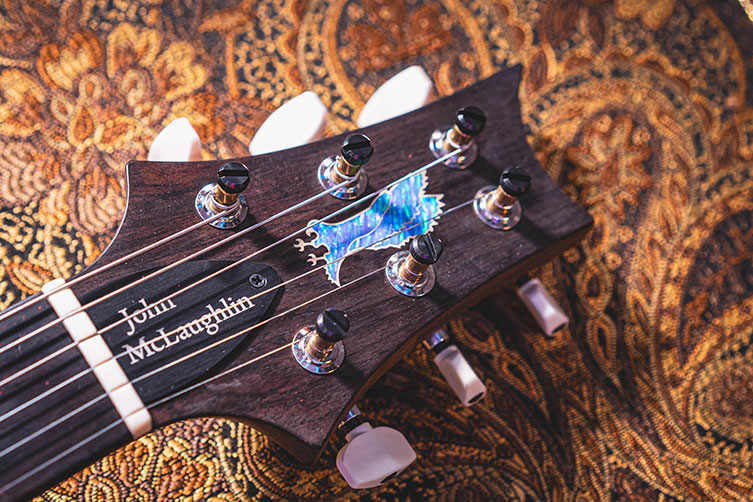 From humble beginnings to endorsing some of the biggest names in today's music industry, PRS guitars have made quite an impact on the modern guitar world.
"I figured if I could build Carlos Santana a guitar, I'd be made" - were the words of Paul Reed Smith at the start of his guitar-building career - and the rest is history.
Fast forward nearly four decades, PRS boasts a staggering 600+ Artists on their roster with more and more guitarists trying their luck to get through the golden door of endorsement. Despite being known for signing in with rather famous celebrities, PRS also caters for fresh talent.

And as it goes, PRS Artists can be divided into two groups: Official Artists (including Signature Artists) and Pulse Artists. The names on the roster are everyone from guitar icons to rising stars and fan favourites. When officially endorsing an artist, the brand has taken into account factors such as: the playing technique, accomplishments in the music industry, innovative approach to guitar as an instrument, artistic legacy and dedication to PRS as a brand. When you add up all those components together it makes perfect sense the list looks the way it does and we're here for it all day.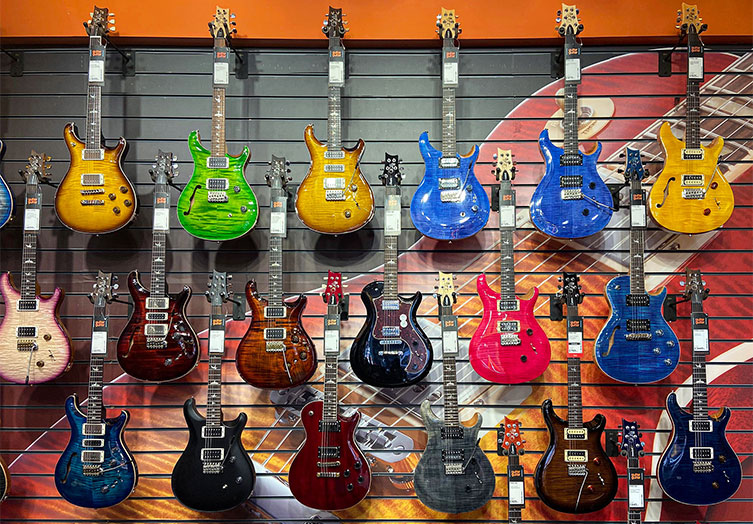 PRS Signature Artists Roster
Contents
An army of players have joined the ranks of PRS artists since the company's establishment in 1985. Over the years, PRS signature models have combined the company's artists' preferred specs with impeccable PRS craftsmanship. Interestingly, despite being a brand that initially catered almost exclusively for custom orders for artists, it took the company 10 years to introduce its very first artist signature guitar to a wider public – and it was, of course, the Carlos Santana model.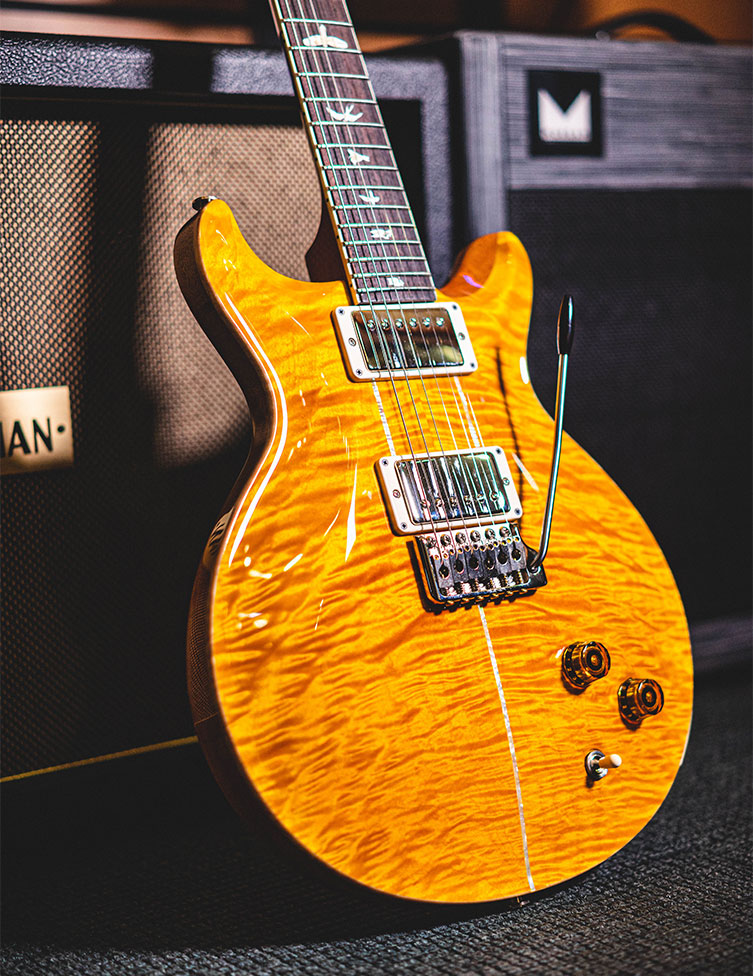 Since then PRS have released a plethora of artist models, including Core, Private Stock, SE, as well as a few acoustics.
Carlos Santana
The one that started it all - Carlos Santana. Santana is the longest running PRS Artist to date, since 1996. In the words of Paul himself, "We couldn't have done it without his support. He gave my instruments instant credibility". The current PRS catalogue offers the Core Sanatana Retro as well as an SE Santana model.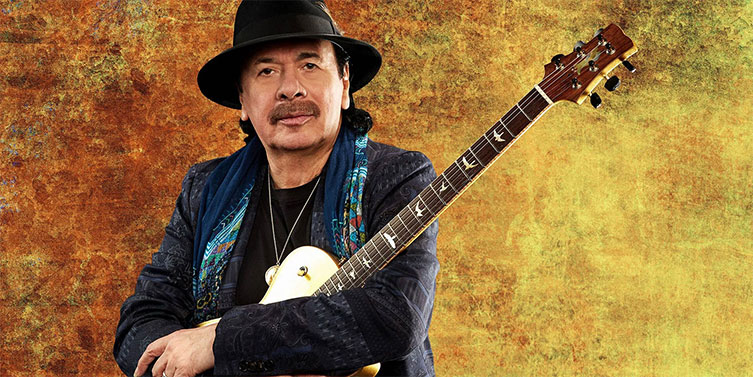 A living legend of the guitar world, Carlos Santana's input into popular music remains invaluable. Carlos is one of those musical prodigies who can blend genres effortlessly (blues infused rock'n'roll set against melodic Latino riffs and African rhythms) and he is instantly recognizable from playing just one note. If in doubt, just listen to "Smooth" and you'll know exactly what we're talking about.
John McLaughlin
This British guitarist and composer is mostly known for his work as a bandleader of The Mahavishnu Orchestra. However, when we look deeper into the accomplishments of John McLaughlin, we quickly start to see his band was merely the tip of an iceberg.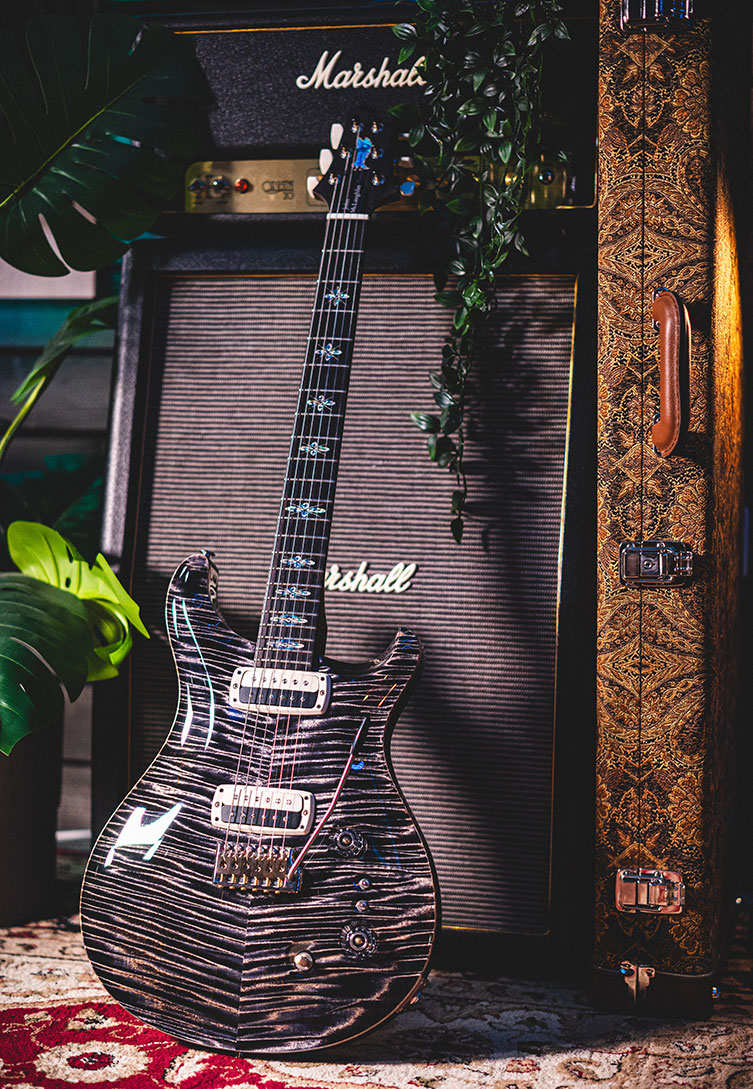 A career spanning over six (!) decades is a legacy of its own as it is and when you add collaborations with the likes of legendary names such as Jimmy Page, Ginger Baker, Pat Metheny and Jeff Beck, suddenly you have yourself a whole new unsung guitar hero. His outstanding skills in rock & jazz fusion along with lifelong friendship with Paul himself were a one way ticket to an Artist Signature spotlight. We're beyond thrilled to have one of the latest (and extremely rare) Private Stock Artist Signature PRS John McLaughlin in stock at guitarguitar!
Orianthi
When your first stage show is to open for Steve Vai at the tender age of 15, you know you've got a real musical gift. From here you can only go higher and the list of icons Orianthi has played with goes through names like Santana, Prince, Michael Jackson, Alice Cooper and so on. One thing's for sure: Orianthi's story is the real fairytale of the guitar world; a dream come true. So it comes as no surprise that it was Paul who personally got in touch when she was still in her native land of Australia and offered her a full endorsement. Today, Orianthi is one of the main faces of the company, sporting multiple signature guitars from SE range to a highly collectible Private Stock Blooming Lotus model.
Mark Tremonti
The 90s gave us some of the best hard rock bands ever to exist; for a new generation of players, it was truly the golden era of guitar music. So when we look at the players with endorsements it only makes sense that most of them were at the peak of their career back then - and still are to this day! Creed's lead guitarist extraordinaire - Mark Tremonti - is a player who began to attract a lot of attention thanks to his savage playing style, huge tones and flawless lead parts. His most recent project, Alter Bridge only solidified the pedestal Mark stood on through his work in Creed.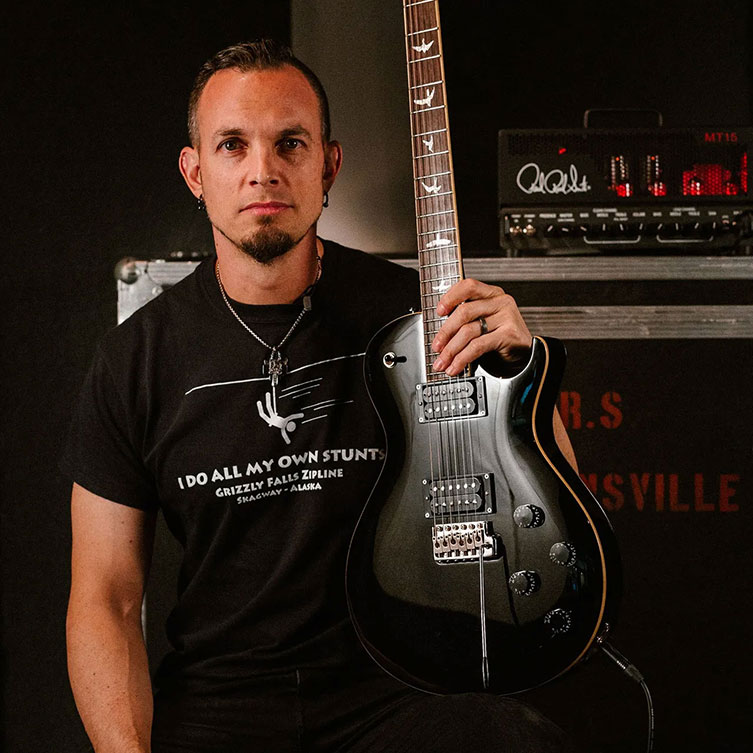 When PRS reached out to the player in the mid 90s and offered endorsement, Tremonti took it on 'With Arms Wide Open' and the collaboration blossomed from there. We now have a phenomenal selection of Tremonti's signature gear available at affordable prices: from an SE Singlecut to MT15 amp head, Tremonti's range proved to be the one that attracts the new forces of up-coming guitarists, keeping the inspiration alive.
John Mayer
A modern day 'guitar hero' in every sense. Young, talented and driven, John Mayer's guitar career is all a player could dream of. Aside from being an accomplished solo artist and a songwriter (seven Grammy awards under his belt), Mayer is one of the most sought after touring guitarists on the market (currently with Dead & Company). Mayer's unique playing style combines acoustic percussiveness with classic rock, blues, pop and jazz. This man can do it all!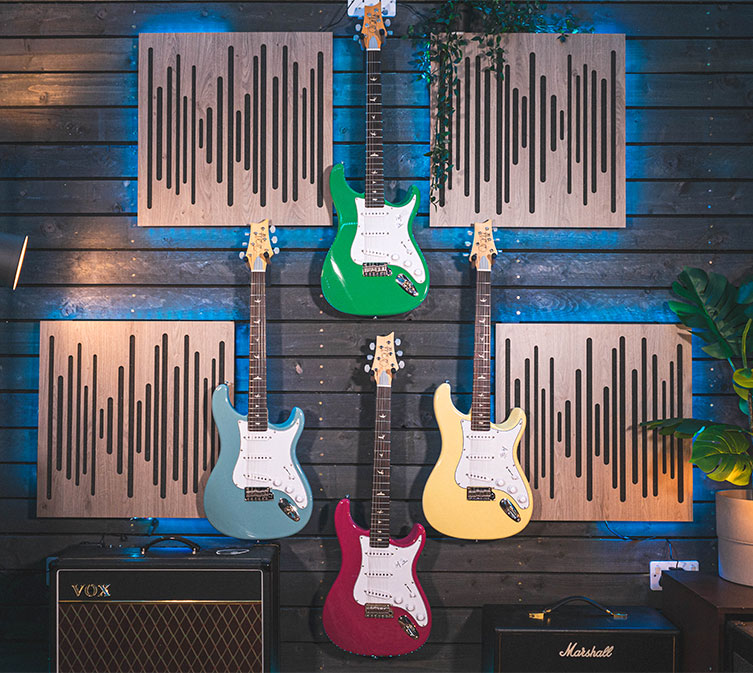 Having already worked with PRS on custom built Private Stock Super Eagle, when Mayer's endorsement with Fender went pear-shaped, PRS took the opportunity to develop a whole new model just for John. With a familiar design and 3 single coils, the Silver Sky quickly became one of the best selling artist signatures PRS launched in recent years. And to our delight, last year's SE line up saw the Silver Sky added at an affordable price.
Mark Holcomb
One of the most influential progressive metal bands, Periphery has an absolute riff maestro of a lead guitarist: Mark Holcomb. Mark's inventive riffing, complex rhythm parts and soaring solos are just a third of the wall of sound Periphery has to offer. There are three guitarists in total but it is Holcomb and his trusty 7 string PRS who are the driving force. Having won the hearts of metalheads and critics alike, Holcomb established a fruitful relationship with PRS guitars, resulting in the birth of their seven-string (and six-string) SE Mark Holcomb signature models.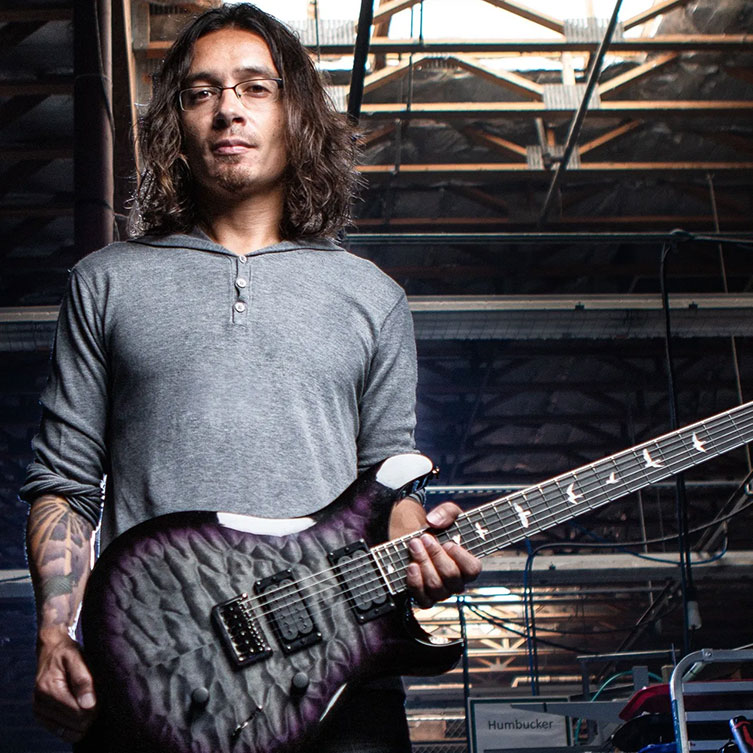 Loaded with the guitarist's signature Seymour Duncan Scarlet & Scourge pickups (Seymour Duncan Alpha and Omega in older versions), these guitars pushed the metal tone to another dimension.
Dustie Waring
Rhythm guitarists don't get as much attention as their fellow shredders and that's a real shame. After all, the rhythm drives the song and the chord progression is the first thing we'd learn if we want to cover the song, right? The rhythm guitarist for Grammy-nominated The Buried And Me, Dustie Waring, has helped redefine the significance of rhythm patterns in progressive metal for nearly 20 years solid. Waring has always been known to use predominantly PRS guitars and heavily supporting the brand. This led to the company creating his very own signature CE model back in 2014 with a rare for PRS maple fretboard, Floyd Rose and Mojotone Dustie Waring Gen 2 Tomahawk pickups. It took off so well, PRS released another model this Spring, which sports another rare feature for them - a hardtail bridge.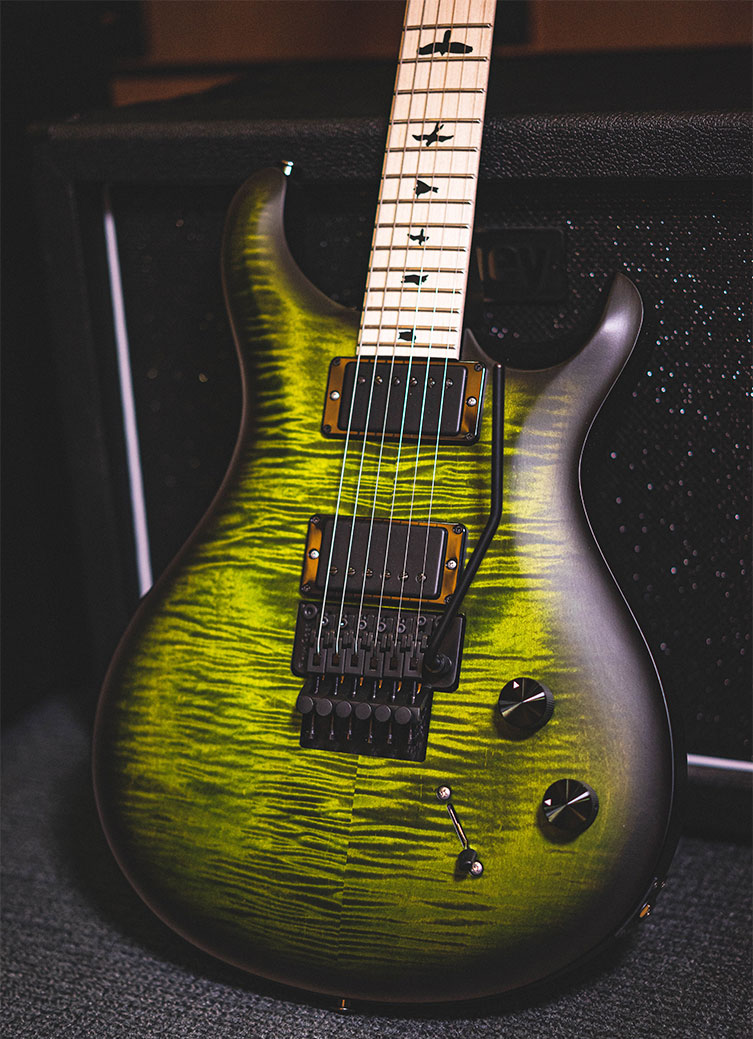 Mark Lettieri
Mark Lettieri is an accomplished composer, producer and a guitarist. Mostly known for his intricate work in the instrumental group Fearless Flyers and fusion band Snarky Puppy, Lettieri's work has been appreciated by the world's most professional musicians. His playing skills span across virtually every genre from jazz, funk, country to rock and metal, making him one of the most versatile session guitarists. Since Mark's go-to guitar has always been PRS, it was only a matter of time before the company teamed up with Lettieri to create his signature model - the Fiore. This exceptionally articulate bolt-on model offers the clarity of single coils in a swamp ash body with modern aesthetics.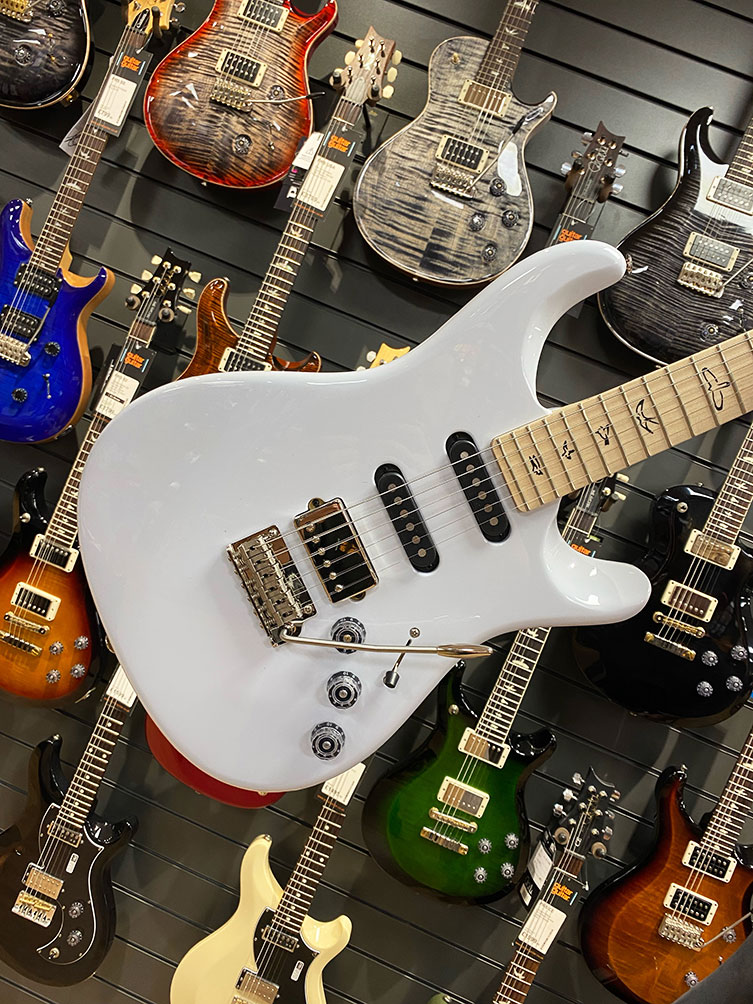 Myles Kennedy
One of the hardest working men in business needs no introduction. You'll know Myles Kennedy from his work with Slash, Run DMC, Halestorm and as a frontman and rhythm guitarist of Alter Bridge. Not only one of the most professional and in-demand musicians in the industry but also a passionate PRS player for decades, Myles Kenendy has been honoured with his very own signature model. Available in five different colour finishes, the Myles Kennedy PRS is the first T-style guitar the company has ever produced.
Zach Myers
When Zach Myers picked up his first ever PRS Custom 22 at the age of fifteen, little did he know he'd go on to become one of the brand's official and signature artists. Zach Myers grew famous through his achievements as the lead guitarist of multi-platinum rock outfit Shinedown but he's also won himself acclaim as the main songwriter and frontman of another band called The Fairwell.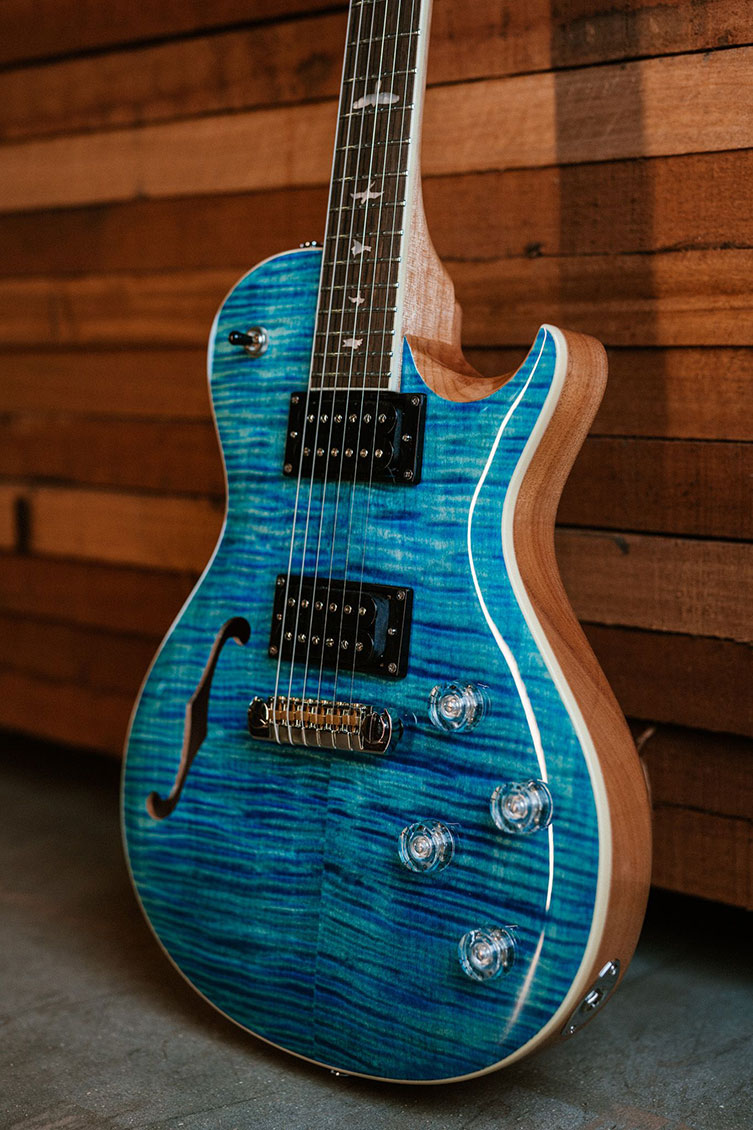 Zach is the epitome of a guitarist's guitarist, even collecting vintage instruments himself. Just like you and me, Zach has a soft spot for guitars and currently owns over 200 of his own! It may be obvious but yes, the majority of his collection are all kinds of PRS, including his own Zach Myers signature PRS SE. Zach wanted his signature to be the guitar that anyone can afford and SE was just the range to answer that request. Just like his first PRS his signature model sports 22 frets scale; it is a 25.594" scale length singlecut and it has a single f-hole. Previous years' finishes included Trampas Green with the current lineup offering a rather stunning Myers Blue.
David Grissom
A veteran blues player and a seasoned session musician David Grissom bought his first PRS in 1986 when the company just turned 1 year old. He was drawn to the outstanding craftsmanship and quality of the brand and has been connected with PRS guitars ever since. Grissom has always been a dedicated McCarty model enthusiast and his invaluable feedback on the guitar led to a fruitful partnership in creating his very own signature model. Spec'd with a vintage touch and specially profiled neck and pickups, the DGT model comes in a full-fat USA Core version and well as freshly released SE model, including the Godltop finish which has been the absolute head-turner amongst the guitar community. PRS have also released Grissom's signature head and cab, the DG Custom 30.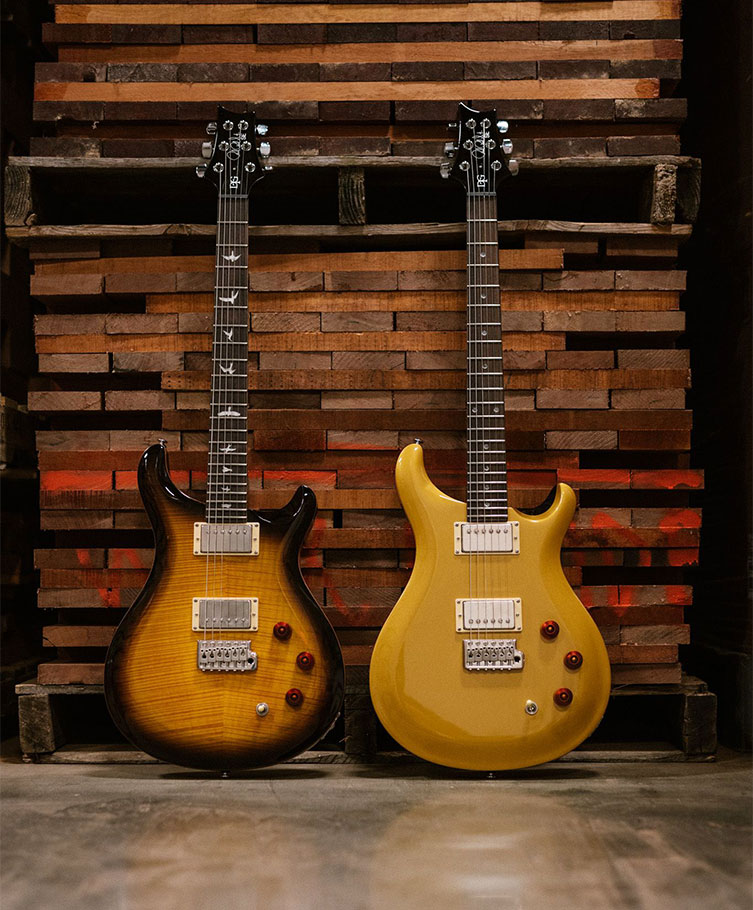 Gary Grainger
Having appeared on many high-profile artists' recordings since the late 70s, Gary Grainger has been an in-demand session bass player ever since. Some of his collaborations involve Nancy Wilson, John Scofield and Paul Reed Smith's band - Eightlock. Gary has been the primary designer of PRS Private Stock Basses and has consequently been honoured with his very own signature Grainger 4 and 5 string basses.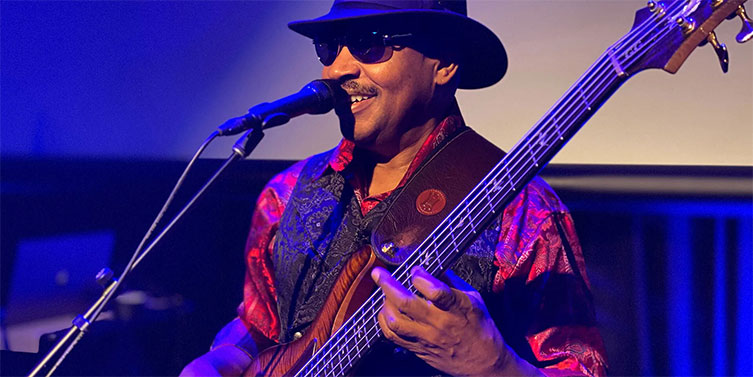 There you have it, 12 PRS guitarists flying the flag for the brand right now. But we've only just scratched the surface. Out with their most well known signature artists, PRS also have a plethora of talent in their Official Artist roster.
Let's take a closer look at a chosen few, shall we?
PRS Official Artist Roster

Al Di Meola
Side by side with Carlos Santana, Al was one of the first iconic guitarists to publicly play PRS when the brand was in its initial stage. Al is not only a bona fide guitar virtuoso but also an accomplished composer with over 20 studio albums under his belt and countless performances on both acoustic and electric guitar. Interestingly, Di Meola was also one of the first artists to feature a PRS guitar on a magazine cover. Players of this calibre are hard to keep yet Di Meola, loyal to PRS, features on the Official Roster until this day.
Brad Delson and Mike Shinoda (Linkin Park)
Released back in 2000, Linkin Park's album Hybrid Theory has reached an iconic status. Chester Bennington's vocals were indisputably the most distinguished characteristic of the band's sound but so was the huge wall-of-sound-like guitar tone. Both guitarists, Delson (lead) and Shinoda (rhythm) use PRS guitars and Hybrid Theory 's superb sound owes a lot to the roaring of Custom 24s, CE24s and CU22s played through Mesa Boogie Rectifiers. Brad and Mike continued to use PRS guitars throughout the majority of touring years as well as featured them in multiple LP videos and photoshoots.
Curtis Chambers (Eminem)
When we say PRS guitars are versatile you better believe we mean it! Although they are usually seen in the hands of rock gods, you'd be probably surprised to hear that they are no strangers to session guitarists for R&B, rap and hip hop artists. One such worth mentioning is Grammy-nominated musician Curtis Chambers who has worked his guitar magic with names such as Dr Dre, Eminem and Rihanna.
Dave Navarro (Jane's Addiction)
Named 'one of the last great guitarists' by Henry Rollins of Black Flag, Dave Navarro truly is the kind of a player you just don't see around anymore. With exceptional playing techniques and a larger-than-life stage persona, Jane's Addiction lead guitarist became even more famous than the lead singer - which, let's be honest, doesn't happen often. Some of you may also recognise Dave from his short stint with Red Hot Chilli Peppers. Hard rockin' riffs need a hard rockin' guitar and despite being associated with many other brands, Dave took to PRS like a moth to light. His signature white Custom 24 with gold hardware became his ultimate go-to guitar. It came to be the Navarro model, so much so that PRS released an SE run as his signature back in 2012.
Sophie Burrell
British guitarist and songwriter Sophie Burrell has grown her career utilising the power of modern technology. From an online content creator (with her impeccable guitar covers) straight into one of the most recognised professional players of the modern generation. Sophie has been a life-long fan of Alter Bridge and it was through her admiration for Mark Tremonti's playing skills that she discovered PRS guitars. Sophie's loyalty to the brand as well as dedicated professionalism that shines through music (her YouTube videos amassed a staggering 80 million views) resulted in PRS guitars offering her a full endorsement at a very young age of just 20 years old! "Being a part of the PRS family was a life goal of mine" says Sophie and if she's already achieved that then we can rest assured the best is yet to come. From frequenting guitar clinics across the country to releasing debut single with her very own band, Bxrell, Sophie's future looks rather dreamy.
Kris Coombs-Roberts
Our very own guitarguitar employee and a rocking force behind the roaring rhythms of Funeral For A Friend, Kris Coombs-Roberts is one-hell of a talented player. Kris has been a dedicated PRS player since day one. His first ever Custom 22 was the very axe behind recording of Casually Dressed And Deep In Conversation - a staple FFAF record which turned 20 this year!
It honestly pains us to not be able to write a line about each and every one of the Official PRS Artists without turning this blog into an epic saga. So we'll drop a few honorary mentions and let YOU go on the journey of discovery of what the remainder of the grand total offers musically.
You're in for a treat, just quietly.
Joe Walsh (Eagles)
Danny Lohner (Nine Inch Nails)
Kendall Gilder (Jennifer Lopez)
Lauren Taneil and Francesca Simone (Beyonce´)
Dave Cabrera (Ricky Martin)
Martin Barre (Jethro Tull)
Ace - (Skunk Anansie)
Sally Gates (Orbweaver)
Dominik Witczak (Coma)
Fredrik Akesson (Opeth)
Toru Yamashita (ONE OK ROCK)
Yuan Yimeng (Life Awaits)
Now, we have not only gone through a plethora of stylistic musical genres but also decades that shaped the music industry as we know today. PRS have a real knack for partnering with guitarists who go on to make a huge impact, so without further ado, let's take a closer look at the Pulse Program and their current (less famous - for now) lineup.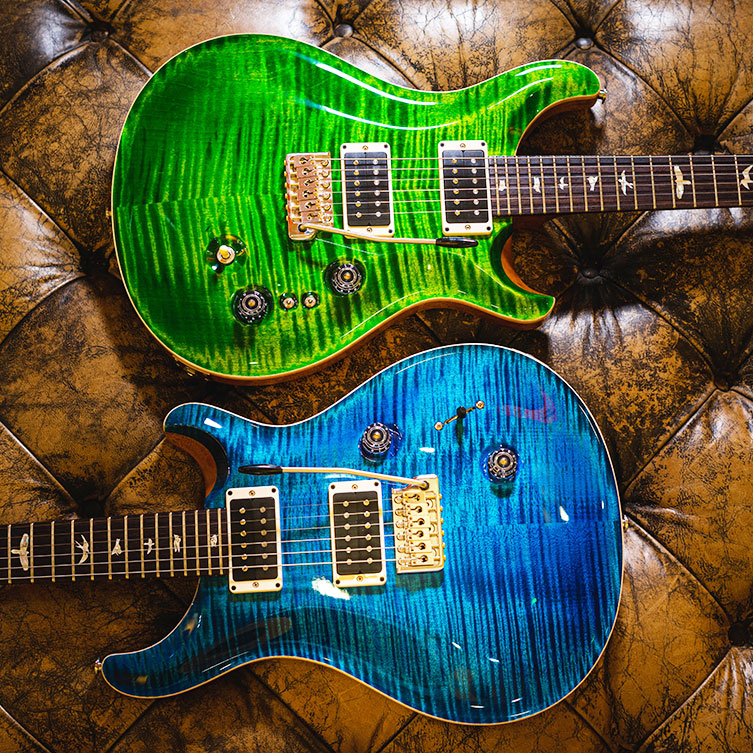 PRS Pulse Artist Roster
In 2020, PRS launched an entry-level program called Pulse Artist. It is aimed at PRS players making waves in their local music scene (you don't have to be a celebrity to get in!). If a PRS is your main instrument, you've got a strong following on social media and you're ready to take your guitar playing career to the next level, then you should apply! Pulse Artist endorsees receive a good amount of support from PRS, including discounts and social media promotion with a chance to further their musical journey under the wings of the brand - a stepping stone to full endorsement if you will. As an authorised dealer, guitarguitar participates in this program and you can find more information here: PRS Pulse Program

There are currently nearly 50 names on the bill. Some of the Pulse Artists have already made huge progress since their induction. They've either gone on touring with other artists, launched their own teaching course or recorded original music. It surely is a line up worth keeping an eye for; check out:
With the roster made up of some of the best guitarists in the business already, one can only wonder who else will join the PRS family in the future.